Committed towards providing sound health care services to every segment of the society, Al-Hilal Healthcare Group, Kingdom of Bahrain launched a Special Subsidized Vitamin-D Check- up Package with Specialist consultation only for BD 3/- .
The event was launched by H.E Shaikha Noora Al-Khalifa Al-Khalifa on 19th Thursday at 7. PM at Al-Hilal Manama along with CEO of AL-Hilal Dr. Sharath Chandran, Regional BDM Mr. Asif Mohammad, doctors & Staff and Other dignitaries.  The check-up is offered to all for one month from 19th July 2018 to 19th Aug 2018, from 7.00 AM to 11.00 PM.  The programme is specifically intended to screen Vitamin D deficiency followed by proper counselling, guidance to prevent Vitamin D deficiency.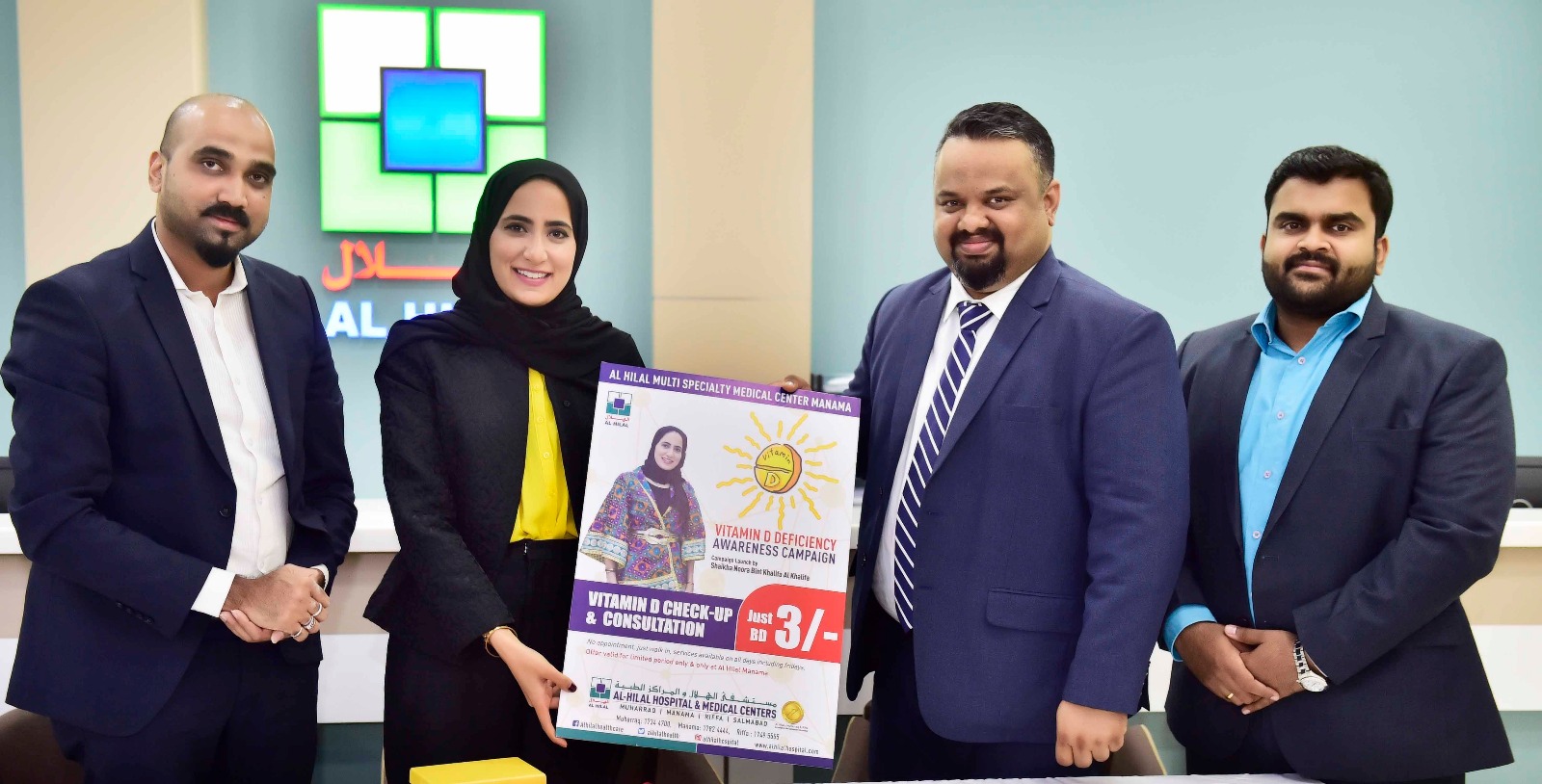 "I had joint pains and few health issues since long time and when I approached a private Hospital I was diagnosed that I was suffering from vitamin D deficiency, my doctor gave me the right treatment and I became fine, so many people have vitamin D deficiency in the kingdom due to lack of natural Vitamin D supply and lack of awareness, Al-Hilal is offering a great opportunity to screen yourselves with the Vitamin D Check-Up and I urge people of Bahrain to use this golden chance, to ensure that the Vitamin level status is good" said  Shaikah Noora Al-Khalifa during the event launch.
Al Hilal has always been at the forefront of creating value addition in the healthcare space of the Kingdom of Bahrain,  as a leading healthcare organization we thought addressing
Vit-D deficiency is something that we wanted to take up. Going forward, we will be coming up with many more initiatives that would be financially accessible to everyone." added Dr. Sharath Chandran, CEO of Al-Hilal health care group, Kingdom of Bahrain.         
As you aware that the prevalence deficiency of vitamin D in Middle East is around 70% to 80% which is quite high. People are not aware about the consequences of Vitamin D deficiency like Joint Pains, Muscle pains, weakness, Thyroid issues, depression, and lack of sleep, digestive problems, hair loss, heart diseases, Diabetes, cancer and many more major health issues. It is known that early screening of Vitamin D and taking corrective actions by means of medical treatments and lifestyle modification will prevent from above health complications. Cost has always been a mental block for every one to be screened, Since the screening of Vitamin D is very expensive(around BD 20-30) majority are not even taking initiative to do the test. Hence, we at Al-Hilal Hospital took initiative to offer the same for just BD 3/- Vitamin D Test, Dr. Sharath Chandran added.
The Vitamin-D Check-up offer is available only at Al-Hilal Medical Center Manama. For more information CALL: 17824444  or 32172444.