Members of the Kewalram family have seen Bahrain grow from a small market country that consisted and revolved around mostly Bab Al- Bahrain Tijjar Road and Sheikh Abdullah Road to the large sprawling cosmopolitan country that we know it to be today. The company grew at incredible speed expanding to six shops by the 1950s and even opening in Dubai in the 1960s. Mr. Kewalram was succeeded by his son, Mr. Haridas Kewalram's Sons and his grandsons Sunder H. Kewalram and Baboo H. Kewalram.
Mr. Baboo Kewalram is the present Chairman of the company, ensuring that the company operates at the level expected. Under his leadership, the Kewalram brand found great success in the textile industry, providing uniforms and clothing to large companies like ARAMCO.
Mr. Baboo Kewalram shares the exemplary history and achievements that Kewalram and Sons have over more than a century in the Kingdom.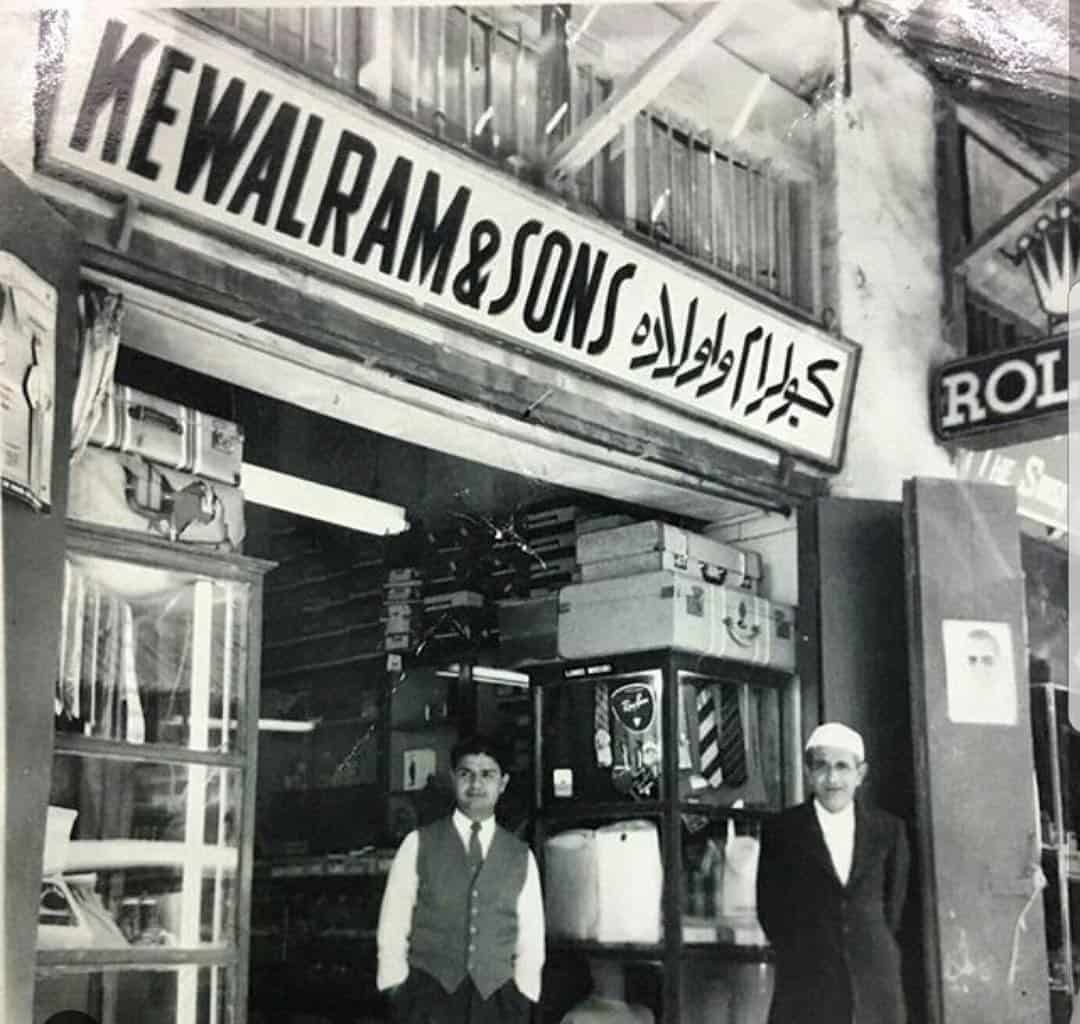 Our family comes from the Tatta Sindh area, which is in the undivided Pakistan region. My grandfather was a pearl trader, who would finance divers and sell the pearls in Pakistan and India. My grandfather came to Bahrain in the 1880s and my father and Uncle joined him here. My father grew the business through a grocery store.  My older brother Sunder Kewalram (Mr. Kishore's father) came in 1952. I came here as a fresh graduate in 1955 because my father was unwell. We lived in the upstairs of our shop in Bab Al Bahrain, Manama. It was an old house, but very special to us.
The Kanoo family lived behind us and we would talk across the terraces/balconies. There were not many houses, electricity was scarce, but communities were very close in those days. We have always had a good relationship all the communities who welcomed us. We only moved our home opposite Manama Centre in the late 1960s. We were surrounded by sea and when the tide was high, water would wash into our house. We used to sleep on the terrace because it was hot and there was no air conditioning.
There was no running sweet water and it was delivered in drums on donkeys from the Salmaniya area. We had a sweet water well where the temple hall now stands and it was better than the tap water.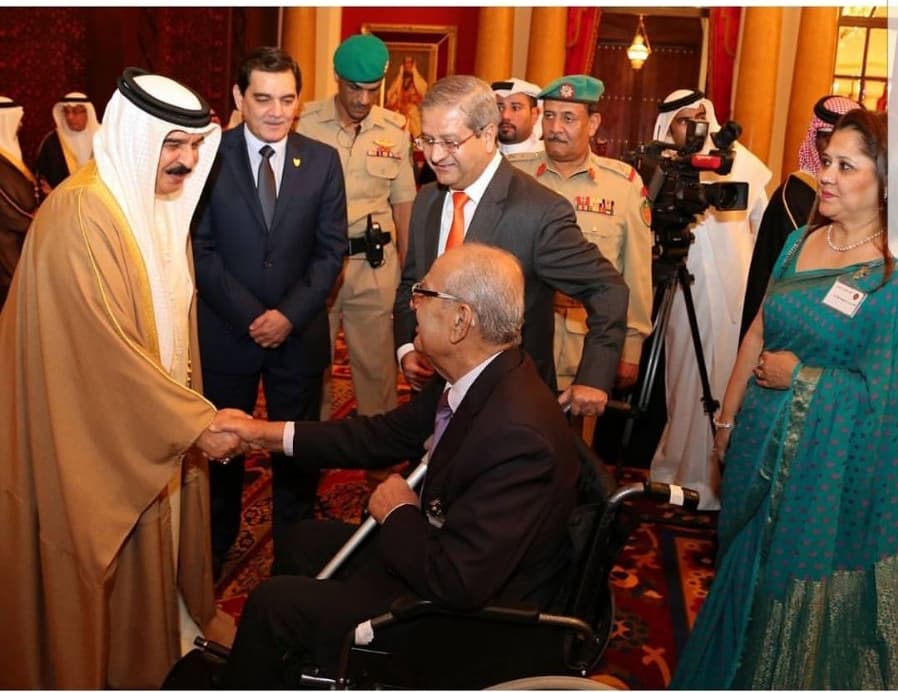 There were no malls during that time, except Manama Souq, where we would meet people everyday on their way home. People would come all the way from BAPCO and Aramco and we met people everywhere from the GCC.  The area that is now Bab Al Bahrain was a dock, where small boats would doc, large vessels would anchor away from the shore, and dhows would bring passengers to land. Times were very different then.
The temple has never been an issue for our Hindu devotees in Bahrain. We have celebrated Diwali, Holi and all the other Hindu religious days for decades or for centuries. My brother and I attended late Emir Shaikh Isa bin Salman at his Majlis every week. Shaikh Isa once told us that he had been to the temple when he was young when they put colours on him for Holi. Mr. Nabeel Zain lived beside the temple and all the children would come together to play in the temple courtyard.
This is a beautiful country and the people are warm and hospitable. My father was involved in founding the Bahrain Chamber of Commerce and Industry (BCCI).  We started a business in Dubai in 1962 and Mr. Kishore's brother runs it now. The enterprise has diversified into jewellery, home electronics and appliances, security systems and, most recently, real estate, with 10 outlets spanning the Kingdom. It associates with world-famous brands such as Titan, Casio, VIP and Carlton luggage, Commax, Brother, Black & Decker and all the top textile names in Japan and India. We are also managing partners of Bahrain's Quality Education School.
We have the fourth generation of Kewalram living in Bahrain. India is a holiday destination for all of us. I myself have not left for almost 3 years. I have 3 sons and one daughter. Kishore is here and his sister lives in Dubai. I have 10 grandchildren and 2 great grandchildren.
My brother died in a plane crash in 1988, so I left for India. The Emir enquired about our absence at the Majlis and was informed about the sad news by our Ambassador Mr. Menon. Shaikh Isa immediately telephoned us in Bombay to offer his condolences and told us to meet him.  When we returned and went to meet Shaikh Isa, he invited us to sit next to him and said "We are very sorry for your loss, but Bahrain is your home. I am like a father to you so please do not hesitate to come to us". That is the beauty of the ruling family; they have always been very kind to our community.
One Saturday morning, the Foreign Minister His Excellency Shaikh Khalid bin Ahmed was in Manama and he dropped in to visit me here. He reminded me how he would come with his brother and nanny every day and I would give them sweets. He is a very soft spoken and kindhearted man.  In the past, my brother and I would visit government offices but nowadays I do not go to the ministry offices, but people visit every day. I enjoy my daily programme of going to the office in the morning, home for lunch and to the temple in the afternoon. There are so many Hindus in Bahrain but there are over 500 just within our community.
We want to expand the new temple to make new halls and a bigger prayer area. The community is taking care of the cost which is something we want to do.  Currenlty we are awaiting approvals from the authorities. The land now belongs to the temple Bhatia community. Some parts of the land were donated by people who lived there before.
I remember Shaikh Isa once said to me "We accept all religions. You practice your religion and we practice ours in peace. There should be no problems". Even in Ramadan,  we have no restrictions, the temple is open and we just advise people not to eat and drink outside the enclosed area.
The celebration by the King Hamad Global Centre of the 200 year anniversary of the temple coincided with the Bahrain Grand Prix. We are so proud that His Majesty encourages official guests to visit our temple. In 2017 we were honoured to receive HRH Prince Charles accompanied by HRH Prince Salman bin Hamad Al Khalifa. The following day on a Friday morning HH Shaikh Mohammed bin Salman with his friend came to the temple and even waited in the Souq until we opened at 11am. Everyone is welcome to the temple and are very proud that so many people from all over the world come here.
We deeply value our close ties with the generous rulers of yjis country. Nowhere else in the world will we find such a country to call our home.