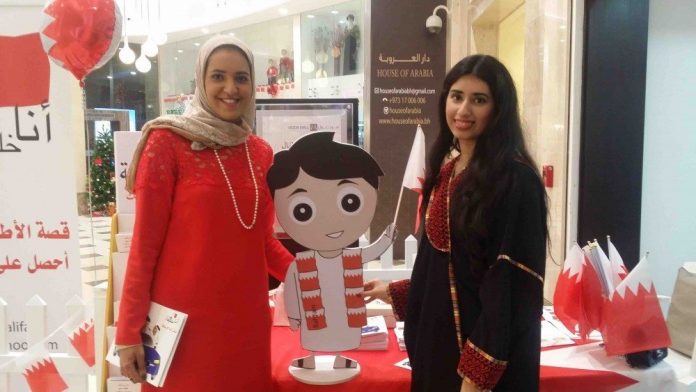 'A little boy named Khalifa goes out with his father on Bahrain's national day to enjoy the celebrations happening in the kingdom. Amidst the heavy traffic, his little eyes fall on the ambulance struggling to make its way to the hospital. Little Khalifa's heart fills with concern about the sick person trying to get to the hospice while he is out celebrating. As he watches the traffic police clearing the way to aid the ambulance, Khalifa thinks about the kids at the hospital and decides to have his merriment with them.'
Ana Khalifa, the first children's book from the upcoming series that divulge happy occasions in the Kingdom of Bahrain has finally hit the book stores. The author of the book, Sheikha Latifa Daij AlKhalifa, was all smiles sharing with BTW team, the idea with which it all started.
"Ana Khalifa in English means I am Khalifa." started Sh. Latifa. "It is a name that is very well associated with Bahrain. And Khalifa means leader." She continued explaining to us the reason behind writing a book for the kids in Arabic that portrays the life and culture of the Kingdom.
"I am very keen about reading and loved to read since childhood. I grew up reading more of English stories as they were further colorful and appealing. We use formal Arabic language very different from our day to day dialect when writing books and hence it was a challenge to read them. I had faced the difficulty and now see my nephews and nieces also struggling with the same. Somehow they didn't seem to like reading Arabic. And this is from where the idea came from to create a story that is simple in writing and diction that is used in our daily life but at the same time uses the formal Arabic as well. So my goal was to have our children enjoy reading in Arabic."
Sh. Latifa also pointed out the lack of original stories and fables from Bahrain. "Most of the Arabic stories are being published by the North African Arab nations like Syria, Lebanon and Jordan. Their use of language and vocabulary are very different from us. Even our culture and backgrounds differs from theirs. So I thought of taking inspiration from our traditions and community for our kids to learn."
When we asked her the reason for choosing the noblest of all professions as her vocation, she answered "Teaching is a job that requires lot of time, energy, dedication and patience. Every day is filled with challenges and you need to keep yourselves stable. I have always enjoyed being with children and teaching them new things. And because of that I have never felt tired any day in the career I chose."
Being a teacher had given her a great opportunity to observe kids and learn from them, Sh. Latifa noted "Kids always like to see things they can relate to. And when introduced to a new space, they always have queries relating the same. Even though it's good to learn new things in life, you need to know about your roots and the society you belong to."
Ana Khalifa, is an attempt by the author to bring children one step closer to their mores and being patriotic. She also relates the morals that her stories would reflect to her young readers. "As part of being a Muslim we are taught about prayers and fasting. Islam also teaches us how to live this life. One of the duties as humans is to visit the sick and needy at the hospitals which Prophet Mohammed (PBUH) had followed. I wanted this teaching of Islam to be bought up for the kids through my stories."
Ana Khalifa was launched on 06 December 2014 at Moda Mall, a colorful ceremony that included book signing by the author and special story telling session by Eman AlGhawas. The launch was held under the patronage of Mrs Amal AlDossary, Vice chairperson, the committee on the rights of the child, United Nations .The book is currently available at national book stores and Word's book café. "We will soon be accessible at Basta market and also have plans to have them for Bahrain Noor El Ain Festival in relation to national day at Riyadat mall."
"Here in Bahrain, it's the books published in English that are famous. If you go to any big book shops, you will notice all the vivid and colorful English books and the Arabic books, even though available will be impossible to spot among others. " observed Sh. Latifa. The colourful illustrations of Ana Khalifa are done by young artist Ms Jawaher AlAbsi. "For children, illustrations are important. Ms Jawaher was very welcoming about my ideas and she added her own creativity to that. Thanks to her that my story was brought to life and that helped to make a huge difference. "
With draft for next in the series getting ready, Sh. Latifa expects to make the subsequent release on one of the upcoming blissful occasions of the Kingdom. "May be Ramadan or Id", she smiles. Whatever the occasion be, we are sure that little Khalifa is here to make friends in Bahrain and is sure to teach the little minds a lot, that would eventually give worthy citizens to this nation, who will take the Kingdom to newer heights.