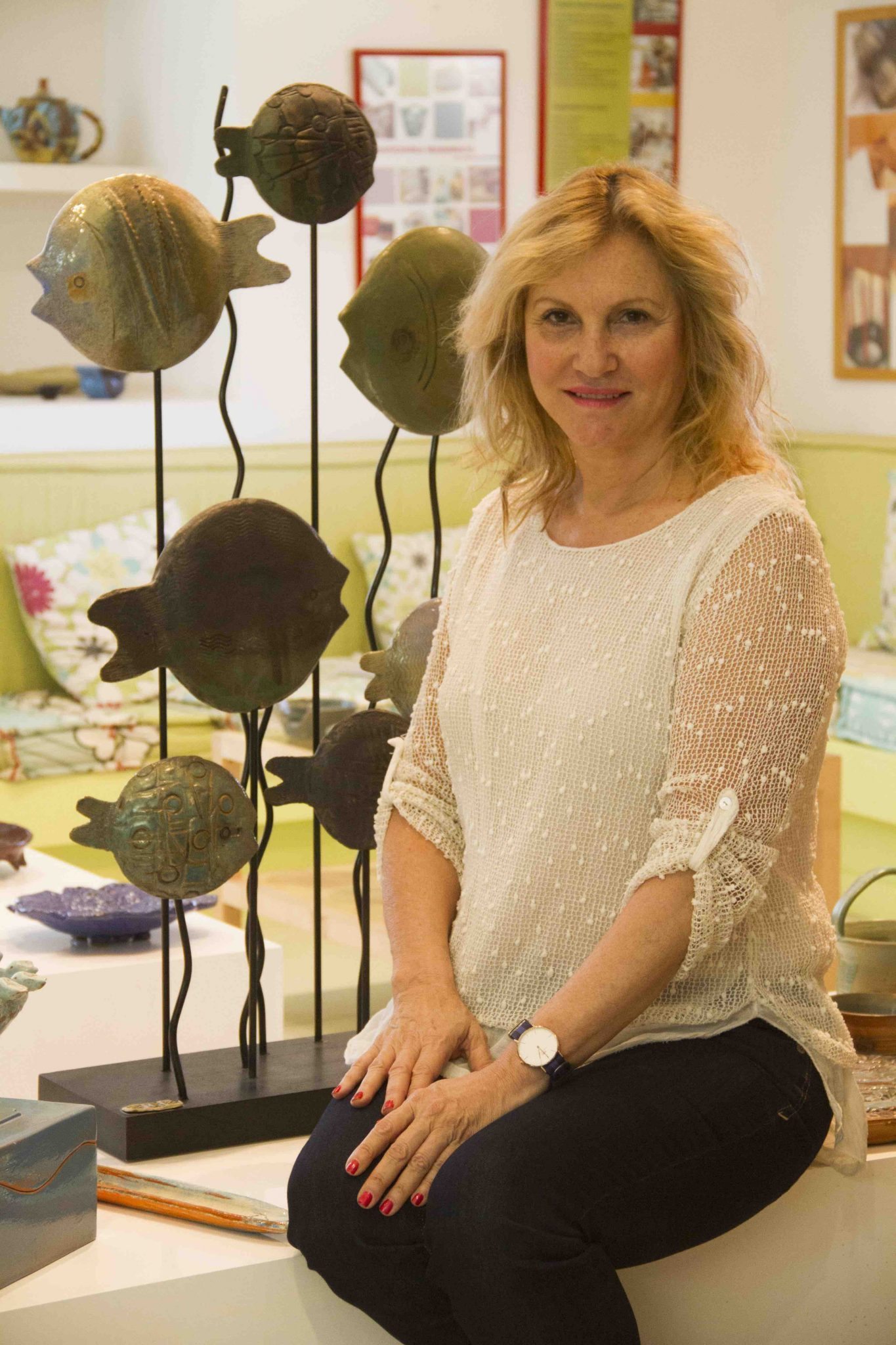 Ms. Anny Zachariades harbours a great passion towards all that is art. A tennis champion and water sports enthusiast, Anny has come to be a breath of fresh air to the ceramic and pottery arts circle of Bahrain since the year 2013. Her EZ Art Pottery studio located at Jannusan is a perfect example of what undying zeal and hard work can yield.
"Even though my professional background is in Economics and Statistics, I always loved to be creative with art," Anny told BTW, as we sat in one of the cozy corners of her studio. "I and my daughter, who is also an artist, opened the EZ Art studio in Athens where we provided classes for everything that was related to arts and craft. When we came back to Bahrain, we brought with us all the experience and know-how we had gathered in Greece for 8 years. Since I love to share my knowledge with others and had all the time on my hands, I decided to start EZ Art in the kingdom. I planned and prepared for the opening of our studio for nearly a year – and here we are today at our studio that has been running successfully for the past 2 years," she says proudly.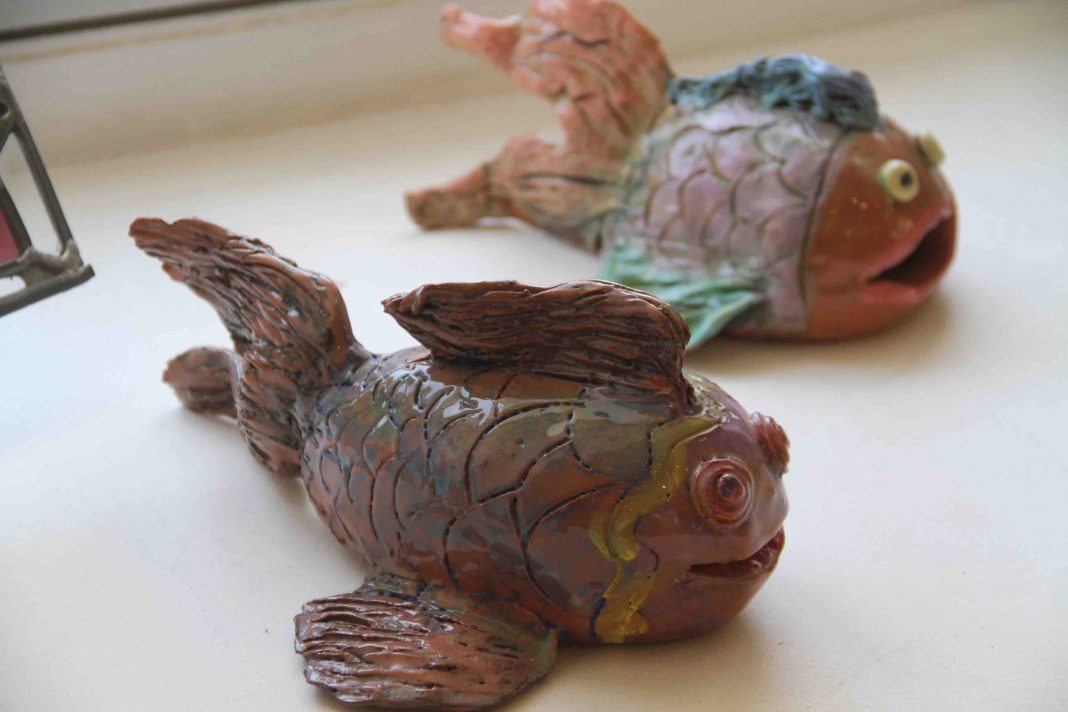 The name EZ Art comes from the initials of 'Eleana Zachariades', Anny's daughter who was the brain behind the studio in Athens. The name has been successful in brings fans of ceramic art closer to authentic pottery making. The studio has now become the place to unleash one's creative energy and experiment without the fear of judgment. It is the place where efforts are encouraged, nurtured and sincerely appreciated. A place where parents and children can come together, connect and explore a common interest.
The road for an art enthusiast at the Art Studio doesn't end with the end a course. Anny explains the open studio concept introduced at her studio, "We want our students and artists to continue their passion towards art even after they leave from here. Mosaics and pottery being messy crafts, one may not be able to find the right space in their homes for them. Being a member with our open studio allows them to come to our premises and use our facilities to continue with the projects they want to work on."
Talking of her transition from textile painting in Batik to ceramics and pottery, Anny says, "The art of pottery gave me numerous possibilities to experiment with. The forms, the textures and the colors with which I could work around to get the final product gave me the satisfaction of being an artist." With her studio running full swing, the lack of time prevents Anny from starting anything related to textile art in Bahrain. "We are considering starting silk painting classes at our place in a year's time," she says, unable to hold her enthusiasm about starting the new study course on textile painting.
The 4th Al Ali Art Festival has sure converted the EZ Art studio into a beehive of activities. And Anny shares her notes on the advantage for the studio to be present there this year. "The event is a very good idea to bring different artists together and showcase their unique talents. I find it a great opportunity for our students and artists to come together as a team and display their art works. We also plan to conduct a few workshops on mosaics and pottery. This will be an excellent venue to show the public what our students have learned from here and how they are fine-tuned to become professional artists."
Anny has always found ideas for her designs from the world around her. Her love of the sea is beautifully reflected in all her work. She says, "I love snorkeling and find a different kind of peace and serenity down under the water. You will find my art works drawing inspiration from what I find fascinating in the deep." Having worked with numerous artists including renowned Greek painter Alekos Fasianos, Anny has her art sold privately through art galleries, exhibitions, commissions and retail outlets as well.
Having knowledge of the art of pottery from around the world, Anny was in awe of the amazing A'Ali pottery of Bahrain. "It is really fascinating to see the potters at work using the traditional potter's wheel. The technicality and precision of hands with which they use the clay found in the Kingdom and create the same items every time is astounding!" she exclaims.
When we asked her about the versatile and colorful range of raw materials available at her studio she says, "I have few suppliers who have been providing the studio with all the items I need in here. But…" she pauses and continues with a smile, "While I travel to different places for my tennis tournaments, I always make sure to meet retailers and check on the new items available. My suitcases are always full with mosaics and glazes that I gather during my journeys that I later experiment with and share with my students."
Showing us the different ceramic and pottery items on display at her studio, Anny says, "Being a studio artist, I don't have recipes like that of factories to produce replicas in an assembly line. As I tell my students, every handmade item is unique. They can never be the same and therein lies their beauty. As an artist when I open my kiln and see my pieces fired and ready, I am most satisfied.
"The other thing that satisfies me is to see my students happy and proud of the work they have completed." Like all great teachers who want to pour their knowledge into their students, she concludes with a smile, "I want to see them becoming better than me!"