Bahrain Sports Day will be celebrated on February 9th, Supreme Council for Youth and Sports (SCYS) First Deputy Chairman and Bahrain Olympic Committee President His Highness Shaikh Khalid bin Hamad Al Khalifa has said.
He directed the Bahrain Olympic Committee to prepare for the national event with all ministries and public and private departments and agencies.
The organization of the event must take into account all the precautionary, preventive and health measures issued by the competent authorities regarding Covid-19, HH Shaikh Khalid said.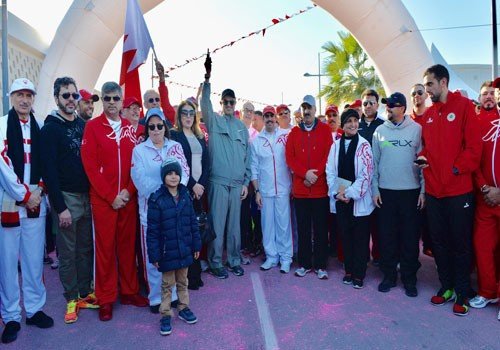 Bahrain Olympic Committee has prepared a full vision for this year's National Sports Day celebration in coordination and cooperation with the Ministry of Information by organizing a rich sports program through television broadcasts for all segments of society, he added.
"The world is going through exceptional circumstances amid the pandemic and continues to fight it," HH Shaikh Khalid said.
"This means that we need to take a different and innovative approach to celebrate the National Sports Day that supports the national efforts to combat the epidemic. We are keen on a national celebration that features numerous ideas programs and interactive competitions to achieve the purpose of organizing the Sports Day, which has become a national occasion that should be celebrated despite the challenges in order to maintain its status, momentum and significance as a well-anticipated event."
He stressed the importance of Bahrain Sports Day in reinforcing sports for all and boosting awareness about their significance in people's lives and society and in promoting the psychological and physical health of individuals.