The Kingdom of Bahrain has achieved a new educational achievement in its first participation in the World Skills Competition by winning the Best of Nation Medal, while all the Kingdom's participating students achieved high scores of over 600 points in their various skills.
The closing ceremony of the competition, which was hosted by the UAE capital Abu Dhabi, culminated in the graduation of Maliha Muzaffar from the Polytechnic College and the Certificate of Excellence to achieve a high assessment rate of 660 points in the skill of web design, Among the elite of 1,300 contestants from 59 countries, they competed in 51 technical and professional skills.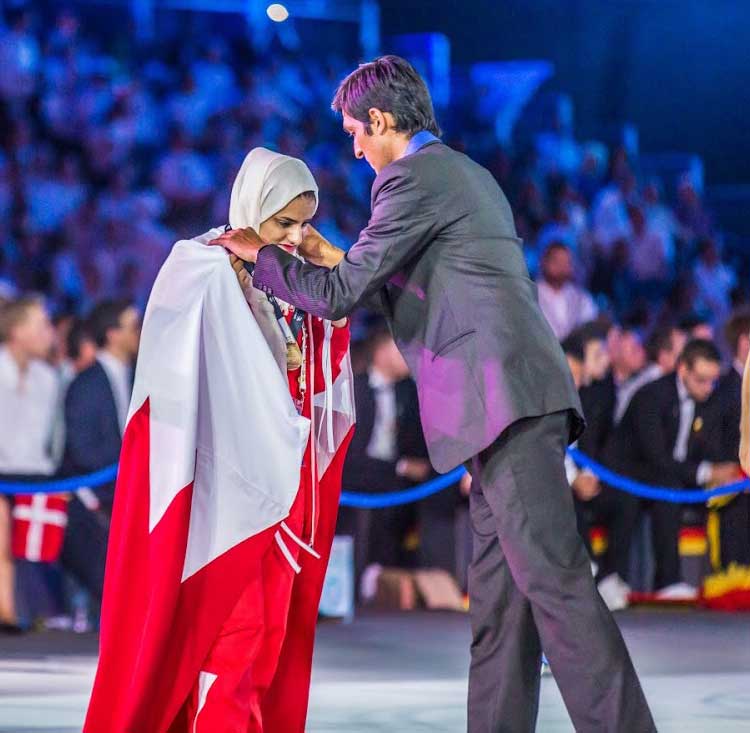 On this occasion, HE Dr. Majid bin Ali Al Nuaimi, Minister of Education expressed his sincere congratulations and congratulations to Meliha Muzaffar and her colleagues from the students of the Kingdom of Bahrain for their honorable results in this great international forum. This is a clear reflection of what the Kingdom has implemented through its National Education and Training Development Project Of planned plans for the development of technical and vocational education, and encourage students to enroll in various disciplines in secondary and higher education, and provide them with the technical and professional skills required in the labor market.
The minister pointed out that the Kingdom of Bahrain has succeeded in achieving the presence of Musharraf, despite the participation of major industrialized countries in the world such as China, Russia, Korea, Japan and France, which in itself is a major achievement of pride and pride and demonstrates the ability of young Bahrain to compete at the global level, To participate in such international forums, to benefit from successful international experiences and experiences.
For her part, Ms. Latifa Al-Bonoza, Assistant Undersecretary for General and Technical Education, affirmed that the participation of the Kingdom's students in this great international competition has been widely praised by a number of experts and specialists in the field of technical and vocational education from many countries of the world. The results are distinguished by specialists in the Ministry, schools and higher education institutions participating in the project, and cooperating institutions of the labor market through the rehabilitation of the student team consisting of 6 students from technical and vocational education schools, higher education institutions and the Bahrain Training Institute. M websites, graphic design, health and medical care, automotive technology, welding, and electrical wiring.