The Department of International Trade Promotion (DITP) which established under the Ministry of Commerce, Royal Thai Government and the Royal Thai Embassy Bahrain  conducted a tour for a delegation comprising of businessmen and media from Bahrain to attend the 16th edition of the largest food and beverage (F&B) trade show in the region, THAIFEX-World conducted from 28th May to 1st June 2019, at the IMPACT Muang Thong Thani in Bangkok, Thailand.
The delegation included H E Thanis Na Songkhla, Ambassador, Royal Thai Embassy Bahrain; Namrin Anukul First Secretary Royal Thai Embassy Bahrain; Kamonchanok Sapboonme Royal Thai Embassy Bahrain, Mr. Mustafa Mohamed Jasim Al Kooheji from Crown Plaza,Charbel Hanna from the Gulf Hotel, Abdulrahman Mohammed A Aleid from TukTuk Restaurant, Micheal Romero from Al Ghalia WLL, Sudsiam Suriyod from Monsoon Restaurant, Samir Shoie M Aljizani from Thai Farm Market, Jiratya Wattahanakunpongluu, Yaser Mohammed Abdulla Mohamed Al Rayes fromKasalin Import & Export WLL, Hadi Dawani from Box It, Hesham Al saati from Talabat, Hansika Wanniarachchi from Gold Coast Travel & Tourism and Sumesh John Joy from Bahrain This Week.
THAIFEX's brand new programs and experiences equipped visitors for the future of the industry, along with enhanced buyer programs and VIP services to further strengthen
the show's focus on quality business and trade. This was in response to the trend that Asia Pacific is set to become the largest consumer of F&B by 2030.
Recognizing this opportunity, THAIFEX-World of Food Asia curated new special shows and an enhanced buyer program to connect businesses in this thriving and expanding region, and to ensure that F&B businesses have the right tools to future-proof themselves. Opening with a VIP tour, an immersive experience with new and revamped programs THAIFEX-World of Food Asia 2019 introduced new programs which zoom in on trending topics that pose opportunities and challenges to the future of the industry.
The THAIFEXfuture Food Experience+ presented revolutionary technology with four different themes on each day of the show – Food and Nutrition Trends, Business operations, Food and Drink Innovation, and Technology and the Food Experience.  Making their debuts were the THAIFEX Tech Pavilion and THAIFEX Startup Zone. The former was a platform created to showcase ideas and F&B technology solutions, such as entry-level POS systems, high-end inventory, and content management system to innovative food delivery apps. Complementing the THAIFEX Tech Pavilion was the THAIFEX Startup Zone, which was designed to enhance interactive knowledge exchange with trade visitors and within the startup community. Startups also had the opportunity to present their offerings through an integrated demo and presentation stage, drawing interest from venture capitalists and prospective investors.
Kalin Sarasin, Chairman of the Thai Chamber of Commerce and Board of Trade of Thailand, and Chairman of the Tourism Authority of Thailand Board of Directors, said, "As an internationally recognized F&B trade show with a cosmopolitan participation, THAIFEX-World of Food Asia is the perfect platform to showcase Thai businesses – be it established companies or young, exciting start-ups – and our local flavours to a global audience. We hope that trade visitors, buyers and exhibitors will take the opportunity to interact and exchange ideas with these innovative start-ups, and work together to shape the future of the F&B industry."
"This exhibition, THAIFEX WORLD FOOD ASIA 2019, is the 17th edition of the THAIFEX. Koelnmesse, the Department of International Trade Promotion, and the Thai Chamber
of Commerce, hosted over 2,000 buyers. It is a very successful one. The main goal is not only to provide a  trading and networking platform but also a learning and sharing platform for the people and for the companies related to this industry", stated Ms. Vannaporn Ketudat, Deputy director general of DITP.
"THAIFEX-World of Food Asia was a gateway for businesses in Asia to reach out to the rest of the world. We enhanced our Hosted Buyer Program to enable streamlined matching for exhibitors and hosted buyers, offering an increase in networking and business opportunities." said Mathias Kuepper, Managing Director, Koelnmesse. Koelnmesse arranged over 1200 business meetings for the 80 hosted buyers through an online portal.
There were 6 new country entrants including Spain, Poland, US, Australia (AUSVEG), Brazil and Sri Lanka.
"The F&B industry is one of ten high growth industries identified for Thailand, and THAIFEX-World of Food Asia acts as a catalyst to stimulate this important sector. With a balanced line-up of international and local exhibitors from over 40 countries, as well as visitors and buyers from all over the world, the trade show serves a dual role of connecting global businesses looking to expand in Asia with regional decision makers, and encouraging the trading of Thai products and services." said Banjongjitt Angsusingh, Director General of DITP.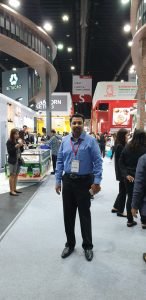 Thailand Ultimate Chef Challenge
THAIFEX also hosted the internationally acclaimed Thailand Ultimate Chef Challenge (TUCC) returned for its 8th edition with a new focus on Asian Cuisine. New classes designed for the challenge include the "Asian Gourmet Challenge" and the "AEC Culinary Challenge".
THAIFEX-Anuga Asia
A refreshed brand to deliver an even stronger trade fair, THAIFEX-World of Food Asia  rebranded to further associate and align with its parent exhibition in Europe, Anuga – the world's largest F&B tradeshow with a century of history, welcoming more than 7,000 exhibitors and 165,000 visitors from all over the globe in October 2019.
Through this rebranding, the trade fair will take on a new name: THAIFEX-Anuga Asia, building on the success, global recognition and brand value of Anuga. With its enhanced reputation, exhibitors can expect an increase in international visitors. Likewise, visitors and buyers can also expect a higher quality experience in terms of programs and exhibitors showcased. THAIFEX-Anuga Asia will be supported by co-organizers Koelnmesse, Department of International Trade Promotion and the Thai Chamber of Commerce, creating a unique synergy through this private-public partnership. Koelnmesse will carry the company's 90 years of rich history and established brand to the market, while the Department of International Trade Promotion and the Thai Chamber of Commerce will continue to expand the presence of Thai F&B businesses through this global stage. Thai manufacturers are strongly represented at Anuga, and their participation in THAIFEXAnuga Asia will boost the bilateral relations between Asia and Europe, a significant step forward in the F&B industry.