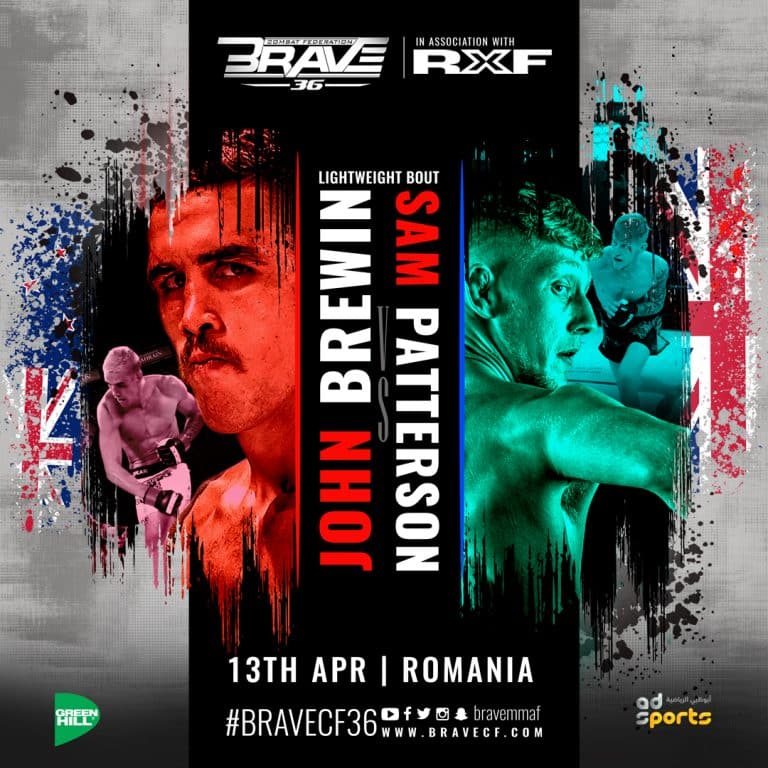 Two of mixed martial arts' finest prospects will meet in a much-anticipated Lightweight bout as Bahrain's biggest-ever sports enterprise BRAVE Combat Federation makes its return to Romania. New Zealand's John Brewin goes for his second straight main event in the European country, after an impressive victory against Maciej Gierzsewski in October.
This time "Trouble" will meet a fellow young athlete in Sam Patterson. "The Future" has made waves recently with a submission victory over top striker Cian Cowley. The Englishman dominated the stand-up department before locking in a guillotine choke that put "The Warrior" to sleep at BRAVE CF 33, in Saudi Arabia.
It was Patterson's first BRAVE CF victory, and he has now been thrust into the main event spot for the first time in his career. He will face off Brewin, who has impressed since joining BRAVE CF, back in 2018. John has four victories for the organization, including his submission win over Gierzsewski in BRAVE CF's first-ever event in Romania.
Brewin has also beat the likes of Cian Cowley, Ahmed Amir, and Hardeep Rai under the BRAVE CF banner, as he has built a respectable 6-1 fight record, after a 3-1 record as an amateur.
BRAVE CF 36 will take place at the BT Arena, in Cluj Napoca, Romania. The show will renew the successful partnership between the fastest-growing organization in the world and Romania's leading promotion RXF, as they will co-promote the show once again, as it happened back in October of 2019, with BRAVE CF 28.