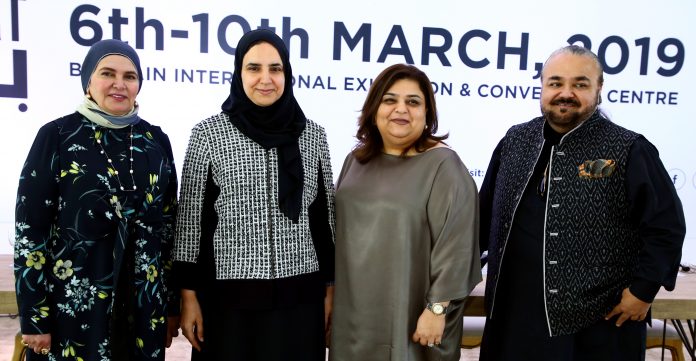 Bahrain's heritage of crafts and craftspeople's skills will take centrestage at the Art Bahrain Across Borders – ArtBAB 2019 in a movement aptly titled 'Artisans Across Borders'. The exciting movement will see global fashion icon and designer JJ Valaya curate the project, transforming Bahraini craft into luxury acquisitions that will be sought-after in luxury branded stores across the world and develop a new appreciation of the timeless craft traditions among a whole new generation of Bahraini craftspeople.
Announcing the 'Artisans Across Borders' project at a press conference today, Shaikha Maram bint Isa Al Khalifa, Director of the Office of Her Royal Highness Wife of the King of Bahrain, said, "It is with pride that we present 'Artisans Across Borders' as an organic continuation of our growth. Our theme for the 2019 edition of ArtBAB is 'Legacy' – it will be a celebration of the foundational effect and influence of Bahrain's traditional crafts on contemporary Bahraini art. The project will be headlined by noted design guru and luxury fashion icon JJ Valaya, who will work closely with our Bahraini craftspeople to give our timeless craft traditions a contemporary designer touch. It is a collaborative effort that has grown from the vision of ArtBAB Fairs & Program Director Kaneka Subberwal and Art Select, the art consultancy that conceived ArtBAB."
Adding her voice to the discourse, Kaneka Subberwal said Art Select was excited to have brought the genius and talent of a design icon like JJ Valaya on board. "In the world of commercial art fairs, ArtBAB is relatively young – the March 2019 edition will be our fourth. We are proud of the unique conversations that we have started about Bahraini art around the world with our Artists Across Borders programme which takes Bahraini artists to art capitals around the world and are keen to replicate this success with Bahraini craftspersons too. 'Artisans Across Borders' will showcase artisanal works of Bahraini craftspersons who will work closely with JJ Valaya to create a dazzling portfolio of crafts rooted in the traditional skills of the Bahraini crafts heritage."
THREE PARTS
'Artisans Across Borders' will unfold in three parts. The first will be a distinctive Artisanal Room at ArtBAB 2019, featuring dramatic large masterpieces which will be special limited edition and bespoke designs with their origins in Bahraini crafts. The second part will consist of stylish commercial interpretations of Bahraini craft pieces that can be retailed at stylish stores around the world as distinctive representations of Bahraini crafts.
The third part of the project is the Book of Bahrain, a lavish coffee table book of photographs that will encompass different sights of Bahrain's persona – architecture, history, portraiture and cityscapes.
Explaining his design philosophy, JJ Valaya said, "I believe that for craft to stay relevant, it has to step into the realm of modernity. The future of crafts lies in making it relevant to the new generation and they want a new avatar of old things with a 'cool' factor. This is my exploratory trip and I am delighted with the talent and the historical memory of craftsmanship that sustains Bahrain's crafts. What I plan to do is work closely with Bahraini craftspersons to create a chic, art-based version of Bahraini craft pieces that will have global appeal. We shall apply the same skills and rules but to create very different things."
SENSORY GUARDIANS
Valaya emphasised that Bahrain's legacy of craft skills was a precious resource in the modern world.
"In a technologically driven world, our hands have been reduced to working on keyboards and swiping screens. Bahrain's craftspeople, with their abundant skills, hold the key to the sensory and tactile components of our lives and they need to be nourished with new vision and ideas. They are the guardians of our past tactile skills and our future sensory experiences."
The project will involve craftspersons from the Jasra Handicrafts Centre, Capital Mall and the Manama Handicrafts Centre. Welcoming the project's vision, Shaikha Wafa Al Khalifa, Director of Crafts at the Ministry of Industry, Commerce & Tourism, said, "This project 'Artisans Across Borders' is important not just for the reanimation of Bahraini crafts but because these crafts will take to the world a new portrait of Bahrain as a country where timeless crafts meld with millennial sensibilities."
Held under the patronage of Her Royal Highness Princess Sabeekha bint Ebrahim Al Khalifa, Wife of the King of Bahrain and a keen supporter of the Kingdom's cultural heritage, ArtBAB 2019 is scheduled to take place from March 6 to 10, 2019 at the Bahrain Exhibitions & Convention Centre. Strategic Partner of the event is Tamkeen, Bahrain's change management agency which supports the building of human resources and the Kingdom's industrial and knowledge growth management.
ArtBAB is designed as a conversation between Bahrain's artists and the rest of the art world. It has forged a unique identity for itself, as a marker of the Kingdom's contemporary history as seen through the prism of art.
Kaneka pointed out that ArtBAB had grown organically over four years and created a new platform and commercial identity for Bahraini art without compromising on the quality of art.
"ArtBAB has enabled a 149% rise in the value of Bahraini art since it started and opened new viewpoints for Bahraini artists," she said, "Most importantly, it is a nourishing platform for emerging Bahraini artists and has sparked off successful careers in contemporary art for many Bahrainis."