Batelco Chairman Shaikh Mohamed bin Khalifa Al Khalifa and Batelco Bahrain CEO Mohamed Bubashait have visited a number of Batelco divisions and locations where fibre is currently being installed, as part of their commitment to delivering fibre services for the Kingdom of Bahrain.
The Chairman of the Board and CEO of Batelco's Bahrain operations are personally supervising the Fibre rollout programme, which is central to Batelco's network expansion plans to deliver super-fast Internet services all over the Kingdom and is in line with the objectives of the Kingdom's leadership to ensure world class connectivity for Bahrain's industries and consumers.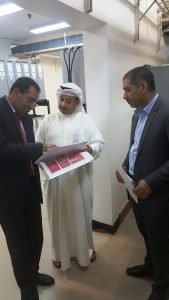 Accordingly, Shaikh Mohamed and Mr. Bubashait, along with a number of Batelco's management toured various divisions of Batelco and a number of locations around the Kingdom where Batelco is currently installing its fibre cables.
Shaikh Mohamed stated that Batelco has been investing heavily over recent years in the Fibre Rollout Programme which is taking superfast fibre services into new developments as well as replacing legacy networks to enhance services for all sectors.
Mr. Bubashait noted that a nation's economic development is dependent on having world class communication networks available and that Batelco is taking the lead by investing in relevant infrastructure that caters to Bahrain's growing needs.
"We are very pleased with the progress we have made so far and with the enthusiastic response from customers who are benefitting from the upgraded fiber service. Our efforts are continuing at a fast pace to deliver fibre services all over the Kingdom of Bahrain," he added.