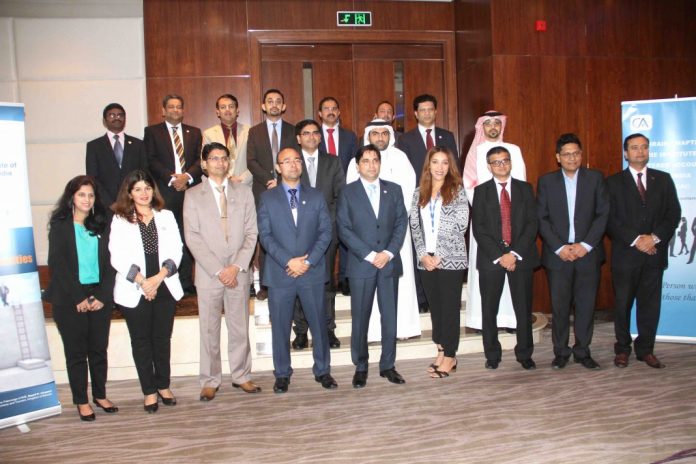 The Bahrain Chapter of the Institute of Chartered Accountants of India, the largest organized professional body of Indians in Bahrain (affiliated to Bahrain Accountants Association) is back with its thought-provoking and career-enhancing annual conference.
"Challenges Create Opportunities" will be theme of the 8th annual international conference which will take place on December 2 & 3, 2016 at the Diplomat Radisson Blu Hotel & Spa. It will be held under the patronage of Minister of Industry, Commerce & Tourism, H.E. Mr. Zayed Al Zayani. It features a host of influential speakers from India and Bahrain such as CA Devaraja Reddy, the President of the Institute of Chartered Accountants of India, and the Vice-President, CA Nilesh Vikamsey who will lead an interactive session on "The Future of CA Profession and its role in Economic Development"; Dr. Anil K Khandelwal, former Chairman & Managing Director of Bank of Baroda and the best-selling author of  management books and award winning banker, who will speak on "Leadership Challenges in Modern Corporations".
Other topics of professional interest would be on VAT in GCC,  Strategies in International Taxation based on Base Erosion & Profit Sharing and Challenges in the new Indian business environment.
Focus on Bahrain's Corporate Climate Bahrain's progressive corporate climate will be showcased in a panel discussion on "Outlook of Bahraini Economy for 2017" to be moderated by Mr. Jamal Fakhro and a talk on "Business Friendly Bahrain – New laws of Doing Business in Bahrain for Foreigners" by the noted corporate lawyer,  Mr. Ma'awia El Nayal.
Innovation & Lifestyle
A detailed exploration of entrepreneurship and innovation will be led by  the inventor of edible cutlery – the only one in the world, Mr. Narayana Peesapaty while Lifestyle Coach Dr. Vishwas Chhabra will talk about his brand of 'Chair Yoga' , a scientifically designed program, which evolves easy and simple conscious body movements for desk-bound executives.
The highlight among the 18 celebrity speakers will be a talk on "The Dynamics of Powerful Decision Making" by Swami Sukhabodhananda, known for his work as Sports Psychology Coach for the Delhi Dare Devils cricket team, India.
"A lot of thought has gone into making the programme of this conference relevant professionally and also in terms of engaging with the aspirations of Chartered Accountants who want to explore innovation and new career paths as entrepreneurs," said CA Vivek Kapoor, Chairperson of the BCICAI, "The conference will also offer its 400-plus delegates from around the region and India a snapshot of Bahrain's economic promise and business-friendly commercial climate. Chartered Accountants will find the talks a fascinating mix of latest developments in their field as well as insights into management style updates."
He added, "The conference will witness participation of delegates from GCC Countries and will provide a great networking zone for delegates and what's more, it carries 12+ hours CPE training credits for CAs. It is open to non-CAs too who will find it very interesting as a gateway to understanding corporate trends – delegate fee is just BD 50 per person and includes the two days breakfast, lunch and unlimited networking opportunities as well."
CA. Uday Shanbhag, the Vice chairperson of the BCICAI said, "We are grateful to our all our sponsors for partnering with BCICAI & supporting the event, especially the title sponsor Al Haddad Motors, event sponsors, Ahli United Bank, BDO, KPMG, Protiviti and day sponsors, Bahrain Credit Facilities co, Grant Thornton, BisB and Diyar Al Muharraq.
Mr. Joel George, Corporate sales manager for Al Haddad Motors said, "Al Haddad Motors (Mercedes-Benz) are pleased to sponsor the BCICAI's annual conference. Chartered accountants are the backbone of the corporate world and the contribution of the BCICAI members to the Kingdom's progress over the years has been commendable and significant indeed. We have partnered with BCICAI in earlier events and we welcome this opportunity to support the conference which will be a review of the corporate challenges that CAs and finance professionals are facing in the current economic scenario and how they transform them into opportunities."