Saar Mall in collaboration with 6/10 Women Wellness Project under the leadership of Ms. Noora Al Muhanna  has organized a charitable event for the third year in a row to create awareness about breast cancer under the title Better Health Better Heron Saturday 14th October 2017 from 4 pm to 10 pm, attended by more than 500 people mostly women. Many members of the society participated in this event including the elderly, youth etc.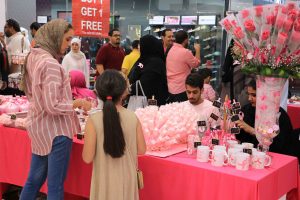 The event highlighted many activities to support the program, which contributed greatly to raise awareness for the fatal disease and how the early examination can avoid its symptoms. Dr. Fadi Al-Tawash spoke about the importance of early diagnose of the disease. The free examination was conducted by Al-Kindi Hospital and Bahrain Specialist Hospital, attended by more than 200 women and proper consultancy was given to notable cases for precautionary measures. A group of effective patients also attended this event and shared their life experience.
Esmahan Bokhowa, Director of Saar Mall, expressed her deep gratitude to all the participants in this event and added that the success depends on saving lives of all breast cancer survivors and raising awareness and also thankful to all the sponsored partners for their support like Dip and Dip, Yellow Submarine, Lumee, Rock a bye baby, Ward Al Sham, Monkey Cookies, Vera Cupcakes, Le-Chocolate, Nestle, Balloons Heaven, Galata, Ehsan Optics, Aptex, Jasmis, Le Chocolate, Kids Palace, Conte, Nawaz dj.
The charity box will be in Saar Mall until the end of October and then the money will be distributed to Bahrain Cancer Society and Think Pink Bahrain.