BHR4All in collboration with Spartan Fitness organized a Health and Wellness for children. A group of coaches trained the children in a fun and effective way while keeping them engaged throughout the sessions.  The "Be Ready Volunteering Team" was on hand throughout for fisrt aid if required.
Physical activity and sport hold the potential to serve as a unique channel to facilitate the inclusion of persons with disabilities within the mainstream community.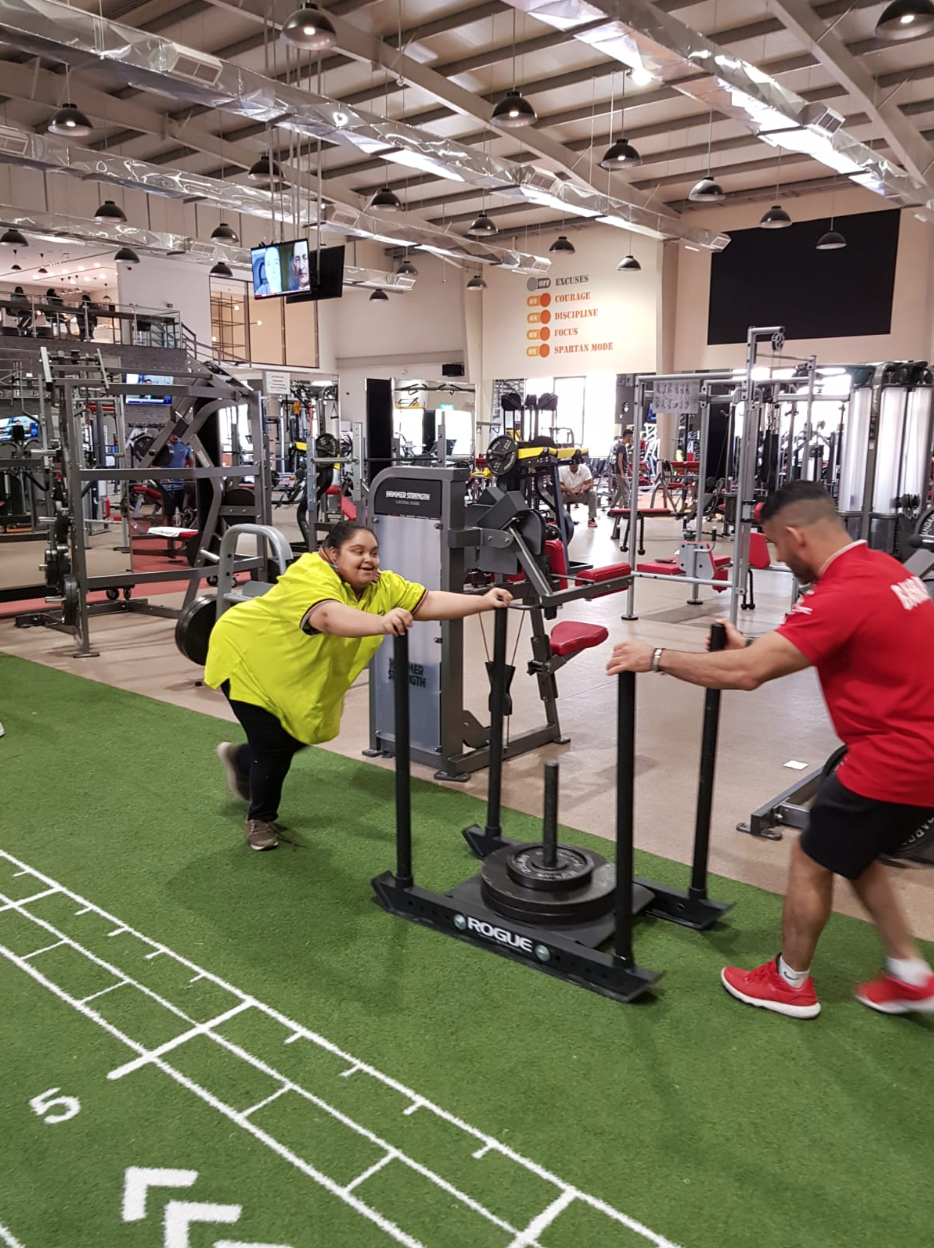 "Words cannot express our deep gratitude to Mr. Faris Kooheji and the entire team at Spartan Fitness for welcoming our group of young men and women three times a week for an entire month. The team is stronger, fitter and healthier as a result of the variety of exercises. We have noticed a remarkable difference in coordination and mobility of the participants. Overall, each one is more confident thanks to the motivation from the coaches and even members at the fitness center.  In just twelve sessions, we have seen a life changing impact and we look forward to working with Spartan in the future" said Ms. Nivedita Dhadphale, founder of Bahrain for All.
Children with intellectual disabilities (which may include Down syndrome, Fragile X syndrome, and other cognitive delays or disabilities) need physical activity just as their typically developing peers do. Sports can help to build kids' confidence and help them get to know other kids in the community (and vice versa). Cardiovascular fitness is critical to improved health for kids with Down syndrome. Teens who have Down syndrome are two to three times more likely to be obese than their peers without Down syndrome.
According to the World Health Organisation, appropriate practice of physical activity assists young people to:
• develop healthy musculoskeletal tissues (i.e. bones, muscles and joints);
• develop a healthy cardiovascular system (i.e. heart and lungs);
• develop neuromuscular awareness (i.e. coordination and movement control);
• maintain a healthy body weight.
Physical activity has also been associated with psychological benefits in young people by improving their control over symptoms of anxiety and depression. Similarly, participation in physical activity can assist in the social development of young people by providing opportunities for self-expression, building self-confidence, social interaction and integration. It has also been suggested that physically active young people more readily adopt other healthy behaviors and demonstrate higher academic performance at school.
The American Mission Hospital gave each student a full check-up prior to starting the sessions. Lucky Clucks and Aquacool supported the camp with healthy post workout snacks and drinks.
The team of BHR4All is happy to offer the special community a window of opportunity to improve their health and wellness. The purpose at ConsultNivs is to work with organisations in the public and private sector to encourage optimization of CSR budgets in order to have a genuine positive impact on society through; alignment of thinking, integration of activities and engagement of all key stakeholders. Many of the heroes in society are often ignored or overlooked due to their disabilities or differences from what is considered the "norm". The purpose of CSR is to drive change towards sustainability for the community at large. It is the responsibility of every business to balance profit-making activities with impactful activities that benefit society to have a positive relationship with the society in which they operate.