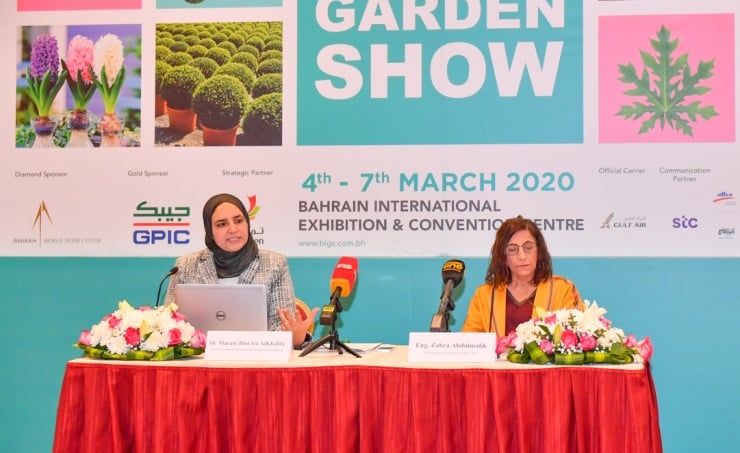 Under the patronage of His Majesty King Hamad bin Isa Al Khalifa, and the continued support of Her Royal Highness Princess Sabeeka bint Ibrahim Al Khalifa, Wife of HM the King, President of the Consultative Council of the National Initiative for Agricultural Development (NIAD), Bahrain International Garden Show (BIGS 2020) will be officially inaugurated on March 3 at the Bahrain International Exhibition and Convention Centre (BIECC) and will be open to the public on March 4-7.
"BIGS 2020 is a unique event as it combines being a commercial exhibition. Contributing to creating important opportunities for participating organizations to expand their activities locally, regionally and internationally. The education and knowledge it spreads offers chances to exchange experiences and opinions. Introducing the latest innovations and providing awareness on the best ways and methods to care for gardens and green areas. In order to protect the environment." NIAD Secretary General Shaikha Maram bint Isa Al Khalifa said at a media conference.
"Every year the exhibition focuses on a different theme that represents a pressing issue facing the agricultural sector. Working on improving systems and methods. Finding solutions and alternatives that contribute to the sustainability of the agricultural sector in the kingdom." she said.
Water: Regenerating Life
"This year, the show's theme is 'Water: Regenerating Life' and will focus on the importance of water. How to preserve it to guarantee its sustainability as it is the source of life on earth. The rate of water consumption will continue to increase by up to 20 to 30 percent by the year 2050. This will exacerbate the problem if proper implementation of solutions does not start. The culture of correct practices in using water resources must spread."
The theme stand will highlight several water-related topics including some statistics on water consumption in Bahrain. The importance of working to achieve water security which is closely related to food security. Also, the role individuals play in conserving water in homes and domestic gardens.
Guest Organizations
The theme stand will also include two spaces for guest organizations: The first will be allocated for the Arabian Gulf University (AGU) to showcase the latest scientific research on water. Also, recommending water resource management policies for the kingdom.
The second will be allocated for Kuwait Institute for Scientific Research (KISR). They will display research projects dedicated for rationalizing water consumption and sustainable agricultural practices.
They will also demonstrate ways of preserving natural resources using seasonal rainwater. Improving methods for data collection that helps decision makers draw plans and future strategies in the agricultural field.
Kuwait-based Society of Agriculture Engineers will be present in the same space. They will showcase information about water sources. Choosing the right trees to plant based on water available for irrigation and sustainable irrigation solutions. Visitors will have the opportunity to benefit from the expertise of the participating organizations on all matters related to the water sector.
BIGS 2020
This year, more than 200 exhibitors will showcase their designs, products, technologies and innovations over a 7,000 sqm space.
All countries will be offering their latest innovations, designs, agricultural technologies, applications and successful experiments in the field, as well as offer consultation, services and products.
Allocation of a special place for Bahraini Farmers Market with 14 Bahraini farmers, selected following a draw. It will be an opportunity to promote local produce and provide an additional marketing opportunity for the local farmers.
The show will feature a special children corner under the name "Khalasi's Garden". It will include eight workshops every day to teach children skills, crafts and transforming materials into creative ideas. It will also feature electronic games that educate children on the right amount of water plants need. A model will be available to show children how water generates power.
Shaikha Maram extended her thanks and appreciation to the Bahrain World Trade Centre, Tamkeen, Gulf Petrochemical Industries Company (GPIC), Kuwait Finance House (KFH), Aluminium Bahrain (Alba), Bahrain Airport Company, Bahrain National Gas Company (Banagas), Saudi Telecom Company (STC), Al Salam Bank and the official carrier Gulf Air, as well as all local newspapers for their support this year.
She affirmed that their support had a great impact on the success of the show and its growth over the years. It also reflects the faith these national organizations have in the importance of spreading agricultural education for the future and sustainability of the sector.
"We are looking forward to welcoming visitors at Bahrain International Garden Show and we encourage them to benefit from the information, ideas and expertise of the participating organizations and to view the latest goods and services displayed this year," Shaikha Maram said.