Bahrain for All (BHR4All) and the Bahrain Institute of Hospitality and Retail (BIHR) have joined hands to organize the first its kind inclusive Summer Camp for differently abled children for five weeks. The camp began on 1st July and will end with a public gathering at the Atrium Mall on Thursday 8th August 2019. Their mutual goals are to ensure that participants remain mentally and physically active throughout the summer months, learn new tasks as well increase the uniqueness, needs, challenges and awareness of this very special community.
"Dadabai Holding and the Bahrain Institute of Hospitality & Retail (BIHR) is committed to continuously play a significant role in recognising, supporting and addressing humanitarian, environmental and social needs in the Kingdom of Bahrain. To achieve these goals, we partner with various Non-Governmental Organisations (NGO's) charitable societies and local associations. One of the key initiatives that the group supports all through out the year is Bahrain For All for their commitment in supporting children and adults with special needs regardless of gender, ethnicity, socio-economic background, or education" Hatim Dadabai, Chairman of Dadabai Holding.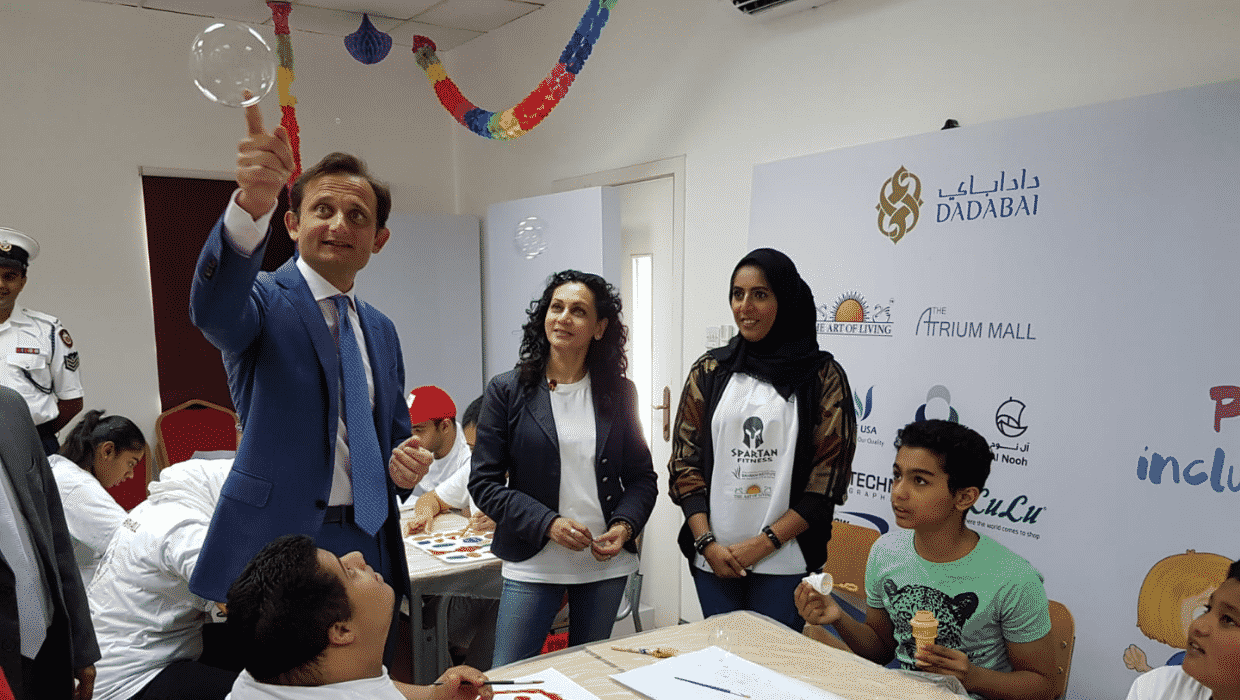 "I have worked with disabled members of the society in Bahrain since 2002. Under the banner of BHR4All, we have organized over 50 events with the aim to sensitize the general public to this special community. During our public inclusive events, queries are often raised about long-term care for people with the full spectrum of Special Needs, indicating a lacuna in the knowledge of disability. The agonizing stigma of having a child with different abilities still stands. Our aim is to encourage commitment to share some burden by shifting the mindset of offering a short-term "charity based donation" to one of enduring partnership, equality and collaboration to encourage inclusive social cohesion. We are very grateful to Mr. Hatim Dadabai and all our other partners for offering this group an opportunity to have new experiences and learn new tasks through the summer.  Our resolve is to continue to inspire optimization of Corporate Social Responsibility (CSR) budgets with a genuine long-term impact on society through; alignment of thinking, integration of activities, active engagement of key stakeholders and the fulfilment of the Sustainable Development Goals (SDGs)" said Ms. Nivedita Dhadphale, Founder of BHR4All.
Partners of this inclusive summer training camp also include Spartan Fitness, Art of Living, Rife USA, the Ministry of Interior, Manama Printing Press, Lulu, Atrium Mall, Jotun Paints Bahrain, Technographics, Showtech, Al Nooh and the Britsih Council. These partnerships will offer the participants a wide range of experience, training, skills and exposure to a variety of environments and people.
The Kingdom's commitment to the physical, moral and mental development of youth as well as the values of inclusivity, tolerance, peace and social solidarity are referenced in the National Action Charter. These values align with the goals of BIHR and Bahrain for All.