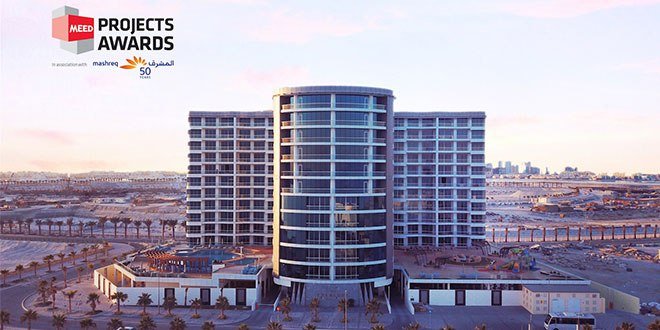 Bin Faqeeh, the leading Bahrain-based privately-owned real estate investment company, has won MEED's National Residential Project of the Year 2018 Award for its recently delivered luxurious development, The Treasure.
MEED's Awards are presented to distinctive projects that deserve recognition for their outstanding effort. A total of 94 projects from Bahrain, Kuwait, Oman, Saudi Arabia and the United Arab Emirates competed for honours in 16 different categories of the annual MEED Projects Awards, in association with Mashreq. The projects were evaluated by an esteemed judging panel against list of criteria.
On this occasion, Mr. Faisal Faqeeh, Chairman of Bin Faqeeh Real Estate Investment Company commented, "We are very proud to be named the developer of the best residential project in Bahrain this year. This emphasizes our role as a leading real estate developer in the GCC".
"Winning this award is a great testimonial from a key industry insider, which will be added to our record of outstanding achievements that we have accomplished.
"Since its inception in 2008, Bin Faqeeh has successfully established itself as leaders in the market and gained more prominence to become a Key regional real estate investor. At the moment, we are focusing our efforts to create a bright future for the real estate market in Bahrain by introducing premium and unprecedent real estate projects". Mr Faqeeh added.
The Treasure is the first residential development to be delivered in the township project of Dilmunia. The project offers 232 apartments. It is designed to give a balanced lifestyle for the residents and time to spend for things that truly matter most. The Treasure offers one bedroom, two bedrooms, three bedrooms, and penthouse units. The project offers facilities such as outdoor swimming pool, games room, and The Treasure's very own indoor movie theatre where residents can bring and entertain their family and friends. All units in The Treasure have private balconies with a sea view that will help you unwind after a hard-working day.
The Treasure is conveniently located in proximity of the airport not far from the capital Manama with its financial district and excellent shopping malls. The Treasure also provides its residents with its own health club, aerobics room and gymnasium to maintain a healthy lifestyle, as well as female and male salons. The residents can also relax by enjoying a cup of coffee while reading a book in the coffee shop or just by strolling around the garden.
"The 2018 awards programme saw a 24 per cent increase in short-listed organisations compared to the 2017 edition, a testament to the quality of completed projects being delivered across the GCC," said Becky Crayman, Programme Director, MEED.
MEED is a leading business intelligence tool for the Middle East and North Africa (MENA), providing analysis and commentary on Middle Eastern markets, companies, people and data on the regional projects market. The awards aim to raise standards through benchmarking the best practice specified in project briefs and excellence provided in project delivery.