Under the patronage of His Excellency the Minister of Labor and Social Development, Mr. Jameel bin Mohammed Ali Humaidan, Bahrain Islamic Bank (BisB), the leading Islamic bank in the Kingdom of Bahrain, recently held the graduation ceremony to honour its first batch of employees who completed a series of training programs organized by the Bank in 2017. The programs focused on equipping employees with enhanced soft skills and financial knowledge and developing management and leadership, under the support of the Tamkeen Labour Fund and in cooperation with EMIC Training and AMPOWERED Training, and attended by Bank officials of a number of distinguished guests from the Ministry of Labour and Social Development and Tamkeen.

The ceremony was initiated by a recitation of selected verses from the Holy Quran, after which Hassan Jarrar, CEO of BisB delivered a speech revealing his gratification of the Bank's achievements in terms the continued investment in their employees, through developing both their job skills and abilities. Following this, Ms. Eman Ali, an employee of BisB, gave a speech on behalf of the Graduates in which she reflected on the positive impact of the training courses provided on elevating the work atmosphere and cultural environment.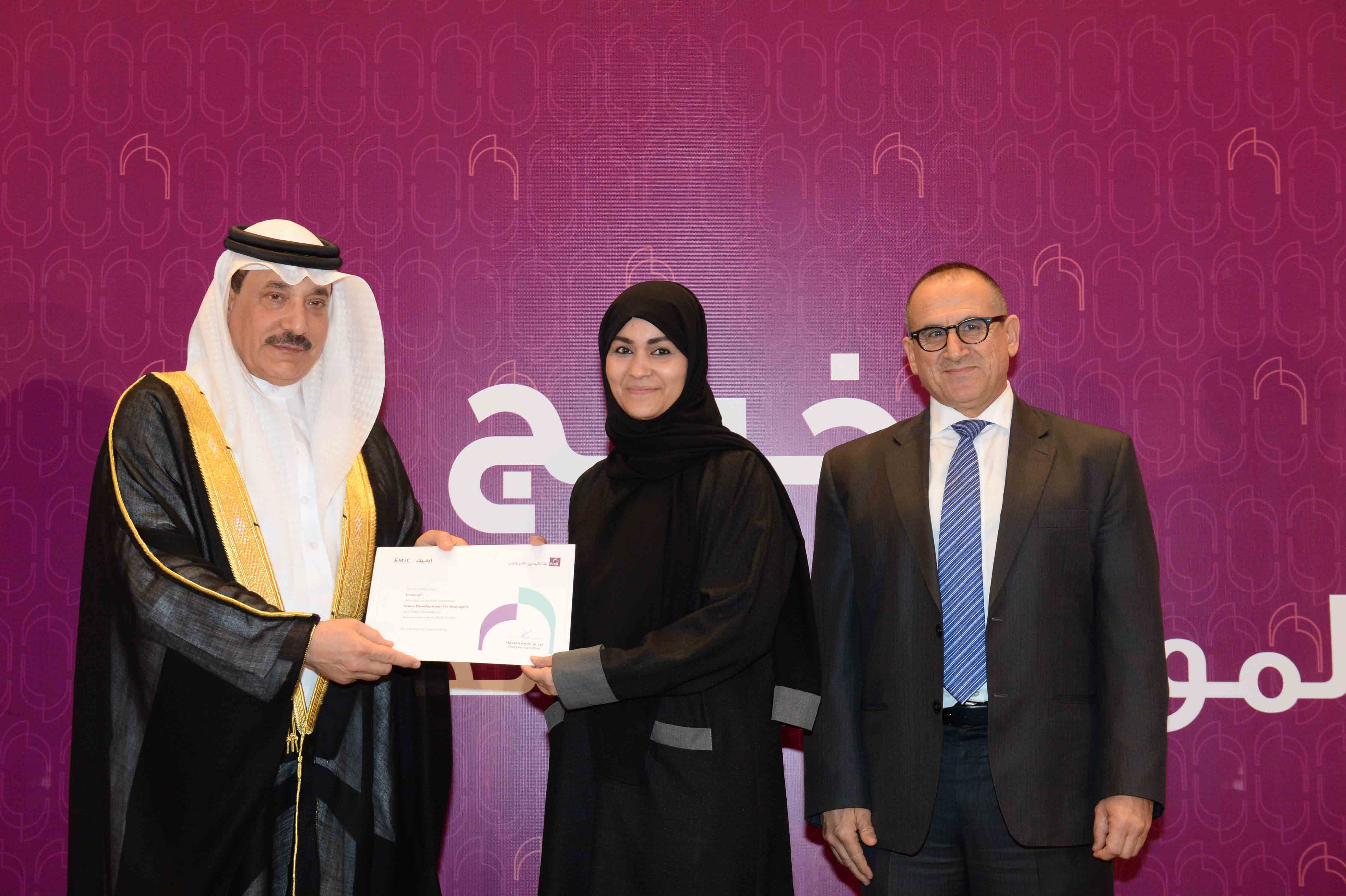 Speaking on behalf of the training company, Mr. Mohamed Matar, General Manager of EMIC Training, addressed the role of his company in implementing the selection of programs, highlighting the importance of these programs in enhancing the various functional abilities and soft skills of the employees. The ceremony came to a close as BisB expressed their gratitude to the Ministry of Labour and Social Development as the sponsor of the event, thanking Tamkeen and the Ministry of Interior for their continued support in implementing the training programs, and finally acknowledging the 170 employees for their efforts in successfully completing the programs last year.
Commenting on the occasion, the Minister of Labour and Social Development, HE Mr. Jameel bin Mohammed Ali Humaidan, stressed the importance of training Bahrainis working in the financial and banking sector "This reflects Bahrain's leadership in this vital sector in the comprehensive development of the workforce" adding "Bahrain Islamic Bank's initiatives in developing the national competencies of the workforce are critical to promoting leadership skills and contributing to the overall development of employees helping them climb the career ladder and giving rise to bright banking leaders."
H.E. Mr. Humaidan went on to praise the trainees for their perseverance, investing their time to enhance the required skills during the training period, stressing the importance of investing in the career development of employees, commending Tamkeen in training the national workforce, reflecting the Government's keen interest in advancing the Bahraini workforce.
Mr. Jarrar brought the ceremony to a close on a positive note, announcing: "We are delighted to have this honorary ceremony for our employees who completed a number of training programs that we organized in 2017 under the support of Tamkeen. This has been spearheaded by our Bank's "Ishraq – Back to Basics" strategy, which prioritizes the continued investment in employees in order to develop talent and nurture thought leaders in the financial industry. We would like to thank H.E. the Minister of Labour and Social Development for his participation, our partners Tamkeen, the Ministry of the Interior and EMIC & AMPOWERED for their support in training, allowing us to successfully achieve another successful milestone for BisB."