Boutique Boucheron, one of Bahrain's most exclusive boutiques specializing in high end jewellery and watches, announces its participation in Jewellery Arabia 2017, which is set to take place from the 21st to the 25th of November, 2017 at the Bahrain International Exhibition & Convention Centre. The exhibition will be held under the patronage of His Royal Highness Prince Khalifa bin Salman Al Khalifa, Prime Minister of the Kingdom of Bahrain.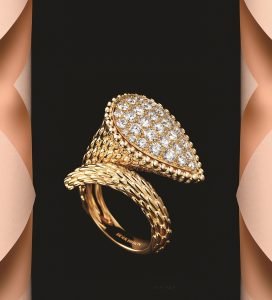 Boutique Boucheron's participation this year will include the introduction of various new additions to its luxurious jewellery collections. Seven new additions to the Serpent Bohème Collection and Four new additions to the Quatre Collection will be revealed to the world for the very first time in Jewellery Arabia 2017. Furthermore, a premium selection of 6 limited edition jewellery pieces will also be displayed at Boutique Boucheron's stand. In addition to the elegant offerings that will be exclusively unveiled at the renowned exhibition, Boutique Boucheron is set to showcase a number of exquisite rings, earrings, bangles, and necklaces from its existing collections as well.
Speaking on this occasion, the General Manager of Boutique Boucheron in Bahrain, Mr. Mohamed Al Mahmood, said: "On behalf of Boutique Boucheron, it brings me great pleasure to announce our participation in one of the region's most distinguished exhibitions, Jewellery Arabia 2017. It is indeed a privilege to be amongst some of the most famous jewellery houses across Bahrain and the region, and especially to display the chic 'Nature Triomphante Collection' to visitors."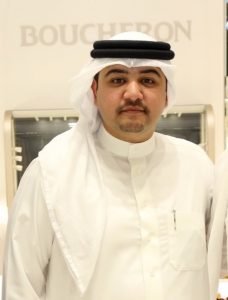 "Our substantial participation, in terms of the extensive size and scope of our displays, during our third consecutive attendance of Jewellery Arabia is a manifestation of the exponential success that we have garnered since the opening of Boutique Boucheron in April 2015.
We have great confidence in this event as we expect to receive considerable interest on all our jewellery collections and precious wares. On behalf of Boutique Boucheron, I cordially invite all jewellery connoisseurs, enthusiasts and collectors to visit our stand at the exhibition and to personally witness the exquisite nature of our collections. By exhibiting our wide array of jewellery in a high-profile event such as this, we look forward to achieving further, unprecedented successes in our prestigious brand at both local and global levels", added Mr. Al Mahmood.
Best known for the embodiment of excellence in its exquisite high-end jewellery and watch making for more than 150 years, Boucheron, a French family dynasty founded by Frédéric Boucheron, has been synonymous with excellence in French Fine jewellery since 1858. Each watch and jewellery creation sublimates their exceptional stones with the precious material of which they are sculpted. Boucheron's creations sublimate women, releasing the inner beauty and confidence of those who embody grace.
Jewellery Arabia is the largest and most prestigious jewellery exhibition in the Middle East, with an incredible range of stunning finished jewellery, luxury time pieces, and precious stones of every size, shape and cut showcased during the 4 day event.
Jewellery Arabia 2016 showcased the largest display of finished jewellery, luxury timepieces, precious stones, antiques, objets d'art, jewellery packaging and technology in the Middle East. Over 600 exhibitors from 30 nations, as well as 49,000 visitors from 43 countries attended the 25th edition of the exhibition.