The Bahrain Tourism and Exhibitions Authority (BTEA) announced its participation in the ITB Convention which is being held between the 7th and 11th of March 2018 in Berlin, Germany. This comes in line with BTEA's efforts to showcase the Kingdom internationally and strengthen its position on the world tourism map as an attractive tourist destination.
The delegation from the Kingdom of Bahrain, headed by the Chief Executive Officer of BTEA, H.E. Shaikh Khaled bin Humood Al Khalifa, included representatives from the Bahrain Economic Development Board, At Bahrain, Visit Bahrain, the national carrier Gulf Air, Bahrain International Circuit, and a number of leading hotels and travel agents.
"We are delighted to to be participating in such a reputed international event such as the ITB Berlin Convention 2018 where we aim to promote the Kingdom's unique attractions to an international audience in line with our long-term focus to further boost the strength of the local tourism sector and drive in visitors from across the world," said the CEO of BTEA, H.E. Shaikh Khaled bin Humood Al Khalifa.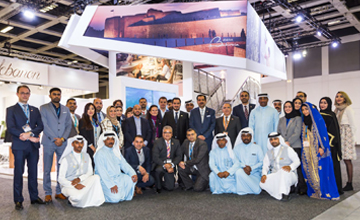 Over the course of five days, more than 160,000 visitors are expected to attend the exhibition which features over 10,000 exhibitors from 180 countries who will be represented on stands covering an area of 160,000 sqm.
BTEA's participation comes in line with its long term strategy to further develop the Kingdom's tourism sector and strengthen its position on a regional and international level under the slogan of 'Ours.Yours.', which contributes towards the Kingdom's economy and the 2030 Economic Vision.