CFA Society Bahrain, the local society of investment professionals, organised its 2023 Charter Award Ceremony on Saturday, January 21, under the patronage of H.E. Sheikh Ahmed bin Mohamed Al Khalifa, Auditor-General of the Bahrain National Audit Office. The Charter Award Ceremony is organized annually to recognize the new Charterholders, who with immense hard work and effort, clear all three levels of the CFA exam and meet the relevant work experience.
H.E. Sheikh Ahmed bin Mohamed Al Khalifa, Auditor-General graced the ceremony as Chief Guest and H.E. Rasheed Al Maraj, Governor of the Central Bank of Bahrain attended the event as Guest of Honour. The patron of the ceremony and the guest of honour alongside the President of CFA Society Bahrain Dr. Ali Al-Moulani, awarded the certificates to charterholders.
The award ceremony agenda included a global and regional financial and economic forecast. The growth opportunities and challenges facing the financial and banking sector were discussed including  its remarkable contribution towards expanding the non-oil sector and speeding the national economy's progress towards prosperity and sustainable growth.
H.E. Sheikh Ahmed bin Mohamed Al Khalifa, Auditor-General, congratulated the new charterholders on their great endeavours to obtain these high professional qualifications. He expressed his appreciation for CFA Society Bahrain's tangible contributions towards the development of human capital in the investment filed particularly in managing investments, mitigating financial and investment risks, providing comprehensive investment strategies and developing capital markets.
H.E. Rasheed Al Maraj, CBB Governor, also congratulated the charterholders, and wished them continued success in their professional career. He praised the role played by CFA Society Bahrain in promoting the certificate and doubling the number of charterholders which helped to elevate investment standards and practices in the Kingdom. He pointed out that the Bahrain market needed such highly recognised professional certification to forge new national competencies to support the development of the financial sector.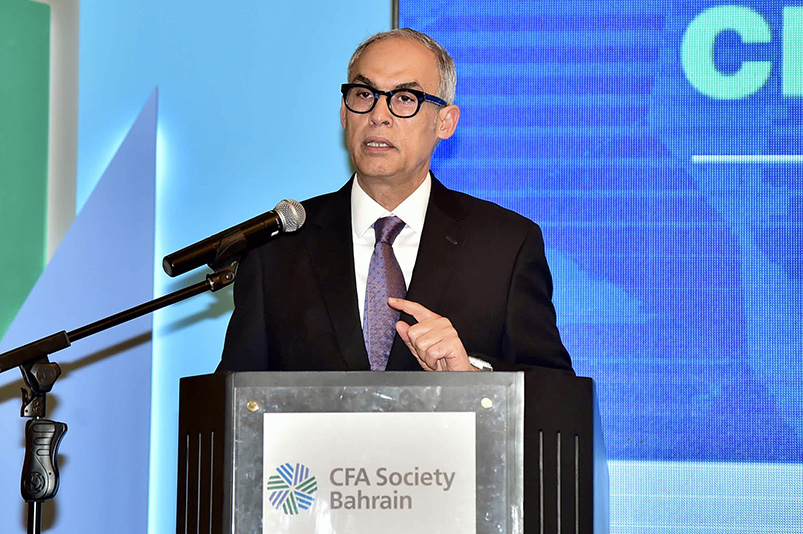 Dr. Ali Al-Moulani, President of CFA Society Bahrain, commented, "We are pleased to graduate this new batch of charterholders who qualify for distinguished career opportunities through practical knowledge in the fields of investment and financial analysis. The society upholds its commitment of serving the financial sector by supplying the market with experienced human capital capable of managing investment with sophisticated financial acumen in accordance with the best ethical and professional standards."