Eight days of DIFF's trademark silver-screen magic closed today with an epic Closing Night Gala, marking the close of the 14th edition of the Festival. DIFF took over the city between 6 – 13 December with screenings of 140 films from globally acclaimed filmmakers and regional talent, and unparalleled industry networking opportunities and insights from the best in the business today. Continuing to raise the profile of Arab film on an international stage, the renowned film festival hosted a diverse selection of galas, special presentations, live performances, red carpet events and informative industry sessions, which made the Festival's 14th year an unforgettable experience for all.
Abdulhamid Juma, Dubai International Film Festival Chairman, commented: "DIFF's 2017 Festival saw new talent emerging, and communities brought together through the power of cinema. The 14th edition's extensive lineup of films, both close and far from home, have once again thrilled audiences, and we are honoured to have brought this splendour to life. We extend our thanks not only to all the filmmakers, actors, directors and producers that have shared their stories with us this December, but also to our DIFF volunteers, selected from more than 7,000 applicants, that have worked tirelessly to make this year's edition another success."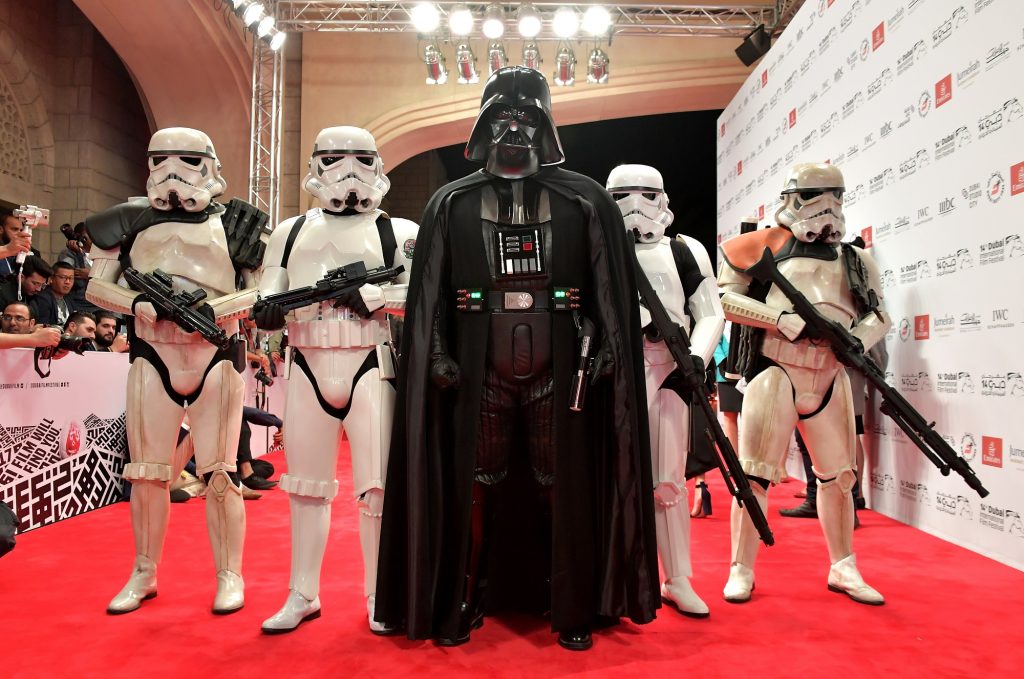 DIFF's Closing Night Gala saw the most recent adventure from a galaxy far, far away, 'Star Wars: The Last Jedi', enjoyed by a capacity audience. The next instalment in the Skywalker saga held its premiere at the Madinat Jumeirah, and was welcomed to the Festival in true Coruscant style with a Star Wars takeover for the final gala. Characters from the decades-spanning franchise graced the red carpet as DIFF audiences turned out in their best Star Wars costumes to ensure the Festival's final screening provided a fitting end to a spectacular week.
Written and directed by acclaimed filmmaker Rian Johnson, the film features an interstellar cast of stars including Mark Hamill, Adam Driver, Daisy Ridley, John Boyega, Oscar Isaac, Lupita Nyong'o, Andy Serkis, Domhnall Gleeson, Anthony Daniels, Gwendoline Christie, Kelly Marie Tran, Laura Dern and Benicio Del Toro. The film also stars Carrie Fisher in her final role. In 'Star Wars: The Last Jedi', the Skywalker saga continues as the heroes of The Force Awakens join the galactic legends in an epic adventure that unlocks age-old mysteries of the Force and shocking revelations of the past.
Shivani Pandya, Managing Director, DIFF, commented: "This year has been another fantastic edition of the Dubai International Film Festival. We are particularly thrilled to continue our commitment to shining a spotlight on Arab filmmakers by working to create unmatched networking opportunities and connections through the Dubai Film Market. The UK Spotlight programme focused on strengthening the bridge between two flourishing industries – the UK and the MENA region – with the support of BAFTA, BFI and the British Council. Partnerships such as these have not only helped amplify our goal of showcasing regional cinema to an international audience, but has also given budding filmmakers the chance to gain valuable insights and industry knowledge from experts in their craft. We are delighted to have hosted such a collaborative Festival for 2017, and look forward to continuing cross-cultural conversations in the next edition."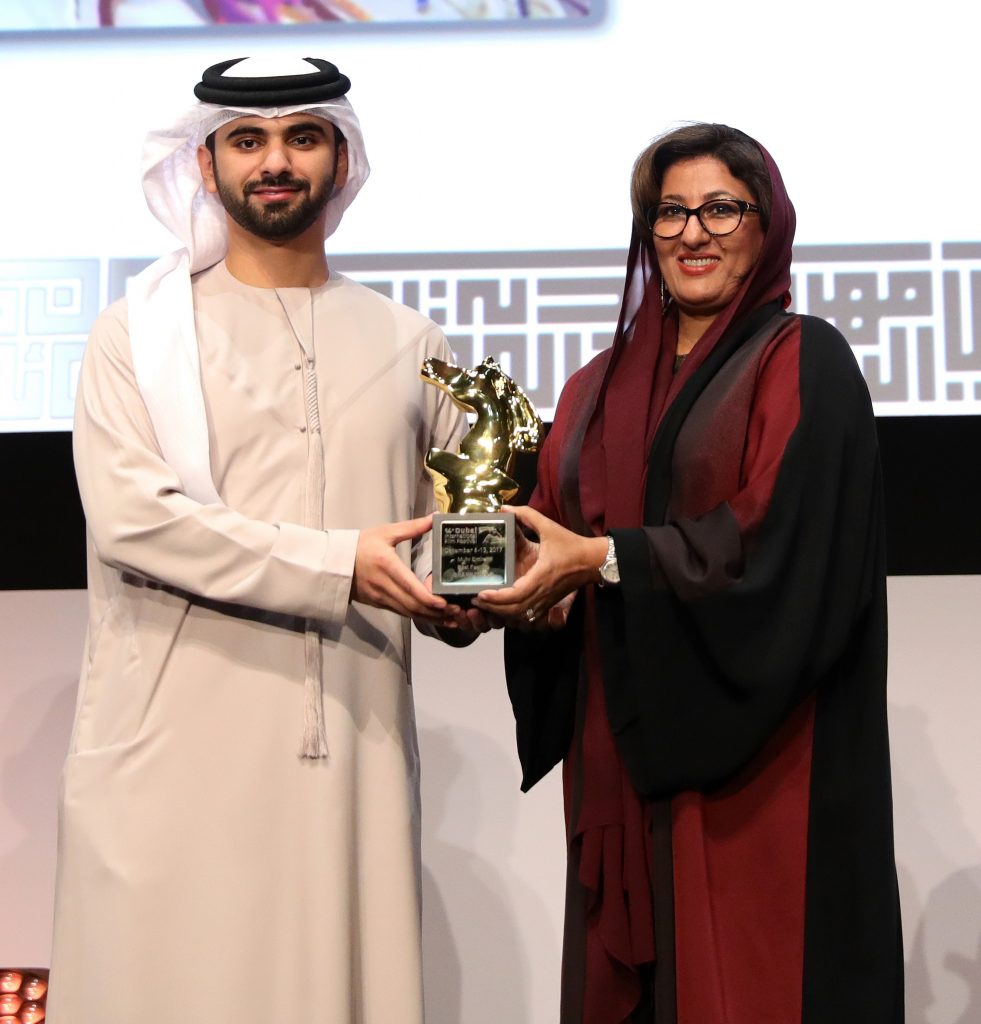 His Highness Sheikh Mansoor bin Mohammed bin Rashid Al Maktoum presented the prestigious Muhr Awards to the winners, which was held during a celebratory ceremony that took place in the Souk Madinat Theatre at Madinat Jumeirah. Winning the Best Director in the Muhr Emirati category was Abdullah Aljunaibi for his thrilling film 'Camera', winner of the Best Emirati Feature went to 'Sharp Tools' directed by Nujoom Alghanem, whilst 'Escape' directed by Hana Alshateri and Yaser Al Neyadi was named Best Muhr Emirati Short. In the Muhr Short category, Special Jury Prize went to Cyril Aris for 'The President's Visit' and the Best Muhr Short went to gifted director Mahdi Fleifel for 'The Drowning Man'. In the Muhr Gulf Short category, Best Muhr Gulf Short went to the deserving Ulaa Salim for 'Fædreland (Land of Our Fathers)', and Dhyaa Joda was awarded the Special Jury Prize for her compelling film 'Sabyea'.
Jean-Claude Bastos de Morais, Founder and Group CEO, Quantum Global Group, on Muhr Awards at the 14th edition of Dubai International Film Festival (DIFF): "I have always been committed to promoting youth, entrepreneurship, innovation and cultural awakening in all the markets where I operate. As we are seeking to build a presence in Dubai, it is natural for me to invest in film, and in particular local Arab and Emirati film making through the Muhr Award. Film is such a powerful tool for cultural expression and exchange, so it is interesting to me that indigenous film making is growing so strongly, both in the Arab world and in Africa, as in Nollywood for example. I believe that an active film making culture is a sign of a healthy and progressive society where the young, bold and creative people are able to claim their place at the table and play a role in shaping the future."
The Muhr Feature category saw Lucien Bourjeily awarded the Special Jury Prize for his feature 'Heaven Without People', while Ziad Khalthoum was presented with the Best Muhr Non-Fiction Feature prize for 'Taste of Cement', and winner of the Best Muhr Fiction Feature was handed to Annemarie Jacir for 'Wajib'. Taking home Best Actress in the Feature category was Menha El Batroui, for her role in 'Cactus Flower', and she was joined by Mohammad Bakri and Saleh Bakri as a joint Best Actor award for 'Wajib'. Best Director was presented to Sofia Djama for her outstanding film 'The Blessed'.
Masoud Amralla Al Ali, DIFF Artistic Director, said: "The Muhr competition has grown with the Festival, and since its inception we have been able to see the variety and strength of talent from across the region continue to evolve. The 2017 edition certainly raised the bar and the esteemed jury members really had their work cut out in selecting the winners. On behalf of DIFF, I would like to extend our sincere congratulations to the deserving winners whose bold undertakings have told fascinating stories and shared regional perspectives with DIFF audiences. We are excited to see what is in store for these talented individuals, and will no doubt welcome them back to future Festival editions."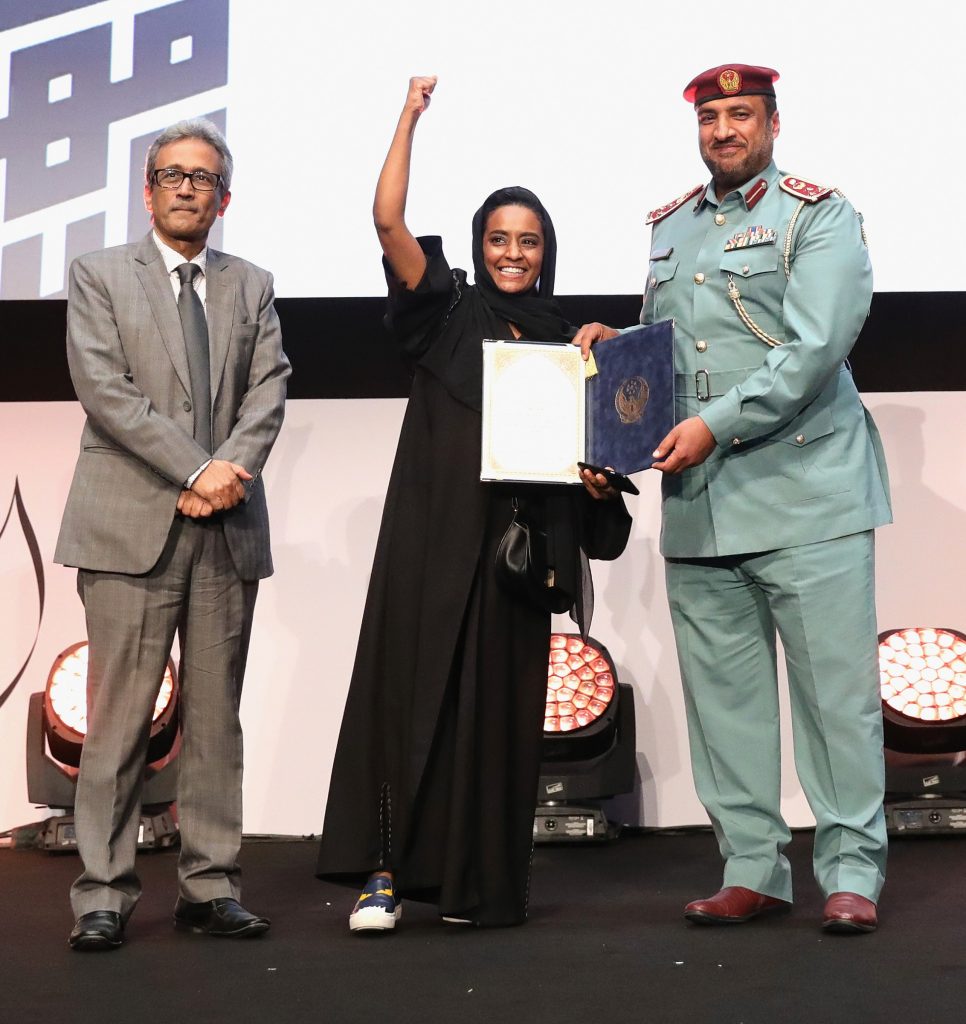 DIFF also announced the recipients of a range of awards granted to talented individuals whose work helps support the Festival and the local industry. Sanjay Shankar from Middlesex University Dubai was presented with the esteemed Young Journalist Award for his tireless work reporting from the Festival, with the support of the region's leading media outlet, Gulf News tabloid!. Celebrating works that address key social issues and awareness, DIFF again partnered with the Emirates' Ministry of Interior for its Cinema Award, which was presented to Rawia Abdullah for her project 'The Contact Line of Domfront' along with a cash prize of $100,000.
Celebrating the craft of storytelling, Sajda Almuallemi was awarded the Arab Film Studio Scriptwriting Award for her compelling work 'Unexpected Holiday'. The People's Choice Award was presented to 'Goodbye, Christopher Robin', directed by Simon Curtis, as judged by DIFF's diverse audiences.
Since being established in 2004, DIFF has grown to become an influential platform for the region's most talented artists to showcase their films. As part of this, the Dubai Film Market was conceived to provide production and post-production funding and support for budding directors in the region.