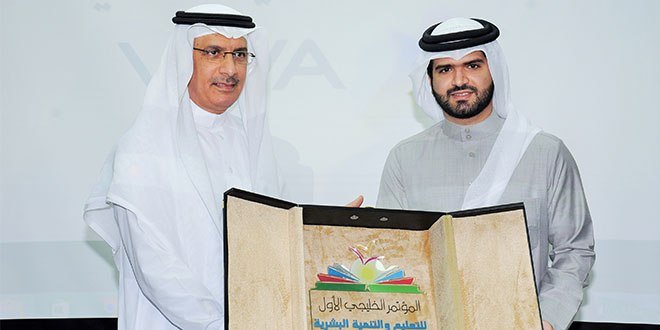 President of the Arabian Gulf University (AGU) HE Dr Khalid bin Abdulrahman Al-Ohaly affirmed the importance of developing the learning and educational system to improve the outputs of the learning process, stating that success of any society is largely linked to the learning of educational system.
HE Dr Al-Ohaly's remark came during his patronisation of the 1st GCC Conference for Education and Human Development, organised by AGU's graduate students under the title "Educational Horizons with an Innovative Vision.  The conference projected 30 scientific papers discussing modern educational issues.
"Education is the prime driver of development in which human represents its main focus, as it provides the information and the skills required to competently achieve development," he said.
Dr Al-Ohaly pointed out that the College of Graduate Studies at AGU strives to improve the quality of education in accordance with the highest international standards, and to promote scientific research. He simultaneously indicated the importance of these conferences in future outlooks, exchanging expertise and reviewing the latest international experiences and modern strategies in education to promote and advance the educational system.
During the opening ceremony, which had a wide Gulf attendance, the President of the University honoured VIVA, the sponsor to the activities of the conference, which discussed important topics that dealt with issues of future planning and educational visions that accompany international changes and developments. It broached the role of education in establishing and strengthening national values, preparing human leadership, quality of education and linking curricula and programs to actual needs and fields of human development.
This in addition to recent trends in the field of education and learning difficulties, disabilities and autism, the role of education and human development in the age of advanced technology, and contemporary issues in gifted education. Furthermore, it touched upon future prospects, scientific visions and perspectives for psychological research in the light of current educational issues, as well as guidance programs and their role in confronting students' educational problems and obstacles that threaten the educational process and work to limit human development.
For his part, Secretary General of the Conference, PhD student at the Department of Gifted Education at AGU, Saeed Al-Qahtani said that education plays a major role in building a generation capable of leading the future. The conference was organised to keep up with the development of knowledge and to open the opportunity to interested individuals, specialists and researchers in the field of education in the GCC and Arab countries to exchange experiences and skills in scientific and practical fields in the campus of AGU.