Dragon City, the largest whole-sale and retail trade centre in the Kingdom, has launched an innovative Shopping Guide Service for the benefit of its customers, in its commitment to providing an unparalleled shopping experience. The new service was designed to facilitate a smoother and quicker shopping process for the city's customers.
This service originated from the idea of finding an easy way to maximise the efficiency of shopping trips. Given the size of Dragon City and the variety of products available, it's quite easy for someone to lose track of the clock in search of their desired items. Customers utilising this service will be assigned a shopping guide officer who is familiar with the mall to speed them through the process, keeping wasted time at a minimum.
Customers wishing to make use of the service will have to call in advance for booking, through the telephone number (32296366). On the appointment day, the officer will help customers get the products they requested. Shoppers who book the service will get a reserved parking area, in addition to a gift bag, courtesy of Dragon City.
Mr. Patrick Zheng Shou, General Manager of Dragon City's operating company Chinamex, commented on the occasion: "We are quite pleased to announce the launch of this new service to our esteemed customers. We are aware that the demands of modern life necessitate efficiency for individuals with responsibilities during the day." He went on,  "As the Kingdom's leading family destination, Dragon City is always keen to improve its services and introduce improvements for the convenience of our visitors."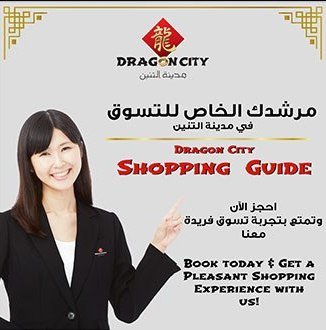 Dragon City is a first of its kind project in the Kingdom of Bahrain and it includes Dragon Mall, Dragon Apartments, Dining Village, Dragon Plaza and an allocated area for warehouses. Dragon City is home to more than 787 commercial units, effectively making it the largest wholesale and retail trading centre in the Kingdom of Bahrain. Located South-West of Diyar Al Muharraq, it is strategically located in close proximity to Bahrain's International Airport, the state-of-the-art Khalifa Bin Salman Port and the Capital of the Kingdom of Bahrain, Manama, making it ideal and providing easy access to customers from both the Kingdom and beyond. Dragon City gives to its customers, including local consumers, trade customers and tourists, an access to a wide range of offers and high quality Chinese products.