Euro Motors, the exclusive importer and distributor for luxury automotive manufacturer Jaguar Land Rover in the Kingdom of Bahrain, announced that it will be showcasing a used Jaguar and Land Rover that has been partially reconditioned to highlight the difference between a Jaguar Land Rover APPROVED vehicle and a pre-owned one.
Being on display up until 15th August 2018, customers will be able to visit the showroom and witness firsthand the difference between a used vehicle and one that has been reconditioned by the APPROVED certified pre-owned vehicle program. The vehicles on display are the Jaguar XE and the Range Rover.
This showcase will also provide customers with a comprehensive insight of the entire process that an APPROVED vehicle goes through. Each and every APPROVED vehicle at the showroom undergoes vigorous testing in order to ensure that the vehicle is in the best of conditions. Furthermore to peruse through the entire range of APPROVED vehicles, customers can visit the first floor of the showroom. The entire floor is dedicated to solely exhibiting APPROVED vehicles, hence making it convenient for customers to choose their dream car.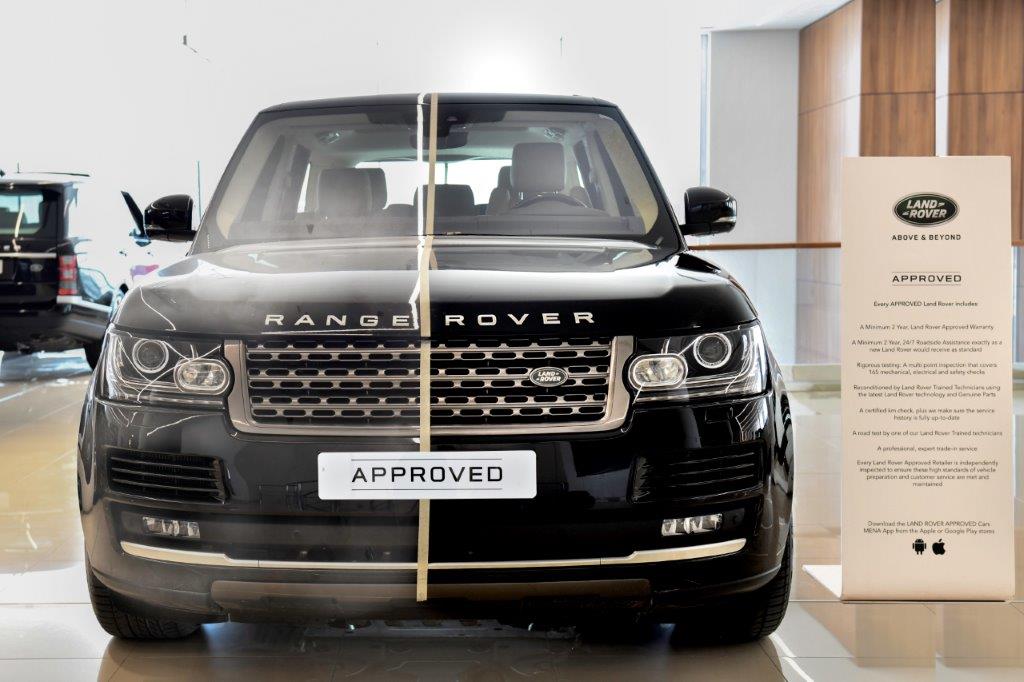 Speaking about the showcase, the General Manager of Euro Motors Jaguar Land Rover, Mr. Stephen Lay said: "As part of our constant efforts to provide excellent customer experience, we invite our customers to witness the unique showcase at our showroom. By partially reconditioning the vehicles, customers will be able to feel and experience the authenticity of an APPROVED vehicle, and how it closely resembles a brand new Jaguar or Land Rover. By showcasing the vehicles in this manner, we strive to provide our customers with a complete sense of reassurance by guaranteeing that they get their money's worth with any purchase. We look forward to welcoming all our customers, both current and prospective, and servicing them to the best of our abilities."
All the Jaguar and Land Rover APPROVED vehicles in the program undergo comprehensive testing which includes a multi-point inspection that covers 165 mechanical, electric and safety checks. The APPROVED vehicles are reconditioned by Jaguar and Land Rover Trained Technicians using Jaguar Land Rover technology and genuine parts. Furthermore, the vehicles go through a certified kilometer check and by doing so, customers are granted a fully up-to-date service history. Once the checks and reworking on the APPROVED vehicles are completed, they are taken on a road test by a Jaguar Land Rover Trained Technicians.
Since the start of its operations in 1998, Euro Motors has successfully positioned itself as the leader in the automotive industry in the Kingdom of Bahrain. Continually striving to attain the highest standards, Euro Motors does not compromise on presentation, quality, technical service or customer care in accord with its belief in offering the utmost to customers.
To know more, follow the latest posts about Jaguar on Facebook at Euro Motors – Jaguar Bahrain or on Instagram at @emjaguarbahrain and about Land Rover on Facebook at Euro Motors – Land Rover Bahrain or on Instagram at @emlandroverbahrain. Additionally, to get further information, follow up to date Jaguar tweets on Twitter at emjaguarBahrain or Land Rover tweets on emlandroverbh.