On the radar of our Taste of Tradition this week, we have the irresistible lure of mouth-watering meat and other delicacies at Le Sauvage of the Domain Hotel & Spa. Of the eight restaurants and lounges on the offer at the Domain Hotel and Spa, Le Sauvage, is a leather-bound, masculine grill room on level 34 with open kitchen, serving curated cuts of meat and classic French side dishes to share. The restaurant along with the other restaurants at Dome make the hotel a destination for food culture, an electrifying collection, inspired by the seasons, by the best ingredients and by a host of chefs who are completely and utterly dedicated to their craft.
It is interesting to note that Chef senior chef de cuisine, Rukmal Samarasekera has started the process of aging fine cuts of meats, in-house, to achieve a taste and texture that's truly unique.   This is  a process that allowing the meat to rest in very carefully controlled conditions for a period of time, often lasting up to several weeks.
What hooks BTW to Le Sauvage is the Dish of the Week, Home Made Liquid Olive Sphericals, prepared by chef Rukmal Samarasekera on the tenets of molecular gastronomy.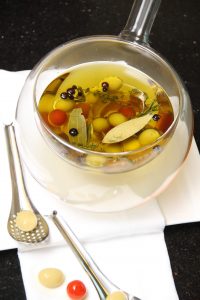 Let's get the ingredients listed 
Green and Black Olive Liquid
Spanish Green Olives: 500 gm
Calcic: 3gm
Xantana Gum: 1gm
Salt & Pepper by taste
Spherical
Mineral Water: 1500 gm
Algin: 7.5 gm
The Herb Oil
Olive oil: 500 ml
Coriander seed: 5 gm
Black pepper whole 4 gm
Bay Leaves 1
Thyme 5gm
Rosemary 5gm
Lemon Skin 4 gm
Orange Skin gm
Garlic 5 gm