Fatima Gul Café is located at Al Janabiyah, Saar with a shop decor
akin to the countryside of 80's. The visit will remind you of a visit to the grandma's house rather than the typical sleek and modern cafe's we see in the Kingdom's malls.
Manal Al Abbasi, owner of Fatima Gul Café, is a great foodie and cook. After retirement, she thought of pursuing her hobby and created the cafe imagining it as a place where people can feel at home. Inevitably, for her beloved patrons and repeat customers, it is home.
Fatima Gul Café serves an unconventional spread of usual and one-of-a-kind dishes. Albeit the cafe in its name, it doesn't serve the typical coffees, chocolate drinks, and pastries. Fatima Gul Café serves pastas, pizzas, salads, appetizers, sushi, and breakfast. The abundance of choices in their menu is a stark opposite to their simple home-y décor.
As an appetizer, we tried the wonderful Shrimp Popcorn. Bite-sized coated shrimps lightly drizzled with sauce and topped with shredded crab meat. The main course was FG Stuffed Chicken with Mushroom sauce. It is chicken stuffed home-made chicken and spinach stuffing. It is paired with boiled vegetable salad and worked perfectly with the generously poured creamy mushroom sauce.
Their sushi is among their best-sellers. They have an abundance of different choices like Chicken Teriyaki, Crab Maki, and more. We tried the FG Sushi which is their signature. It's sushi with crab and fried crunchy coated shrimp inside. Each bite of the sushi has a crunch and softness to it that amazingly accentuates its taste. We also tried a variant of their one-of-a-kind donut sushi. Their California Donut Sushi is quite large and is shaped as a donut. It's one of the dishes where Manal Al Abbasi shows her creativity. Some argue that it's best eaten being cut and some say to eat it like a donut. Regardless, you will not regret having put it in your mouth.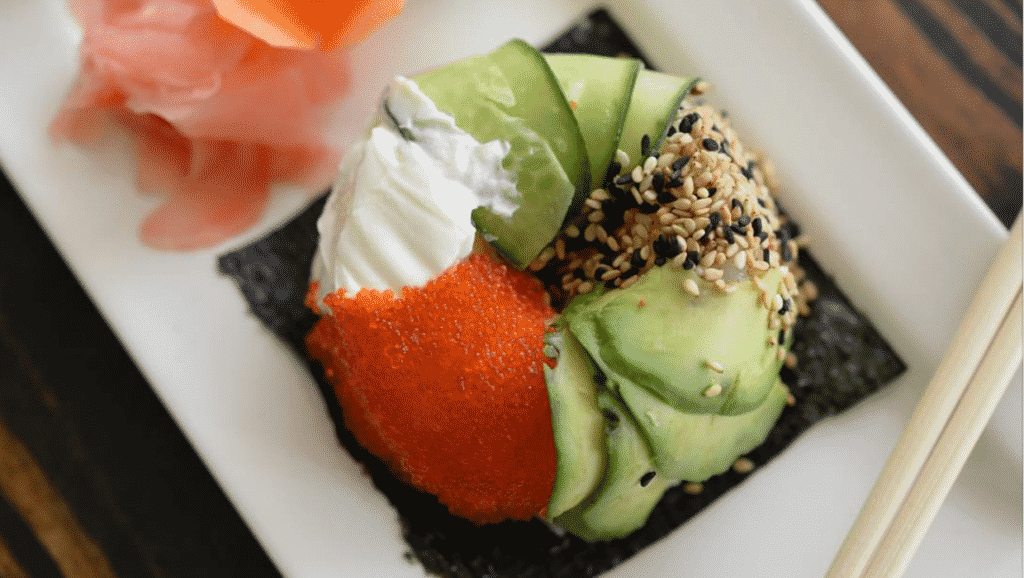 They have recently reopened their breakfast menu. One of which we tried was the Mehlawaya. It is fried khubus with home-made Mehlawaya used as spread with cheese or egg. It is a delicious snack and easily paired with the usual savory breakfast items, like egg or ham.
Their best seller drink, Iced Peach Tea, is highly recommended. It doesn't come too sweet and taste's just like the fruit. The blue tinted Capricciosa on their mocktails is a perfect drink for summer. The drink is fizzy, sweet, and with fresh sliced lemons that better the taste.
Fatima Gul Café is a gem of a place for a special breakfast or dinner. Once you get a taste, you'll be sure to have a favorite. They offer a privilege card to new customers which cuts off 25% off meals on every return. You have to hurry, because the offer is only until December.