In conversation with Mr. Mohammed Toraif, founder, Fish Transporter
Times are changing! We spend more time in the virtual world of theinternet; either shopping, watching a movie, reading a book, listening to our favourite songs or even making dinne reservations. Now when we have come this far… why not buy our favourite fish also online? Promising to get the daily catch fresh from the seas to our dining tables is the Fish Transporter. This online portal dedicated to delivering nothing but the best sea food to customers was the brain child of Mr. Mohammed Toraif, who is a graduate in Computer Engineering. Bahrain This Week caught up with the CEO of the establishment, Mr. Toraif and his colleagues at the Tenmou office in Manama, where he talks about being a service provider for all those who make up a fish market.
Can we have an introduction to the three of you…?
I am the CEO of our company. My friend Sayed Mohammed handles the operations and Abdulla Al Sharqi is our senior developer who joined the team last April. We three are extremely proud to have brought this unique enterprise to the Kingdom of Bahrain.
How and when did you start the Fish Transporter?
After completing my university, I had tried my hand at a few other professions and even ran my own enterprise. But coming from a family of fishermen I think this is my final destination. My grandfather was a pearl diver and my father a fisherman. So I have always been exposed to the functioning of the fish markets. I had started working on this idea since 2011. I then submitted the idea to Tenmou, the Bahraini business angels company. We were lucky to have our idea of Fish Transporter chosen from among hundreds of different plans submitted to the panel. And we finally had our business launched in 2013 and the rest is what I guess might have brought you to us!
What motivated you to begin this first-of-its-kind venture?
You are right; we are the first of its kind in the Kingdom. My family is my biggest motivation. Also, thanks to Tenmou for supporting us throughout our journey. But the real reason to begin such an online commercial space for fish is to reduce or to actually remove the hassle of individuals going to fish markets directly. I have seen many actually depending on frozen sea food, so that they can avoid the smell and the mess of cleaning and preparing the seafood. At Fish Transporter we have Mohammed Sayed who goes to the market early in the morning, getting in touch with the right dealers and doing all the field work assuring that the delivery is made on time. And of course you can find me at the market on Fridays (smiles).
How does the FishTransporter work?
Shopping at our portal is relatively easy. You need to visit www.fishtransporter.com, where you can register for free and start selecting fish from the wide range we have made available for you.We have hammour, kingfish, safi (that is the bestseller) as well as faskar, rabeeb,janam, sea bream, tilapia, Atlantic salmon, mackerel, milk fish, shrimps, lobsters, crabs and more. Also we prefer to have orders made a day in advance so that we can guarantee the delivery of fresh fish. We also deliver cooked fish, like BBQ dishes. But over the 2 years we have taken only four orders. Even that makes us happy; to be able to fulfill the mission with which we founded Fish Transporter. We provide the option to place orders via phone calls, whatsapp and snapchat as well. But with phone calls, other than recording them, it becomes difficult to analyse the orders received. But with online methods, we can keep a better track of the sales made. Currently we follow cash on delivery (COD) as the payment method. This is because we sell fish based on its weight and a difference of 200 grams makes a lot of difference on price. But our IT man is developing something new that will solve this problem as well.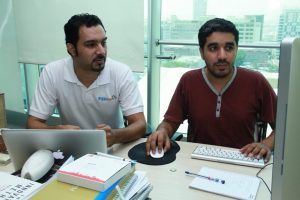 How do you procure the fish?
Depending on the order that comes in, we choose a purchase point. There are either the fishermen, or the Al Jazzaf (the wholesale dealers) and the retailers. When the requirement is in large quantities we depend on the fishermen and if it's less we approach the Al Jazzafs or the retailers.
What is next in line from Fish Transporter?
We are currently having the Beta version of Fish Transporter app under development and will have it launched soon. This is where we solve the problem of the minor difference that comes with the weight of fish.
Why would your app stand out when there is already a space called Instagram which is the most widely used commercial space these days?
You are right. There are few fishermen who use Instagram to advertise themselves. But with our new app, we will be giving them a better platform where everything will work just the way it is at a physical market. Everyone can create an account for themselves. Thefishermen, the Al Jazzafs or the retailers, all are welcome to our space. They can advertise or make visible the stock they have along with the rates. And as it goes the best rates win. Our application will give transparency to all the activities that are happening and the buyers will even get to rate the sellers. And we at the Fish Transporter office here will work as the app service provider.
Any further plans…?
We expect to expand ourselves all over GCC. By the end of 2015 we plan to reach Khobar, Jeddah, and Dubai. And soon we will be there