Fusing femininity and elegance to inspire strong, contemporary women
Eid Al Fitr is right around the corner and Fyne Jewellery, the Middle East's first contemporary fine jewellery brand that uses conflict-free lab grown diamonds curated the ultimate gift guide for you and your loved ones.
Fyne recently released their latest collection, East Meets West, which is inspired by the founder's Middle Eastern heritage and Western background. Like its name, the collection harmoniously blends Arabic-inspired designs with minimal and timeless European influence. The East Meets West collection is light and feminine, yet strikingly brilliant, with a series of carefully curated geometric-shaped pieces. Fyne takes pride in creating sustainable, accessible, and timeless pieces.
The collection of highly desirable fine jewellery, made with 18k gold and lab-grown diamonds, comprises 10 pieces including rings, earrings, bracelets, necklaces and a hand chain.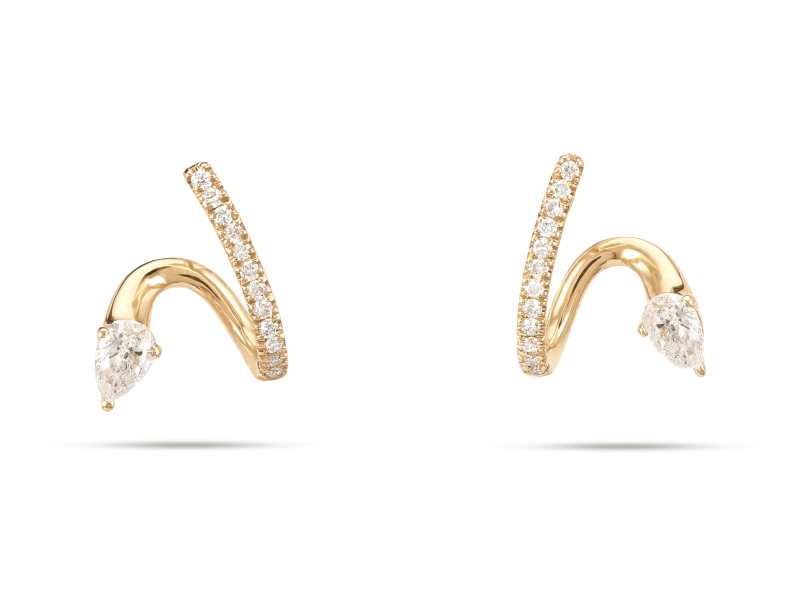 Guaranteed to make a statement this Eid, the Spiral Diamond Earrings feature boldly cut lab-grown diamonds on an 18k gold curve, making them an eye-catching addition to your accessory collection. Best coupled with a bold lipstick colour for a high-fashion look or worn as a striking solo piece to uplevel your everyday wardrobe.
One for the free spirit. The delicate wave of the Diamond Dune Ear Climber offers a minimal and timeless look, great for any occasion. Featuring lab-grown diamonds across an intricately-designed wave, the earrings are offset by a pear shape diamond that rests elegantly below the earlobe. From the beach to the boardroom, the Diamond Dune Ear Climber stands out above the rest.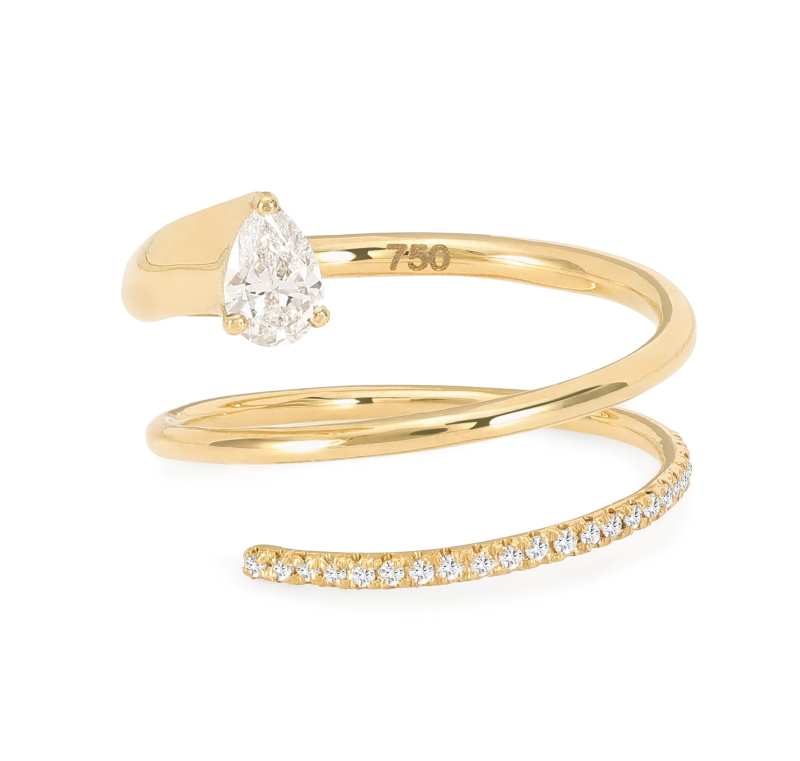 A staple item of the East Meets West collection, the Spiral Diamond Pavé Ring is as graceful as it is bold. A large pear-shaped diamond sits at the end of a delicate, spiralled pavé set band of diamonds, allowing light to reflect beautifully off the 18k solid gold band. Made to order exactly to your ring size, the Spiral Diamond Pavé Ring is a showstopper for a special occasion, a unique take on a traditional engagement ring, or a statement everyday piece.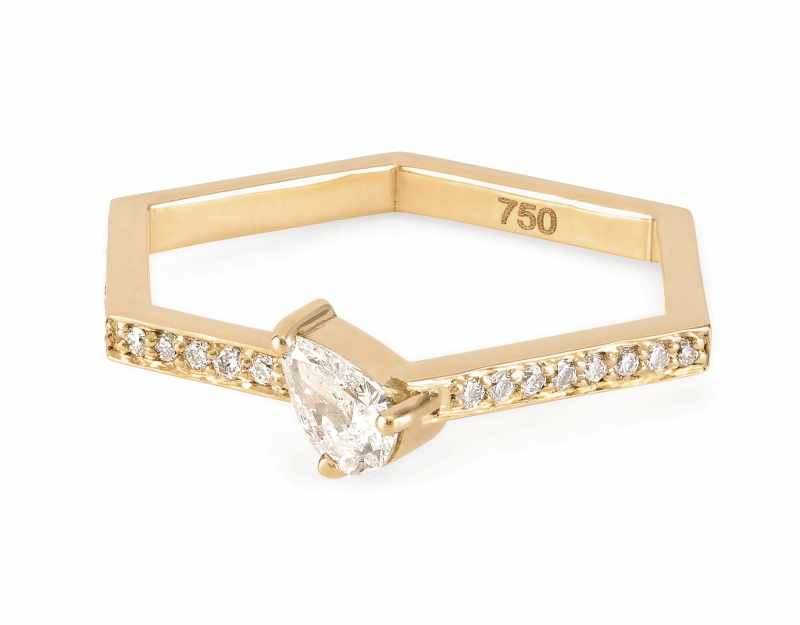 Introducing the Hexad Diamond Ring. Made with traceable lab-grown diamonds, the pear shape diamond takes centre stage in this timeless geometric design. The distinctive hexagonal ring, handcrafted in 18k solid gold, is inspired by the naturally occurring shapes we see in daily life — a statement unto itself.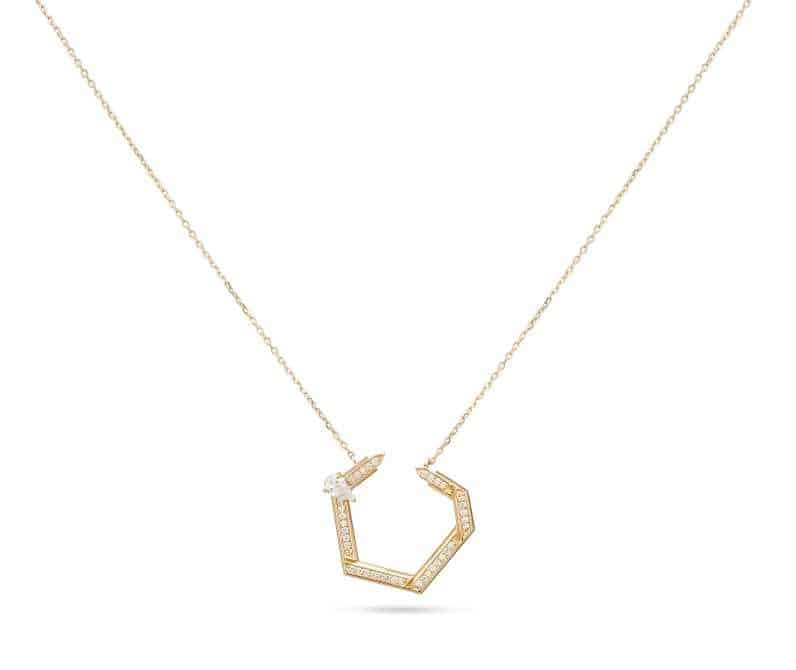 Where tradition meets minimalism. Designed in line with Arabic symbolism, the striking Hexad Diamond Necklace features traditional shapes brought to life with lab-grown diamonds and 18k gold. The minimal hexagon form gives the piece a timeless look, suspended from a simple gold chain. Pair the Hexad Diamond Necklace with its sister earrings and bracelet for a look that's truly exquisite.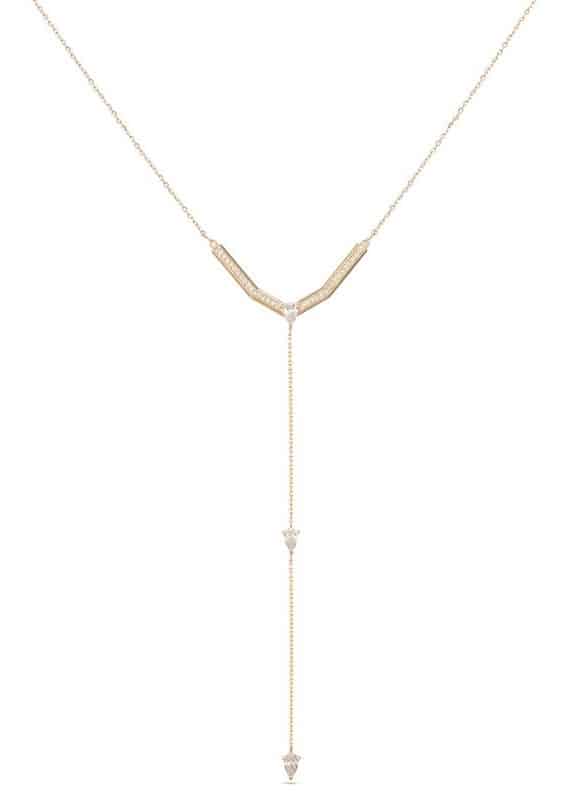 For those who dare to be different. The Compass Diamond Necklace is the highly-anticipated follow-up to the popular Gaia Necklace, boasting a striking y-shaped design with lab-grown diamonds suspended on an elegant 18k gold chain. The drop-style necklace perfectly complements a plunging neckline and is best paired with an LBD for a stylish evening look.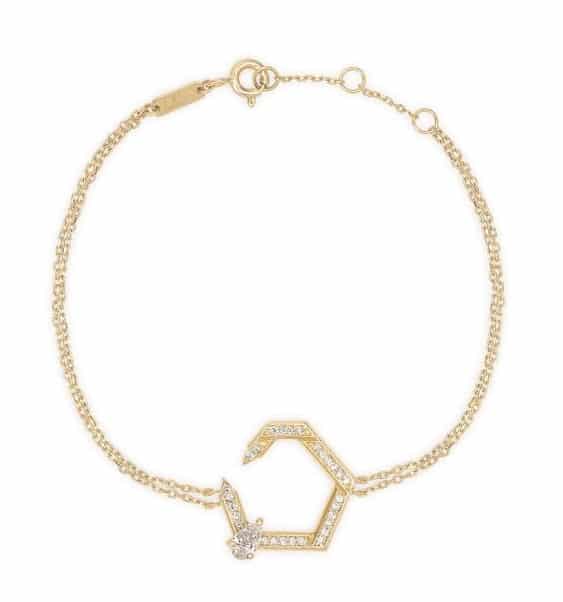 The Hexad Diamond Bracelet is the quintessence of 'East Meets West', with two solid gold chains harmoniously resting side by side. The geometric centrepiece is encrusted with sustainable lab-grown diamonds and features a larger 0.20-carat diamond for extra brilliance. The bracelet looks best when worn alongside its sister piece, the Hexad Diamond Necklace.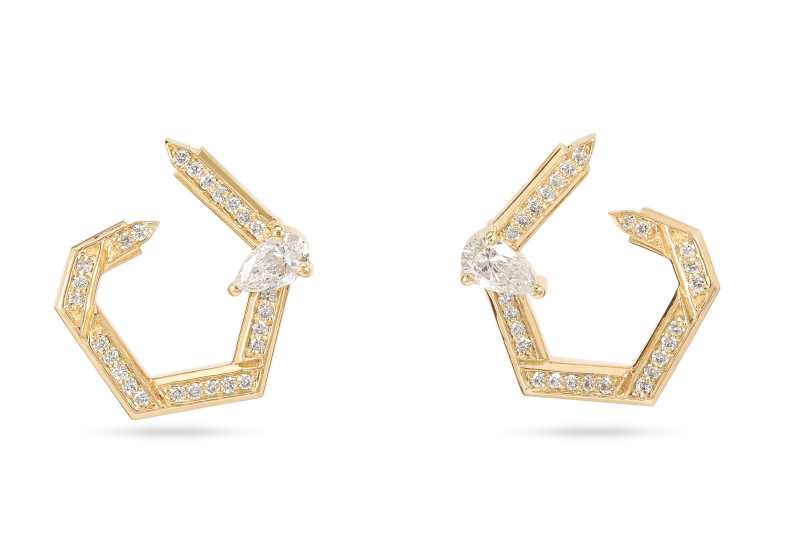 Hooped earrings never looked this good. The Hexad Diamond Earrings—crafted in a unique forward-facing design—are the highlight of this geometrically-inspired collection. This lightweight pair of 18k hexagonal gold earrings are lined with lab-grown diamonds, exuding elegance at every curve. Best worn solo for a daring yet understated look or as part of a set with its sister pieces, the Hexad Diamond Necklace and Bracelet.
Follow your own path. The Compass Diamond Hand Chain is handcrafted with pear-shaped diamonds, inspired by the mantra 'one step at a time' that reminds us to always move forward. The hand chain is the perfect accessory for a sophisticated evening look that will set heads turning.
Dance with the waves. Handcrafted with lab-grown diamonds, the Diamond Dune Wave Bangle effortlessly transitions any look from day to night, uniting an 18k solid gold band with an elegant diamond wave. The large pear-cut diamond takes centre stage, placed delicately on the pavé diamond setting to create a look that is both striking and cultivated. The bangle is in its element when paired with the Diamond Dune Ear Climber — the power couple of the collection. Fyne Jewellery is available on their website.