Gulf Medical University (GMU), the leading private medical university owned and operated by Thumbay Group formally welcomed the 2015 batch students of the College of Dentistry's DMD Course by organizing a "White Coat Ceremony" at the University campus in Ajman, on Thursday, 21st January 2016.
Mr. Thumbay Moideen, Founder President and Chairman of the Board of Governors of Gulf Medical University was the chief guest of the function. The function was attended by GMU Provost Prof. Gita Ashok Raj, the Deans of Colleges of GMU and the members of the administrative team of Gulf Medical University and Thumbay Group.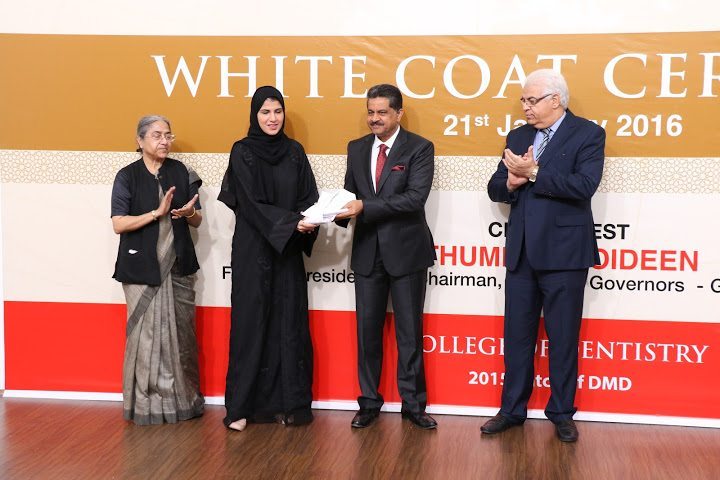 The students received their white coats from Mr. Thumbay Moideen. Prof. Gita Ashok Raj administered the GMU Honor Code to the news students.
Prof. Gita Ashok Raj, in her address to the students, reminded them of the importance of the ceremony and said that with it would start a whole new chapter in their lives. "Today's ceremony marks a rite of passage to welcome you all as you are about to enter your chosen profession. The cloaking with the white coat, the mantle of the health profession signifies the belief that is being placed on your ability to carry on the noble tradition of delivering health care," she told the students.
In all, 47 students belonging to 21 different nationalities donned the white coats at the ceremony. The function was held in the presence of a large gathering of GMU students, faculty and staff of GMU and families of the new students.