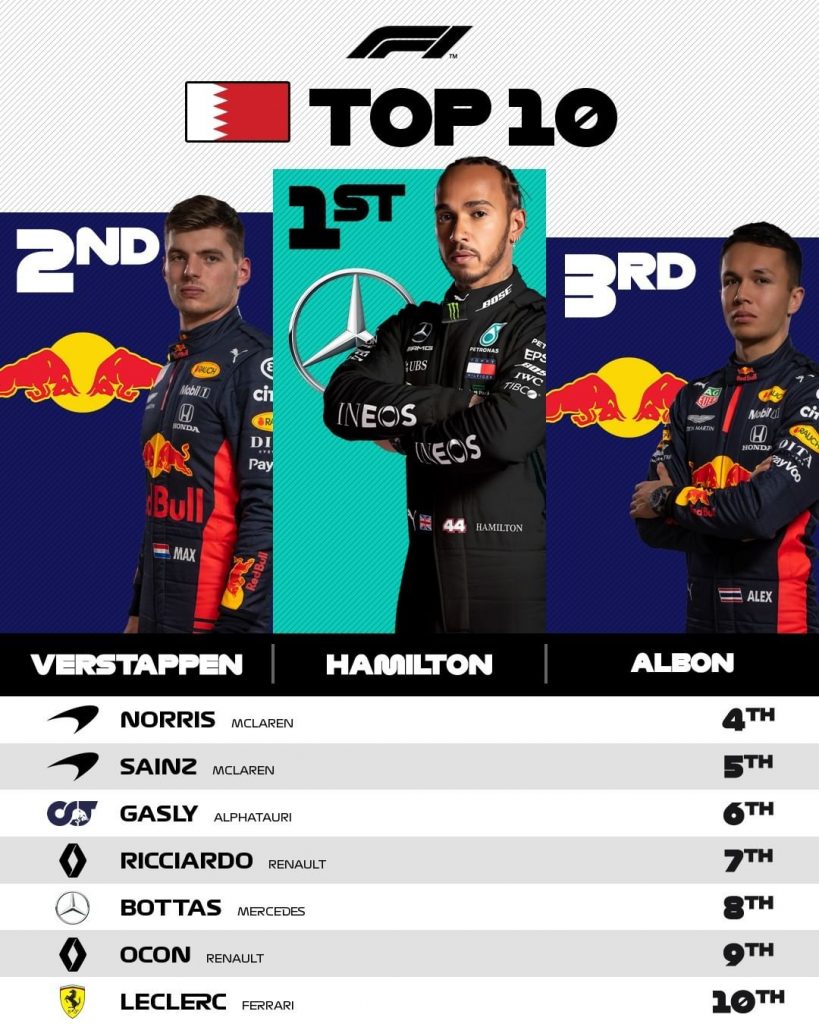 Following the conclusion of the Formula 1 Gulf Air Bahrain Grand Prix 2020, Bahrain International Circuit Chairman Arif Rahimi commented:
"We offer our very best wishes to Roman Grosjean as he undergoes further evaluation at BDF Hospital, following his accident at the start of the race. Incidents of this nature are a reminder of the incredible work which the FIA has undertaken to improve safety in the sport.
"I also thank the FIA medical team and our marshals for their incredibly swift and decisive action in responding to this incident.
"It was a great honour and privilege for us to host this evening for the Kingdom's frontline health workers, first responders and their immediate family members, and we hope they enjoyed the race. We look forward to welcoming more of our Bahrain heroes and their families next weekend for the F1 Rolex Sakhir Grand Prix."
Bahrain International Circuit Chief Executive Shaikh Salman bin Isa Al Khalifa added:
"I congratulate Lewis Hamilton and Mercedes on their victory, fitting of a newly-crowned seven times world champion.
"We extend our sincerest thanks to all those who have made the F1 Gulf Air Bahrain Grand Prix possible, particularly our partners at F1, the FIA, the Bahrain Motor Federation as well as our Team Bahrain colleagues across Government. It is the close coordination with all these partners which has enabled us to put on a safe event, dedicated to our frontline heroes and first responders.
"I also thank the team here at BIC, as we prepare for next weekend's unique second race. We look forward to welcoming everyone again in a few days to complete our first-ever F1 double-header."
Hamilton triumphs ahead of Red Bull's Verstappen and Albon. Seven-time F1 world champion won a drama-filled Formula 1 Gulf Air Bahrain Grand Prix 2020 this evening at a brilliantly floodlit Bahrain International Circuit (BIC) in Sakhir.
Hamilton crossed the finish line under safety car conditions, as the chequered flag was waved by National Taskforce for Combatting the Coronavirus (COVID-19) member and Bahrain Defence Force (BDF) Hospital Infectious Disease Consultant and Microbiologist Lt Col Dr Manaf Al Qahtani.
The Red Bull pair of Max Verstappen and Alexander Albon joined Hamilton on the podium.
Dr Al Qahtani was one of many of the Kingdom's frontline health workers, first responders and their immediate family members invited to enjoy the event. Their invitation came following the directives of His Royal Highness Prince Salman bin Hamad Al Khalifa, Crown Prince and Prime Minister, in appreciation of their tremendous efforts and sacrifices in Bahrain's national response to COVID-19.
The initiative was being held under the theme "#ThankYou_OurHeroes", and another group of health professionals and their loved ones will be able to watch next weekend's F1 Rolex Sakhir Grand Prix at BIC, which will be the second race of the Kingdom's first-ever F1 double-header.
Yesterday's 57-lap night racing spectacle had three major incidents on track, two of which took place without even a lap being completed.
The first involved Romain Grosjean, who crashed his Haas into the barrier just moments after the start, resulting in an immediate red flag.
Following over an hour's delay, the race was re-started but then Lance Stroll's Racing Point challenger flipped over, forcing a brief safety car period.
Both Grosjean and Stroll were able to walk away from each incident and they received immediate medical attention. Each instance involved both drivers making contact with AlphaTauri's Daniil Kvyat.
The third incident took place two laps before the end, when Sergio Perez in the other Racing Point car was third and on his way to a podium finish. But bad luck hit and flames started to come out from the car's rear, forcing him to pull over and retire. Albon inherited third place.
When racing resumed after Stroll's flip, Hamilton put in another masterful drive to continue his magnificent winning run this F1 season. He was able to build a massive gap from the rest of the field en route to the finish, but following Perez's car trouble, the yellow flag came out and it was a crawl to the end behind the safety car.
Hamilton was classified as the winner in a total time of two hours 59 minutes 47.515 seconds, 1.254 seconds ahead of Verstappen and 8.005s in front of Albon.
Hamilton's victory was the 95th of his F1 career, his 11th of the 2020 season, and his fourth in the Bahrain Grand Prix, tying the record of Ferrari's Sebastian Vettel. It was also his fifth straight race triumph this year, and second successive at BIC.
Rounding out the points winners from fourth through 10th place, respectively, were McLaren's Lando Norris and Carlos Sainz, AlphaTauri's Pierre Gasly, Renault's Daniel Ricciardo, Valtteri Bottas in the other Mercedes, Esteban Ocon for Renault and Ferrari's Charles Leclerc.
The rest of the drivers were classified in the following order: Kvyat, Williams' George Russell, Ferrari's Sebastian Vettel, Williams' Nicholas Latifi, Alfa Romeo's Kimi Raikkonen and Antonio Giovinazzi, Haas' Kevin Magnussen and Perez. Perez was classified 18th having completed most of the race.
Grosjean's incident took place just moments after the start as he clipped the front-left wheel of Kvyat, spun out of control, and then hit the barrier. He was later taken to nearby BDF Hospital for further evaluation.
The race was stopped and the other competitors lined up in the pit lane to await its resumption, while the barrier was replaced and the track cleared of oil and debris.
At the first re-start, the drivers lined up on the grid once again but in the positions they were in when Grosjean's crash took place. Hamilton was able to get away cleanly, followed by Verstappen and Perez. But soon after, Stroll's car had flipped after making contact with Kvyat on turn eight. That led to a safety car period as his car was being craned off.
That set the stage for Hamilton's triumph, Perez's late disappointment and Red Bull's double podium.