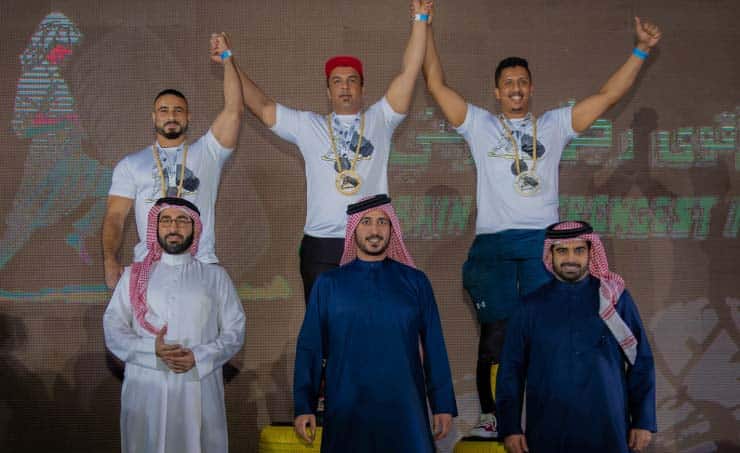 Under the patronage of HH Shaikh Khalid bin Hamad Al Khalifa, First Deputy President of the Supreme Council for Youth and Sports, and Bahrain Olympic Committee President, the 3rd Strongest Bahraini Man Championship was held under the theme #Be_a_Beast.
Organised by HH Shaikh Khalid bin Hamad Al Khalifa Media Office, the event took place in the area opposite to the Avenues Mall in the Capital. On this occasion, HH Shaikh Khalid bin Hamad Al Khalifa commented. "We have directed the organisation of this championship within our initiatives for supporting youth and sports in the Kingdom of Bahrain. This championship represents a real opportunity to consolidate what Bahrain has achieved in the area of sports."
HH Shaikh Khalid stressed that the Strongest Bahraini Man Championship represents an opportunity for the Bahraini youth. In order to showcase their talents and abilities in this kind of sports. Relying on physical strength and high endurance. Preparing them to similar sports events on the regional, continental and international levels.
"We have directed the organisers to ensure that this edition is different than the previous editions. The competitions this year included the light and medium categories. In addition to the qualifying rounds for the first three winners in the heavyweight category. From Bahrain to the Strongest GCC Man Championship (heavyweight), scheduled to take place in April this year.", he said.
HH Shaikh Khalid praised the positive interaction the championship has received from government bodies, companies and contributing institutions. Supporting the organising of the third edition, at the same time His Highness reaffirmed that this supports reflects the concern of these establishments to achieve community partnership. Continuing to support the youth and sports sector.
HH Shaikh Khalid expressed thanks and appreciation to all the contributing parties and media for support the event. He also lauded the efforts dedicated by the organising committee to bring about a successful edition of the championship.
HH Shaikh Khalid crowned the winners of the event. They include Khalid Abdah who won first place in the light category, while Ahmed Jassim topped the podium in the middleweight section. In the heavyweight category, Hussain Juma emerged as the winner.