Information & eGovernment Authority (iGA) Chief Executive Mr. Mohamed Ali AlQaed stated that the directions of HRH Prince Salman bin Hamad AlKhalifa – the Crown Prince, Deputy Supreme Commander and First Deputy Prime Minister – in launching a national system to receive citizens' suggestions or complaints and resolve electronically, has contributed in increasing user's experience in government services and raised the satisfaction level. He pointed out to the noticeable development witnessed by the system this year by receiving over 19,000 cases out-of-which 64% were received via the Tawasul app available via bahrain.bh/apps.
He added that Tawasul aims at providing permanent solutions and development opportunities by identifying the challenges especially within the repeated cases, along with direct interaction and other features that helped in raising the utilization rate and increasing demand. He further mentioned that work is in progress to develop services and joining more entities.
Developing the app comes in light of increasing public's interest and trend towards applications as the Tawasul app offers a variety of new features that are not included in the website version. Features include simplicity of entering cases as users can create a profile which saves their personal data to avoid re-entry in the future.
He further stated that today (before the end of the current year), 2018 recorded the highest number of received cases in comparison to previous years – reaching over 19,000 cases out of 58,000 cases directed to 33 government entities. Noteworthy, 80% of cases were complaints.
With the public entities' interaction in handling received cases through Tawasul, entities maintained high-level of performance of 97% Service Level Agreement (SLA).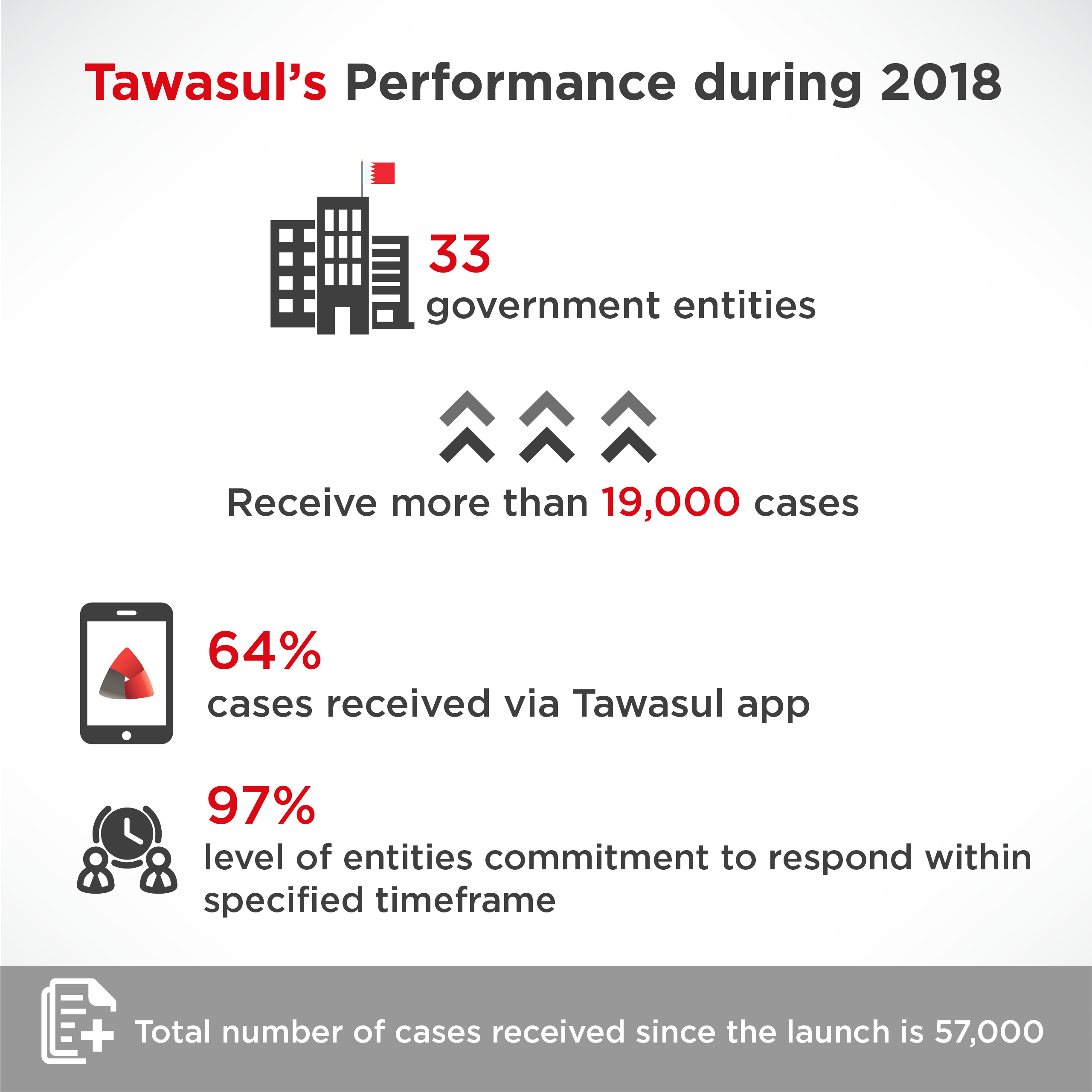 Proved by the noticeable rise in the number of public entities that were honored during the Government Forum 2018 with the award granted for interacting with customers. This year's forum rewarded 11 entities for their efforts and dedication in responding and interacting with all received cases via the system within SLA – when only 3 or 4 entities were recognized in the past awards.
Tawasul is available via the eGovernment Apps Store at (bahrain.bh/apps) which easily sends suggestions and complaints to government entities with the ability to attach documents in a timespan that does not exceed 30 seconds, follow-up on the complaint through the given reference number along with the poll presented for applicants' feedback. Additionally, the Authority has recently added the feature of evaluating government service centers which enable visitors of these centers to evaluate their experiences from all its aspects.