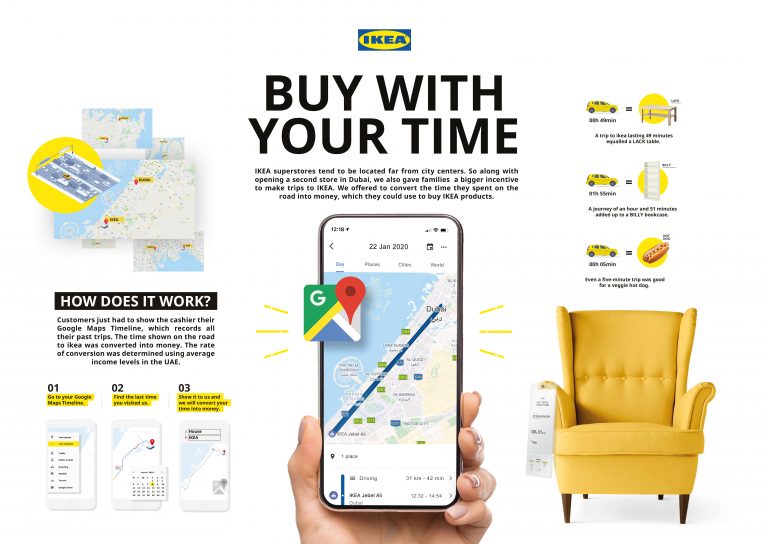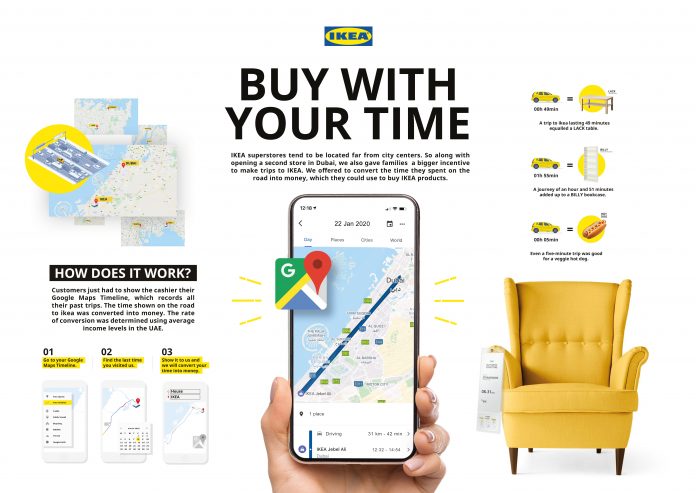 Since IKEA stores around the world tend to be located on the outskirts of the cities, people spend a lot of time travelling to their nearest store. Treating it more like a destination in itself.
IKEA takes this brand loyalty seriously. In fact, the motivation for opening Dubai's second store was so that customers living nearer to Jebel Ali would not have as far to travel.
In addition to thanking their customers with a brand new store, IKEA wanted to reward them for all the time and effort they have invested over the years. Getting to IKEA with a novel way of paying for products.
Buy with your Time
Called "Buy With Your Time", IKEA changed their product prices into "time currency" prices based on the average Dubai salary*. It means that customers are able to buy products with all the time they have spent over the years travelling to IKEA.
Thanks to GOOGLE MAPS TIMELINE, a function that records past routes taken, customers are able to show how many minutes they spend on previous IKEA journeys. This accumulated time was converted into currency. Allowing customers to spend it on IKEA products.
Before the birth of this campaign, we realised two things: time is precious today. Also, many loyal IKEA customers spend a significant chunk of it visiting our locations. Most of which are away from the city centre. We think it's only right to reward our customers' efforts by repaying them for the time spent reaching us. It's our way of helping the Dubai community make the most of every minute.
Through this activation, IKEA demonstrated that to be close to your people, you don't have to be next to them. By simply adapting to their needs, you can delight, reward and earn their continued loyalty.
Please click on the link to download the images Link
Please click on the link to download the Video Link