A prestigious event was held on Friday 22nd June, 2018, at the Indian Embassy in Bahrain to felicitate 13 ladies of Mother India's Crochet Queens (MICQ) -Bahrain, who had recently been honored with Guinness awards. The Guinness certificates were awarded to mark the "World record" for "The largest display of Crochet Sculptures". It was achieved with a display of 58,917 sculptures by MICQ, in Chennai, India on 21st January 2018.
MICQ is the brain child of "Subashri Natarajan", a dynamic lady, based in Chennai. This Guinness attempt was their third successful bid, thus completing a  hat-trick!  The Group has successfully set earlier Guinness Records for the largest crochet blanket and the longest crochet scarf in 2016 and 2017 respectively.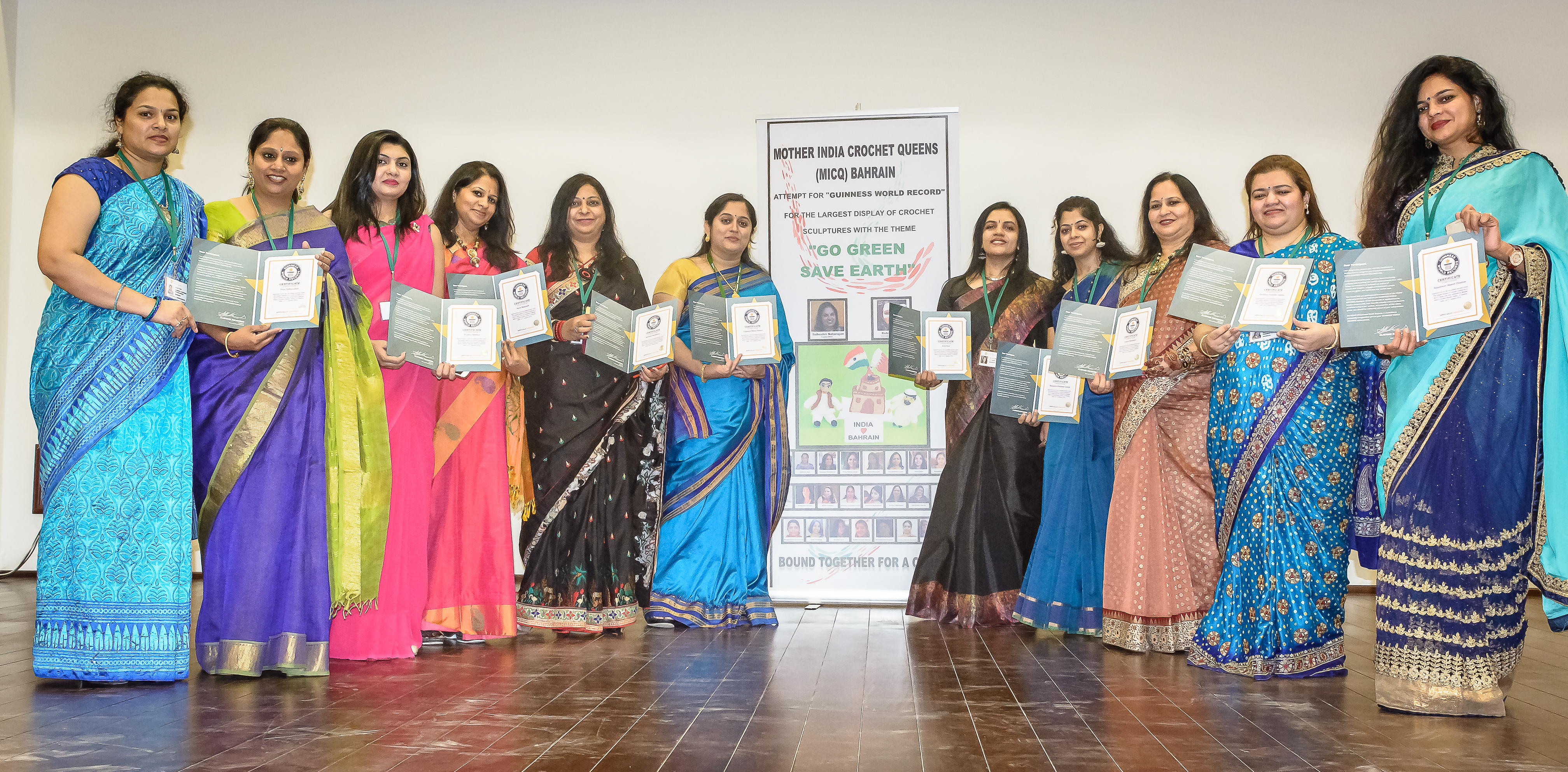 Speaking at the function, the Chief Guest: HE, Mr. Alok Kumar Sinha, Indian Ambassador praised the underlying "Go Green" theme, that had been chosen for the record event, which was particularly relevant since India had just recently hosted the "World Environment day" in June 2018. He reiterated that, it is essential for today's youth to understand the age-old teaching in Indian scriptures about the importance of conserving nature and taking nothing away from it. He heartily complimented the efforts that had been put in by the ladies, wished them even more success and assured them that the Embassy would continue to be supportive of such initiatives.
Special invitees to the event included Mr. Juzer Rupawala, Director, Lulu Hypermarkets and Mrs. Thanuja Anil, President ILA, Bahrain.  Mrs Ashwini Anil. Goodwill Ambassador for MICQ, Bahrain explained about the MICQ projects in general and the unique aspects of this project, where exhibits featured depictions of Bahrain's landmarks and various facets of Arab culture.. She touched on how the Bahrain team had incorporated  these aspects of Bahrain, as a way of thanking the country which has become our second home.
Mrs Harini Mukundh welcomed the guests and Mrs Priya Sethuraman gave the Vote of thanks. The following were the recipients of the Guinness Certificates
Asha Rani
Ashwini Basmatkar
Ashwini Govinda Munglimane(ashwini Anil)
Darshana Rashmin Udeshi
Harini Mukundh
Maliakkal Bleseena George
Prajakta Khedkar
Priya Sethuraman
Rajeshwari Alpesh Chouhan
Savera Mahendra
Sowmya Ramkumar
Swapnali Milind Divekar
Vasanthi Gurusami