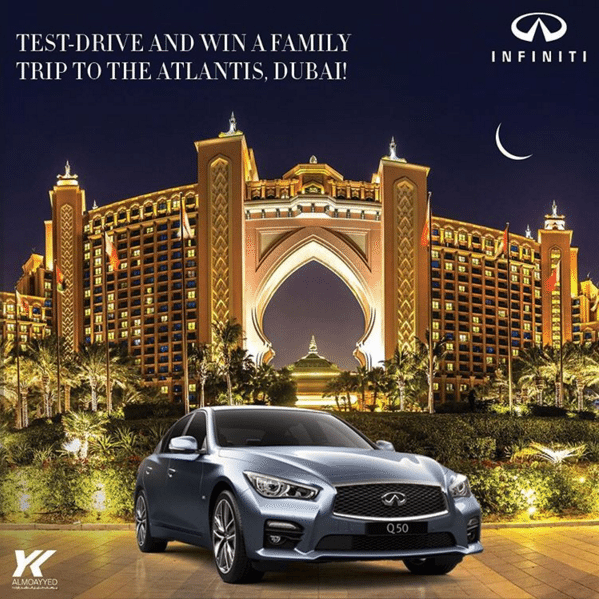 Y.K. Almoayyed & Sons, sole dealers for Infiniti in kingdom of Bahrain with its Ramadan campaign 'Elevate Your Drive' offered connoisseurs of luxury and performance to indulge in their passion for the Infiniti brand all through the Holy Month.
Infiniti added to their Ramadan promotion a touch of the exotic and the spectacular. The brand offered 4 adults a chance to win an all-paid trip to the fabulous Atlantis, The Palm, Dubai, during the long Eid weekend to make this Eid absolutely memorable!
Mrs. Duaa Syed Husain Almeshqab was named the winner of this promotion at the draw that was done online. She plans on enjoying this fantastic Eid gift with three other members of her family, creating a lifetime of memorable moments for her and her loved ones.
To participate, all customers had to do was test-drive any Infiniti vehicle and tag Infiniti Bahrain with their test-drive image and experience this phenomenal Eid weekend. The event was held across all social media accounts of Infiniti.
Anas Abdulla, Sales Manager, Infiniti Bahrain said, "This was a unique opportunity for our customers to be able to connect with the brand and also get a chance to spend that perfect Eid weekend with their family at the spectacular Dubai Atlantis. Besides, it was the ideal platform to bring customers together to build brand loyalty and create greater awareness of these iconic vehicles."
For more details or to book a test drive please visit the Infiniti showroom in Sitra or call 17 732732 today.