Information Affairs Minister, Ali bin Mohammed Al-Romaihi, has called for the need to develop human resources, invest in national capabilities, develop legislation and keep abreast of technological developments in order to develop the Arab media discourse which has become widespread, but faces challenges in making the right impact.
The minister made the statements while participating in the 17th Arab Media Forum, held virtually.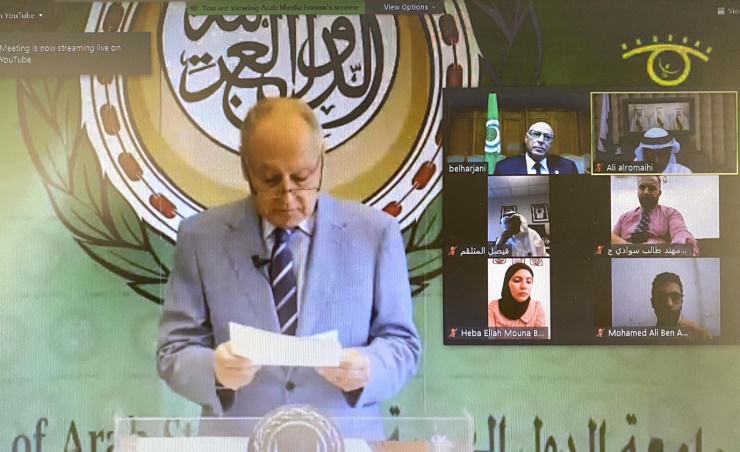 Arab League Secretary-General, Ahmed Aboul-Gheit, Arab information ministers, as well as Arab media professionals, writers, academics and researchers also participated in the webinar.
Addressing the forum, Al-Romaihi indicated that the novel Coronavirus has proved the important role played by the Arab media to enlighten public opinion and enhance awareness to confront the pandemic.
It has also provided evidence of the state of chaos experienced by the global media with the spread of rumours and the multiplicity of contradictory opinions during a health crisis about which the medical specialists are the best qualified to speak, he added.
The minister affirmed that the term "freedom of expression" is no longer used by media professionals, in light of this wide media space that has reached the point of chaos, prompting media professionals themselves to call for regulating the media process on social media in order to preserve their rights and the rights of others.
He pointed out that there are international companies that control and influence freedom of expression by virtue of their acquisition of the means of information and communication.
The minister emphasised that the Arab media, in its traditional and modern means, is required, now more than ever, to counter campaigns that are hostile to the Arab Nation, confront rumours, as well as inciting and offensive campaigns aimed at fragmenting Arab countries, undermining their social fabric and subverting their national unity.
The goals of those behind such hostile campaigns adopting a discourse that is alien to our authentic Arab societies will not be achieved if Arab countries cement their solidarity, he said.
Al-Romaihi called for enhancing societal awareness and rallying behind the all-inclusive national principles in order to win the enlightenment and awareness-raising battle, as the best means to preserve Arab countries' security and stability.