Dr. May Bint Sulaiman Al Otaibi, Founder and Chairperson of the Board of Trustees of the Bahrain Bayan School is committed to empowering young Bahrainis with high quality education with an international outlook, building cultural ethos and  solid moral values. Apart from being a pioneer in education, she is a philanthropist and highly regarded in the Bahraini society for her support to communities from all walks of life.
Bahrain 4 All shares some inspiring moments with the visionary educationist.
Bahrain Bayan School is a prominent name in the Education sector in the Kingdom. How was the origin of the school?
Bahrain Bayan School  was established in 1982 with the purpose of being a kindergarten only, however, parents were impressed with the level of education that it offered and requested to add extra grade levels every year.
The second year after its establishment, we created a Board of Trustees, which was formed solely by volunteers from the community, and established the School as a non-profit organization. We now proudly host 1100 students from K-12. However, our registration doors will be closed for the next three academic years as all of our classes have reached their their full capacity, and we will be focusing on improving and training our faculty meanwhile.
What is your vision for the teachers' training?
We offer strategic in-house training sessions for our staff and faculty called "Professional Development". In addition, we send them abroad as well for further training, courses and conferences. This makes our teachers not only highly qualified, but well experienced in international educational practices too. We have allotted a significant budget specifically for the Professional Development department.
My ultimate vision is to make Bahrain Bayan School the ideal model school for all schools in the Kingdom to follow. I am working on building a new curriculum that merges our cultural concepts with the Western curriculums using new methods and approaches for education.
Bahrain Bayan School is an establishment with its own educational organizational chart that consists of different interrelated units. The Heads of each unit presents their operational work-plans according to their allocated budget of the departments. Moreover, we have an Academic  Affairs Director and Business  Affairs Director, and I supervise and guide both.
How many students do you have in a class currently and what are your thoughts on technology in the classroom?
We maintain no more than 20 students in each class, along with a main teacher and two assistant teachers. This is to ensure that we offer adequate attention to each individual student in the class. We believe that increasing the number of students in the classrooms would mean that each student would receive less attention and guidance.   
I consider the standards of education in Bahrain Bayan School as one of the highest in the Kingdom of Bahrain. The students have equal language proficiency in both Arabic and English. We were actually the first school that provided this level of bilingual education in Bahrain. As a result, there is a higher preference for the Bayan graduates in the workforce.
Of course technology is used at the school; however, for our younger students, we limit the number of hours of electronics' usage in the classroom to encourage the students' motor skills. We focus more on improving handwriting skills up until Grade 6, where the students are then provided with monitored iPads for advanced studies in the higher grades. Until then, iPads are provided for the younger Preschool and Primary students for just 1-2 hours a day. All these efforts are to achieve my vision, which is to continue to improve our standards of education. In addition, we have modernized our methods of teaching, how we allocate homework and assigning projects, as we have eliminated poster-projects from the past four years.
We also focus on parents communication as it is extremely important to us, and we take all of their concerns seriously. This way we can immediately address any difficulty the student or family may be facing instantly.
This is remarkable! We have never heard of such action from any other educational institutions. As you are committed to the welfare of the future generation, what values do you implement in the curriculum of Bahrain Bayan School?
We work with a lot of civil societies including the Royal Charity at present. Our students are raising funds from Government establishments to create awareness about diabetes among children. We have limited edition products (100 pieces only) signed by H.H. Shaikh Nasser bin Hamad Al Khalifa which our students will be selling to donate to the Royal Charity to buy insulin pumps for the diabetic patients. Moreover, we have an Infirmary in the School with a Doctor and two assisting nurses. We often do similar social services to create social awareness among our students.
What are the major challenges that you face now in comparison to educating children three decades ago?
Fist the challenge was to create the awareness of the importance of education. The Bahrain Bayan School is open for anyone who wants to improve their education and and especially their children's English and Arabic proficiencies.
The second challenge was to make the society aware of the relevance of co-education. Co-education normalizes interactions between girls and boys and promotes equality.  I believe that adequate supervision is absolutely essential to create a healthy ambience. In fact, we have over a hundred CCTV cameras all around the School and inside the classrooms; as you can see, our walls are transparent. My PHD was in Communication,  and this is something I believe is one of the keys to our success in the Bahrain Bayan School.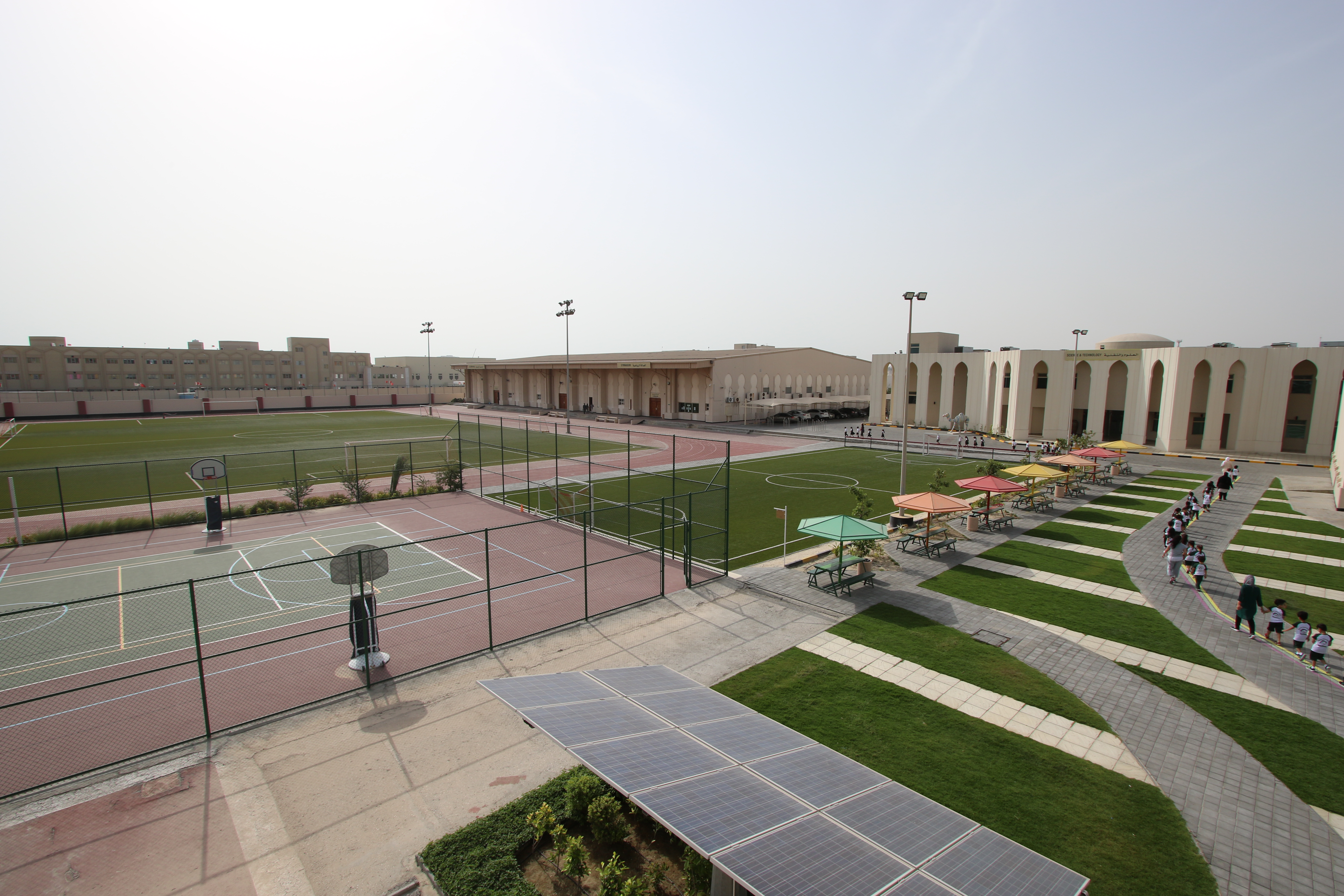 How do you deal with bullying?
We actually do not have any bullying in our School. Bullying comes in two main forms, there is direct bullying and under the table or covert bullying. We can handle direct bullying. However, if we did not have a good relationship with the parents, we will not know about under the table bullying.
Our counsellors communicate regularly with students to take care of this matter. We also encourage good communication between the teachers and students to tackle these cases. As I said before communication is key!
Do you support the inclusivity of children especially the children with special needs?
We have support for children with some learning challenges. However, I do not believe in the integration of children with learning disabilities only because of my concern for their vulnerability.  I believe that only highly trained professionals will be able to assist these students and serve their needs better.
Bayan Eco-boosters have been a great success. How did the idea come up?
The green initiatives were always a part of the Bayan philosophy. One of our Board of Trustees came up with the idea, and I gave them complete control to implement the project with our students. They created the project and won the first place for Zayed Sustainability Award in 2018. Projects like this are the future!
What are the other social responsibilities that you undertake?
I am appointed as the Vice Chairman of BIPD (Bahrain Institute for Political Development) by His Majesty King Hamad bin Isa Al Khalifa to create political awareness. I also gave lecture on Political Empowerment at the Supreme Council of Women.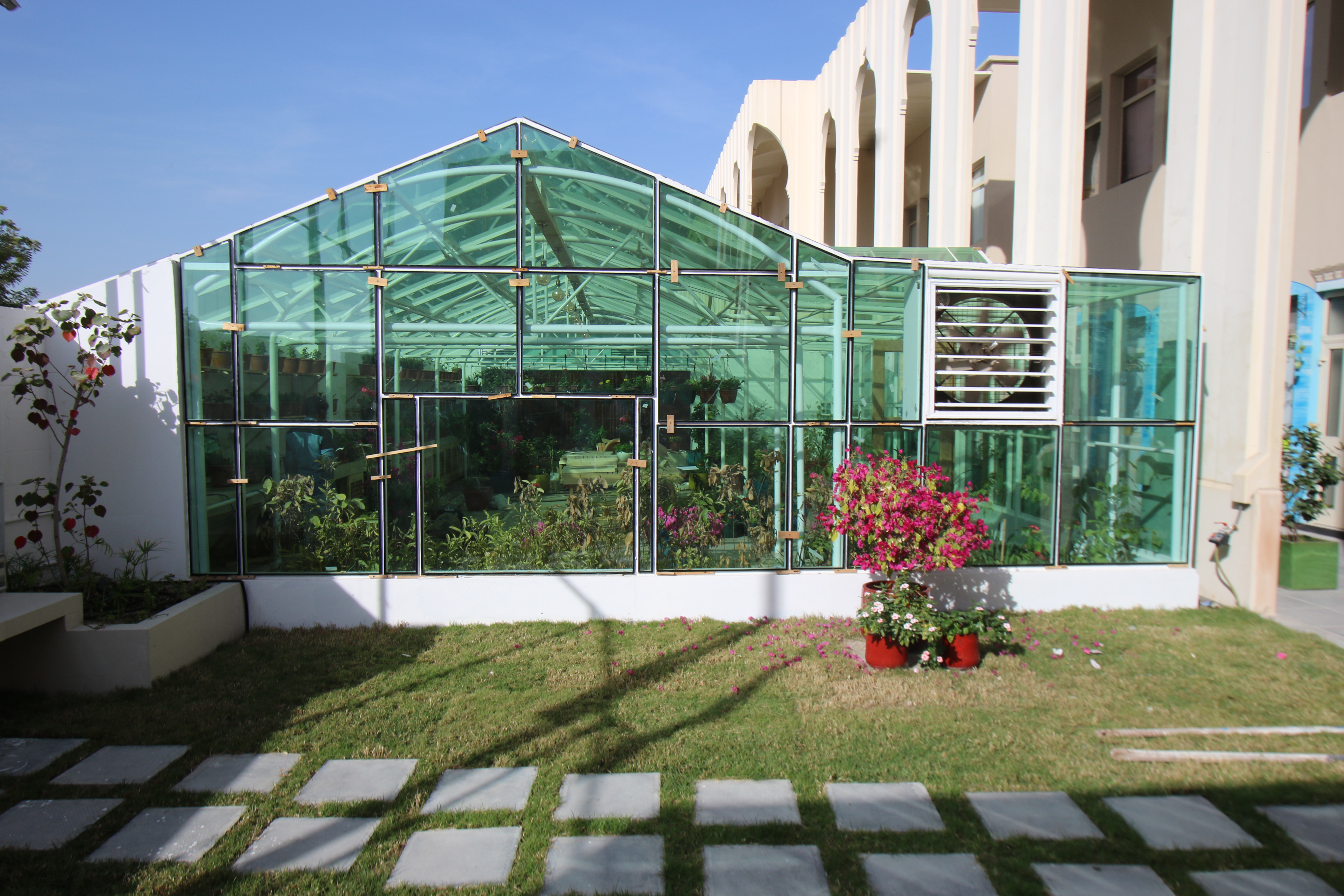 How do you consider the woman empowerment in the Kingdom? Is it on par with the international woman empowerment?
I think women empowerment in the Kingdom is one of the highest levels of empowerment internationally. Women in Bahrain enjoy equal wages and positions as men. In Bahrain, we have always worked side by side with men with equal opportunities in all fields.
H.R.H Princess Sabeeka bint Ibrahim Al Khalifa and the Supreme Council for Women work tirelessly on a number of programs regarding women empowerment. These kind of initiatives for Bahraini women empowerment  have been in our society from the very beginning. For instance, Shaikha Lulwa Al Khalifa  initiated The Mother and Child's Welfare Society (MCWS) in the 1960s for the socio-cultural development of women and children in Bahrain.  But women have always had an opportunity for education within a supportive society. Today, Bahraini women hold many prominent positions across many establishments in the Kingdom and we are proud of our achievements.
How do you think of the future of the Kingdom?
I believe that there is a promising future for the Kingdom. The next generation is well educated and moving away from centralised systems. They are hardworking, empathetic to different cultures and I can see how our young mothers in Bahrain are playing a vital role in preparing the future generation.   My message to the future generation is to learn, study, be aware and work hard.