The mission of the Supreme Council of Environment (SCE) is "Protecting the natural and human environments in the Kingdom of Bahrain, as well as sustaining its elements, preserving its living resources, and developing them for future generations".
H.E Dr. Mohammed Bin Daina, Executive Chief of the Supreme Council for Environment discusses in detail the environmental changes, "Beat Plastic Pollution Campaign" and other initiatives of SCE.
You have the experience in the energy and environment sector for more than two decades. What are the impending changes in the environment that have grown over the years?
Many changes about understanding the nexus between energy and environment have grown over the last 20 years on the national level. Pushing towards a more energy efficient sector is one of evidence of changes occurring; adopting the concept of conserving national resources and including it as a pillar of development at the Vision 2030 is a step forward, also assigning national targets for energy efficiency to be achieved by 2025 is another indication.
Introducing renewable energy as part of the country's energy mix and assigning it a national target of 2025 concludes such transformation. Lowering emissions and improving air quality is a goal that the Supreme Council of Environment (SCE) is working on to achieve and making it possible by embedding it in many of the entities newly issued Law, regulations and standards policies. The mounting awareness of decision makers concerning the environment has been reflected on the national policy level, and is being now reflected in the upcoming government action plan.
What is in pipeline for The Supreme Council for Environment?
The legal mandate of the SCE is to develop plans and policies to avoid the harmful effects of the activities that lead to damage to human health, agricultural crops, marine wildlife, and other natural resources and climate, and the implementation of these plans and policies, taking all appropriate actions and measures to stop the deterioration of the environment, and prevent environmental pollution and reduce it in all its forms, for the benefit of present and future generations through the achievement of sustainable development goals (Legislative Decree no. 21, 1996).
Many projects are on the go, one is the national waste strategy management that is being prepared and is undergoing review from our side with our main partners at the Ministry of Municipality and Works.  In addition, there is the national air strategy, which is intended to be finalized by the end of this year, also the plastic bag scheme which is in preparation is another important project that is in line with the global general spirit of reducing the plastic use and gradually eliminating the pollution from such a product.
Furthermore, the Cabinet has approved a national strategy on biodiversity, and we are in the process of implementing the action plans towards this initiative. We have also managed to achieve the National Project of Reviving the Pearling Industry, under the supervision of the coordination committee chaired by HRH The Crown Prince.  Based on that, we managed to announce the North Hayrat – of the size 1386 sq. as a protected area, which is 21% of our national regional water boundaries.
Can you explain more about SCE's role in 'Go Green' campaign?
We have worked on many initiatives that shed light on the importance of the global Go Green campaign. One particular event that we have overlooked was working with NGO's on cleaning shorelines, and we raised awareness though the diving community by creating a program of cleaning Najwat Bu Luthama, which is a destination spot for divers filled with different kinds of biodiversity, and an important destination for pearl diving and coral reefs.
We also managed to develop Green Technology conference in association with the UNIDO, to raise awareness among the general public and the private sector.
We have also set in place a green IT server, to promote a new way in dealing with IT related issues, and to encourage other government and non government entities to take this on board.
Bahrain is a region blessed with abundant sunlight. How will SCE support to utilize this to generate alternate energy?
With the Paris Agreement comes into force in 2020, there is a significant international obligation and collaboration to manage greenhouse gas emissions. Enhancing energy efficiency, tapping into renewable energy sources, and thereby promoting economic diversification, is a fair and sustainable avenue for Bahrain to meet its climate change commitments.  With such abundance of sunlight on the island, harnessing solar would a very viable source of energy for our future. Indeed, the solar industry is becoming an ever bigger and cheaper resource. There are also hidden knock-on benefits, giving the Kingdom of Bahrain a more competitive business sector and better air quality.
The realm of solar desalination I find to be the most promising. Primarily, because it contributes to our socioeconomic development by providing clean and sustainable water, a scarce resource for our region. And we are working with Loughborough University and the University of Bahrain to develop a pilot plant for a solar desalination plant.  While on this subject, The Kingdom of Bahrain has set up a National target by 2025 to conserve energy by 6% and use renewable energy by 5%.
You are also associated with the leading educational institutions in your career. How effectively can the future generation be educated of the environment protection?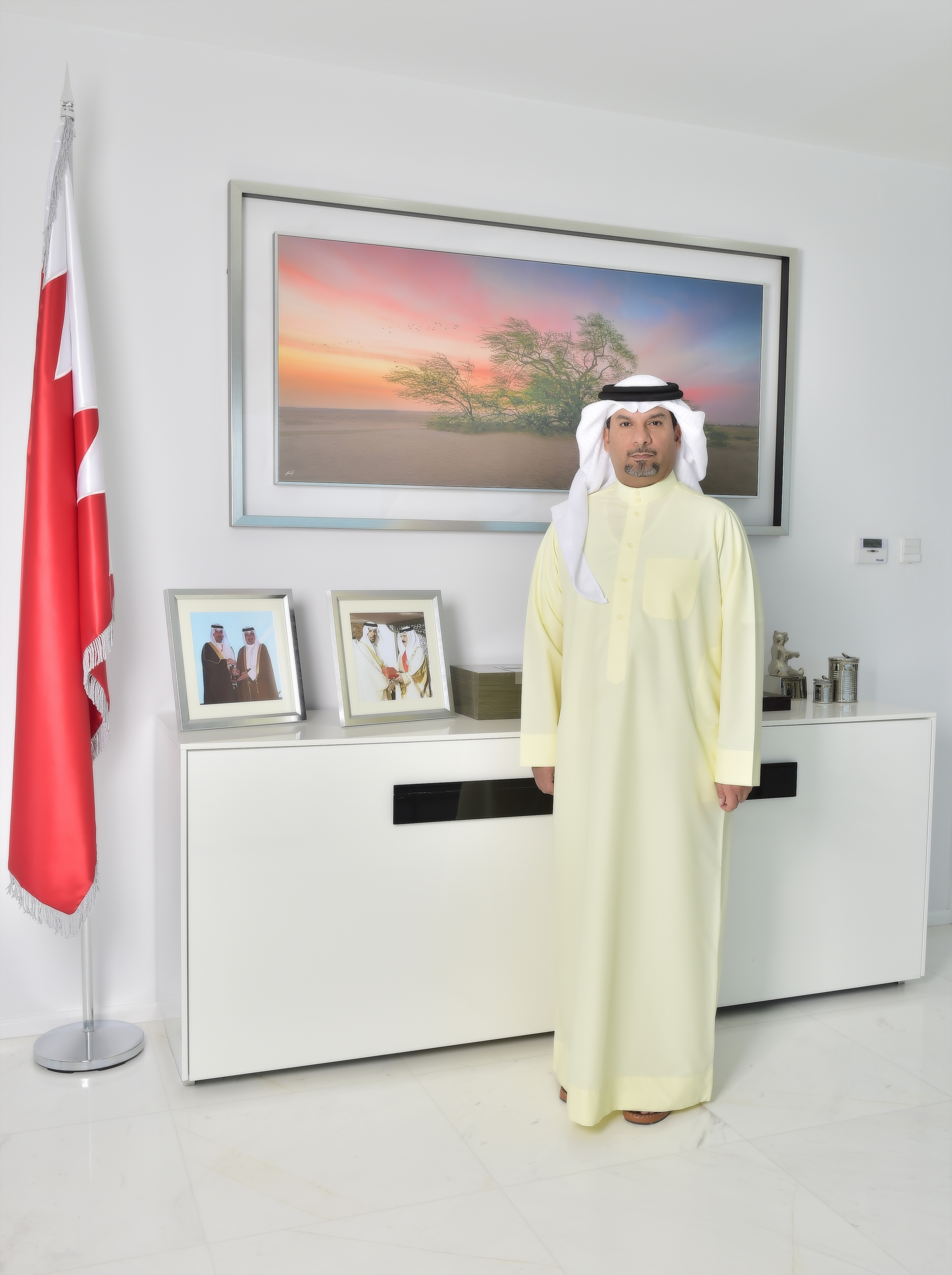 My personal involvement in this field was after obtaining my PHD in Chemical Engineering from Imperial College in the UK – this path led me to gain knowledge in this field, my degree gave me the opportunity to link my research study to serve my local community.
The Supreme Council for Environment organizes many educational programs that contribute to changing the behaviour of young generation and providing awareness towards a positive approach to the environment.
The SCE provides numerous awareness-raising lectures and workshops aimed at increasing environmental consciousness and deepening the understanding to individuals in cooperation with a number of government ministries, private sector institutions and civil society.
We design and disseminate many electronic awareness-raising publications through social media with a view to increase environmental awareness and engagement among members of society, where we are also keen to celebrate environmental events in partnership with various institutions throughout the year.
We also organize many regular cleaning campaigns and field visits in order to affirm the concept of "Public Planet Partnerships" in cooperation with different groups of like-minded societies.
The goal of SCE's cooperation is to strengthen the culture of preserving the environment, creating a conscious generation and motivating everyone in the community to volunteer. We aim to encourage the active participation of government and the private sector as well as civil society to achieve environmental sustainability.
You have recently published a paper on Environmental Evaluation of Food Waste, with The University of Cambridge; can you share with us the details regarding this topic?
This paper was done in collaboration with other environmental scholars.  The article was published to shed light on this important global issue of waste disposable. 
Bahrain produces 1.8 million tons of waste per year, 32 % of this waste is household waste and the average population produce 1.5 kilograms of waste per day.  The average in the world is 1.2 KG per day, having said that, we are producing more waste than other nations around the world. This an alarming sign and we aim to raise awareness on this important issue through our local communities.
I believe it's important to work on these research topics, one to open new possibilities and solutions, and two, for my personal growth as an educator.
My previous work as a university professor gave me the opportunity to give back to my community through the educational path.
What are other social initiatives that you are associated with?
I'm a member at The Bayan School Board of Trustees; this is a dynamic platform that allows me to take part in shaping the educational programs for young students, as one of the most important educational institutions in Bahrain.
Also, my role in the British Bahrain Society, where we build bridges between the two nations through fields of environment allow us to share expertise and gain knowledge in a field that would ultimately allow for growth and prosperity.
Another social initiative that the SCE has worked on is the preservation and the development of Dohat Araad in Muharraq.  We managed to create a public space for the community overlooking the bay that holds an important natural preserve.
This space, with its diverse activities, vendors, and outdoor walking paths creates a healthy environment for the community.  We are also aiming to develop a multi-functional space with The Bahrain Authority for Culture and Antiquities, and create a joint initiative highlighting a diverse activity program involving artists, workshops, and an exhibition space.
We also look forward to create this space – and work on its contribution to the evolving cultural scene in Bahrain by setting up an artist in residency studios that can serve the young talents.
The SEC also will use the multi-functional gallery to host programs that highlight environmental matters, like seminars and lectures.  Our real target of this project is the youth, and the general public. 
Can you brief your background for the readers?
I previously mentioned my role as a university professor; this to me was an important stepping-stone that shaped my professional career.  There is a great deal of self-gratitude being in this field of work.
Early in my career, I worked at BAPCO.  I was s a fresh graduate and started working in the field in the drilling department.  This line of work involved long and hard hours in the middle of the desert.  This experience made me appreciation life and gave me a sense of value for any task I was assigned to. My hours were long from 7:00 am to 5:00 pm on the field to drill oil; this gave me a well-rounded experience that has now this shaped my life.  Today, my administrative role allows me to explore another level of appreciation, it's not physically hard, but you are faced with challenges that play an important role in the wellbeing of our society and country.
Now, at the Supreme Council for Environment there is a totally different role that we play. On a global platform its in our mandate to express and maintain the highest level of environmental procedures that allow us to rank among the leading nations in this field, our latest recognition in Basel Convention honoured the work that has been achieved in the Kingdom of Bahrain as the only country in the GCC, Middle East and Asia which complied with the convention on dealing with hazardous waste.  This to me was a great achievement for the Kingdom of Bahrain.
It's also our duty to shape the mindset of the youth in terms of raising their knowledge regarding their role within their community & environment.
One the most powerful quotes said by Theodore Roosevelt
" To waste and destroy our natural resources, to skin and exhaust the land instead of using it so as to increase its usefulness, will result in undermining in the days of our children the very prosperity which we ought by right to hand down to them."
With these words of wisdom, we are faced with the true message that we should promote, protect and work towards.  We should all be aware of these challenges and work on progressing our approach towards the environment.
I believe education is key – the youth of this nation hold in their hands the future, our role now is to educate and allow them to take the right steps towards maintaining a healthy and prosperous future.
Personally, what is your immediate and far-fetched vision for Bahrain?
My immediate goal is to see our "Beat Plastic Pollution Campaign" as a national target. This will have a tremendous effect on our lifestyle and it will elevate us to a nation that values the importance of their surroundings.