Rashid Al Khalifa, a prominent name in the art scenario of the Kingdom has completed half a century in his artistic journey which includes more than 70 exhibitions of his pure artistic expressions. The art got chiseled and developed into many captivating canvases as landscapes that exemplified the beautiful luminosity and mysterious spatial effects of the desert.
Rashid Al Khalifa sheds light into his innovations, paintings and aspirations in this inspiring interview with Bahrain This Week.
Tell us about Rashid Al Khalifa – 'The Artist'
Although my daily work-life may seem to contradict my life as an Artist, in many ways it is the experiences I gain through my work that inspire or influence my artwork. They go hand in hand- and essentially, working 'in parallel'. I suppose my work and my daily life require a lot of organization, meetings, structuring, teaching and learning. They are indirectly reflected through my artistic practice. Creating and artistic expression are my passion. Despite my busy schedule, I always try to find time to focus on my artwork as I think that this is really a reflection of my identity, my life and my philosophy.
How your artworks have evolved over the years?
You could say that they have evolved in different ways through my use of the medium and choice of materials, but also through the concepts that I choose to explore. For example, in the 70s and 80s, I focused on atmospheric landscape paintings as well as more figurative work. These works are in many ways more representational than my later work. Presently, I still do consider the landscape, but choose to represent this very differently in the past- through minimalism, elemental forms and structures. My style has changed quite a lot.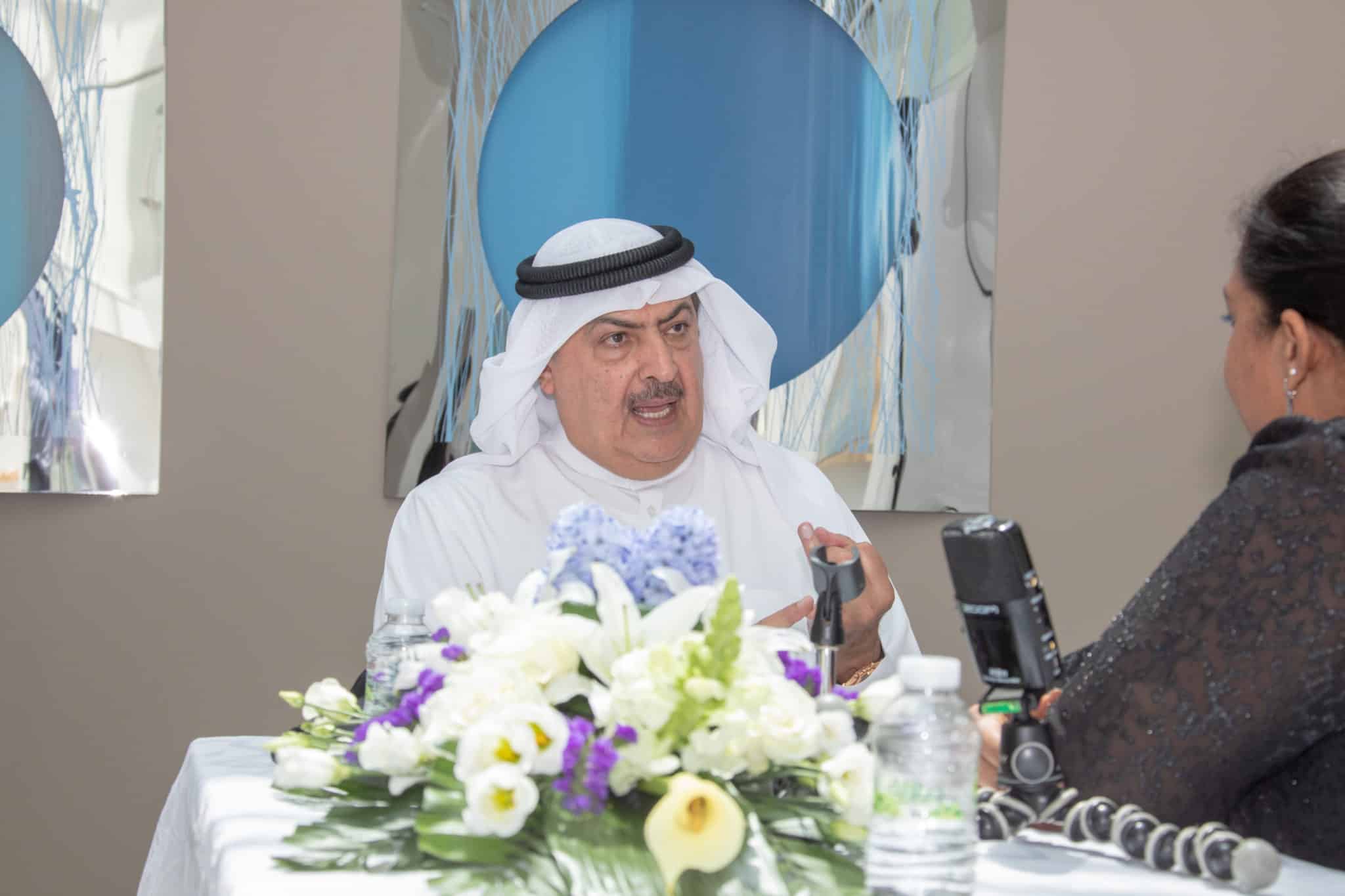 Do you experiment with the artistic materials? If yes, how?
I continually experiment with materials. I was trained as a painter and always go back to painting and drawing when I feel like it. However, I also consider myself a designer and enjoy experimenting with different forms and surfaces. I love the robustness, luster and durability of stainless steel and the adaptability, low weight and resistance of aluminum. These surfaces are perfect for creating clean, minimalistic work and offer the perfect surface for enamel paint whenever I choose to use it.
'Penumbra' and 'In Parallel'. What's unique and different about these two major exhibitions?
Penumbra was exhibited at the Saatchi Gallery in London in September 2019. The entirety of the exhibition was in many ways inspired by my interest in the 'Mashrabiya', a characteristic of traditional Middle Eastern Architecture. I was interested in the manner in which this feature allowed the inhabitant of a home to see outside, but prevented them from being seen- allowing privacy. I recreated that sentiment through the mesh and grid-like works that I exhibited. What arose from this inspiration was much, much more- an exploration of shadow, surrounding light and the illusion of movement. So, in many ways, these works are also landscapes of the mind, inspired by tradition, heritage and the environment.
In Parallel was exhibited at Bait Muzna Gallery in Muscat, Oman. It also explored concepts that are of interest/ importance to me, however, we presented a selection of works from the 70's, 80's 90s and 2000's as well as a few of my most recent parametric works that were exhibited at the Saatchi Gallery. What we wanted to show is the diversity of my oeuvre, but also wanted to express how even though my style may have changed, there are certain topics that continually arise and certain philosophies that I am interested in- despite my decision to express these topics using different mediums over the years. We displayed works that may have been created at completely different times in my life and using completely different mediums, but that are inherent of the same kind of energy; a minimalistic aluminum structure next to a desert landscape somehow generate a similar emotional reaction. What this tells me is that I often return to certain subjects in my life even though my way of expressing them might be quite different.
What's the message that you convey through your paintings?
There are many messages- I suppose some of my philosophy focuses on the heritage, traditions of Bahrain and my memories of the landscape. I'm interested in light and the natural environment, in shadows and what they represent. I'm fascinated by the manner in which my works react differently depending on the environment in which they are placed.
How does Bahrain inspire and support your paintings?
Bahrain has always been supportive of my work and of me as an artist. I am always so grateful for the encouragement, affection and care that I have received here, from friends, family and others. I have always felt free to practice my passion and that means everything to me.
 What are the current opportunities and challenges for artists in the Arab world?
I think there is a wealth of opportunity for an artist in the Arab world- there is so much to gain inspiration from – whether from the rich history, the landscape, the culture and traditions as well as from so many other important issues that can be considered, expressed and discussed. The international art world is drawn to and interested in art from this region. Artists just need guidance and the tools in which to reach out to the wider world and spread/ express their message. However, we are lacking in the institutions to support artists as well as to educate people in the arts. This can create limitations, but it seems that with the strength of social media as a tool for connectivity and expression, we may be able to overcome this hurdle.
What's your next vision as an artist?
I have a few new projects coming up in 2019. I have been working on larger scale installations and developing the sensory aspect of my work.
What's your advice to the upcoming artists in painting?
Whatever your choice of medium is, whether it's painting, drawing, building, sculpting, performing, singing; they all are a form of expression. Creativity is necessary- it fuels you and promotes change and progress. It also inspires others. Never give up!