Providing students an opportunity to pursue their interest in electronic and software design by working on small scale robotics projects, the Indian School Bahrain (ISB) has started the first ever CBSE school Robotics Club in the Kingdom of Bahrain.  Indian Ambassador Alok Kumar Sinha inaugurated the Robotics Club on Saturday at the Jashanamal Auditorium in Isa Town campus. ISB Hon.Chairman  Prince S Natarajan, Vice-Chairman Jayafar Maidani, Secretary Saji Antony,  Executive Committee Members Mohammad Khursheed Alam, Adv. Binu Mannil Varughese,  Deepak Gopalakrishnan, Mohammed Nayaz Ullah, Principal VR Palaniswamy, Riffa Campus Principal Pamela Xavier and Talia Global Solutions (TGS)Chairman Soman Baby attended the ceremony.
The ISB Robotics Club's mission is to encourage students to design innovative programs that build self-confidence, knowledge and life skills while motivating young people to pursue opportunities in science, technology and engineering. The Robotics Club inauguration comes in the context of the Central Board of Secondary Education (CBSE) earlier announcing the introduction of Artificial Intelligence (AI) as an elective for students in classes 9 to 12.
Indian Ambassador Alok Kumar Sinha  said it's important for the younger generation to understand the changes that are  taking place in the IT world. 'The young people need  to develop their creativity and problem solving skills through challenging and educational robotics competitions. Technology is important in today's world because it serves a variety of functions in many   important aspects of modern society, like education, communication, business and scientific progress. During the past few decades  computers have become such an integral part of society that technology has become a relied-on tool for most people in normal activity.  The Ambassador appreciated the excellence of the Indian School in curricular and extra-curricular activities. 
ISB Chairman Prince S Natarajan thanked the  Indian Ambassador Alok Kumar Sinha for being the source of inspiration for  the Indian School in starting the first ever Robotics Club. He reminisced that during the last  Indian School Fair the Ambassador had suggested the school officials to start a Robotics Club to enrich students' STEM skills.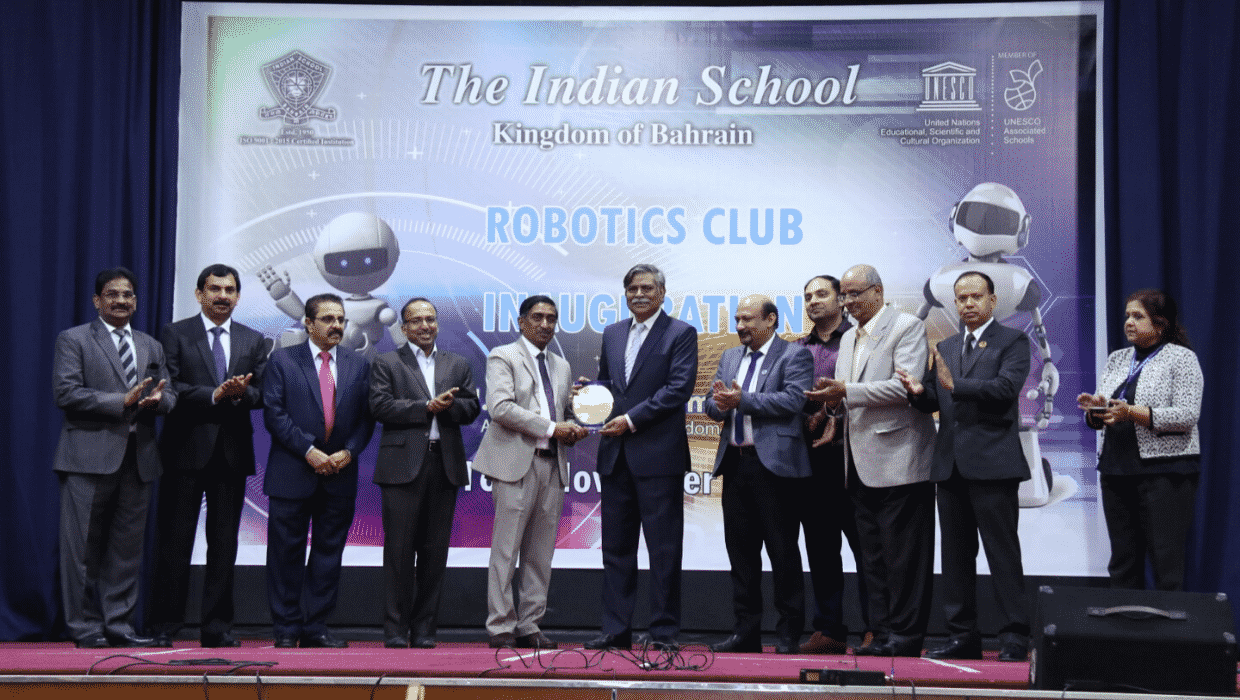 Principal VR Palaniswamy welcomed the gathering. Talia Global Solutions (TGS) Chairman Soman Baby gave felicitation address. ISB Hon. Secretary Saji Antony expressed vote of thanks.  Students from classes VI to XII are members of the Robotics Club. The Indian School has entered an agreement with Talia Global Solutions to provide robotic skills and training to the students. Talia Global Solutions Managing Director Abraham Mathew, Directors Jiju Varghese, Mohan Josiah and Trainer Chithra Krishnaswamy also were present during the inaugural ceremony. Indian School Robotics Club activities are coordinated by Computer Department HoD Pius Mathew and Physics Department HoD Sudipto Sen Gupta.  Earlier the Ambassador was welcomed by the members of the School Band  and Scouts and Guides. The ISB Robotics Club activities  and training are held during weekend holidays or after school hours.