Following the huge success of the 10th Mini Marathon and the tremendous support and awareness it generated, Jawad Business Group intends to make its 11th Annual Mini Marathon an even bigger success. Conducted under the patronage of the Governor of Northern Governorate, Ali Al Shaikh Abdul Hussein Al Asfoor, the 11th Annual Jawad Mini Marathon has been taglined, "Run or Walk for the Cause and willbe held on February 23rd, 2018."
The Jawad Mini Marathon has steadily built up a reputation over the years for the causes it supports and the interest it has generated. Previous Marathons helped draw attention to sickle cell decease and autism, and served to increase awareness around this.
Like last year, this year also Jawad Business Group aims to use the event to spotlight Autism Spectrum Disorder which is prevalent in the country.
All proceeds from the race will be donated to Bahrain Autistic Society, a charity organisation that aims to raise the community awareness about what is autism disorder, and to encourage volunteer work to support autistic children. It also helps the patients and their families, in addition to finding the right programs, courses and activities.
The registration has started online on www.jawadminimarathon.com. The fees will be BD 1 for children under 16 years and BD2 for adults. All proceeds will be donated to Bahrain Autistics Society.
There will be 3 categories – 5 km, 8 km and a walkathon of 5 km. They are divided into different age groups starting from 9 year old to over 50 year for both men and women. This will allow all runners a fair chance of winning. We also have a category for handicapped participants. There will be more than 33 trophies for the winners, and a raffle draw will with more than 20 prizes to be won.
American Mission Hospital medical team will be present with their ambulance at The Jawad Dome on the day of the event to tackle any emergency. They will also provide free health check-ups on the day of the event.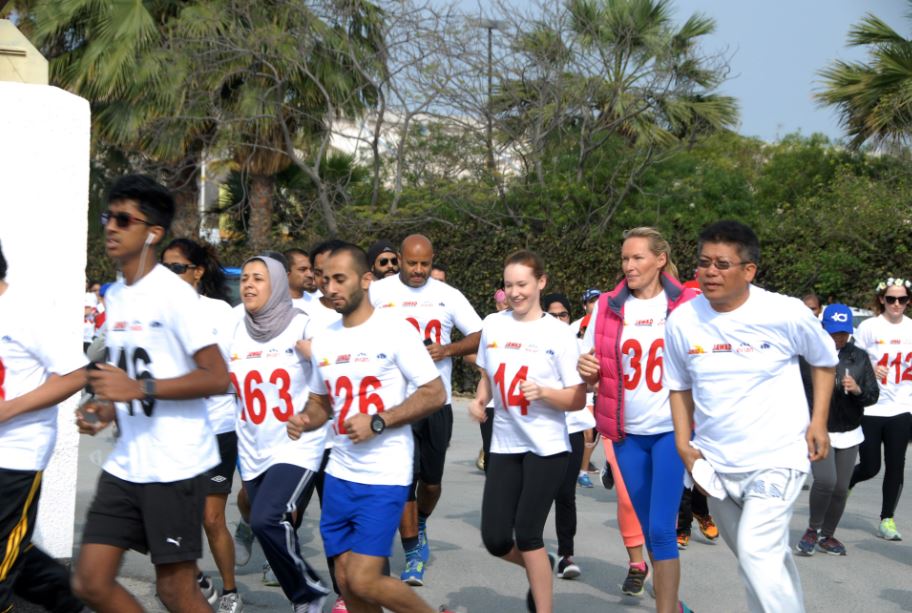 On this occasion the Jawad Business Group marathon committee made special mention of the support extended by the Governor and all officials at the Northern Governorate to make the marathon a success. The Traffic and the Public Security Directorates in Ministry of Interior worked closely with organizers to ensure all proceedings will go smoothly.
The course will be clearly marked and there will be organizers at every track junction to direct the participants and provide them with water or medical help if necessary. It was emphasized by organizers that the main aim of this race remains the support of a very important cause and therefore, being present is as important as running the race. In fact it was mentioned that participants who are not able to run could also walk.
For further details, please contact Mr. Adnan Al Qassab, Event Director on Mobile: 39132102 or e-mail: adnan.alqassab@gmail.com