Najashi Rashdan and Abdulla Buhindi were among the newly crowned champions following the fifth and final round of the 2017/2018 Bahrain Karting Sprints Championship (BKSC) at Bahrain International Karting Circuit (BIKC) In Sakhir.
The BKSC features both the Bahrain Rotax Mojo Max Challenge (BRMMC) and the Bahrain Sodi Sprint World Series (BSSWS).
Rashdan emerged as the season's winner in the BRMMC's Senior Max category despite finishing second in his final race. Buhindi, on the other hand, had enough points to claim his crown even after finishing third in the BSSWS curtain-closer.
Other champions for the season were Isa Abdulla, Sulaiman Al Kanderi, Fahad Al Muqla and Santosh Kumar.

All the racing was held along the 1.414-kilometre Commission Internatonale de Karting track under the brilliant floodlights of BIKC.
In the BRMMC's Max final, run alongside the Junior and Master Max classes, Rashdan completed the 15-lap sprint in 14 minutes 39.217 seconds. He was 1.621 seconds behind Mohammed Mattar, while taking third place was Hussain Hassan 4.694s behind.
Following the finale's results, Rashdan secured first place on the season standings after improving to 140 points. Rashid Almuammari was second on 132, and Hassan came third on 119.
The Junior Max race was won by Fahad Al Khaled in 14:56.475. Sulaiman Al Kanderi was the runner-up 4.568s back. Omar Al Dereyaan came third 10.140s off the winning paec.
Al Kanderi was crowned champion with 141 points. Al Khaled followed on 95 points while Abdulla Al Dossary was third on 82 points.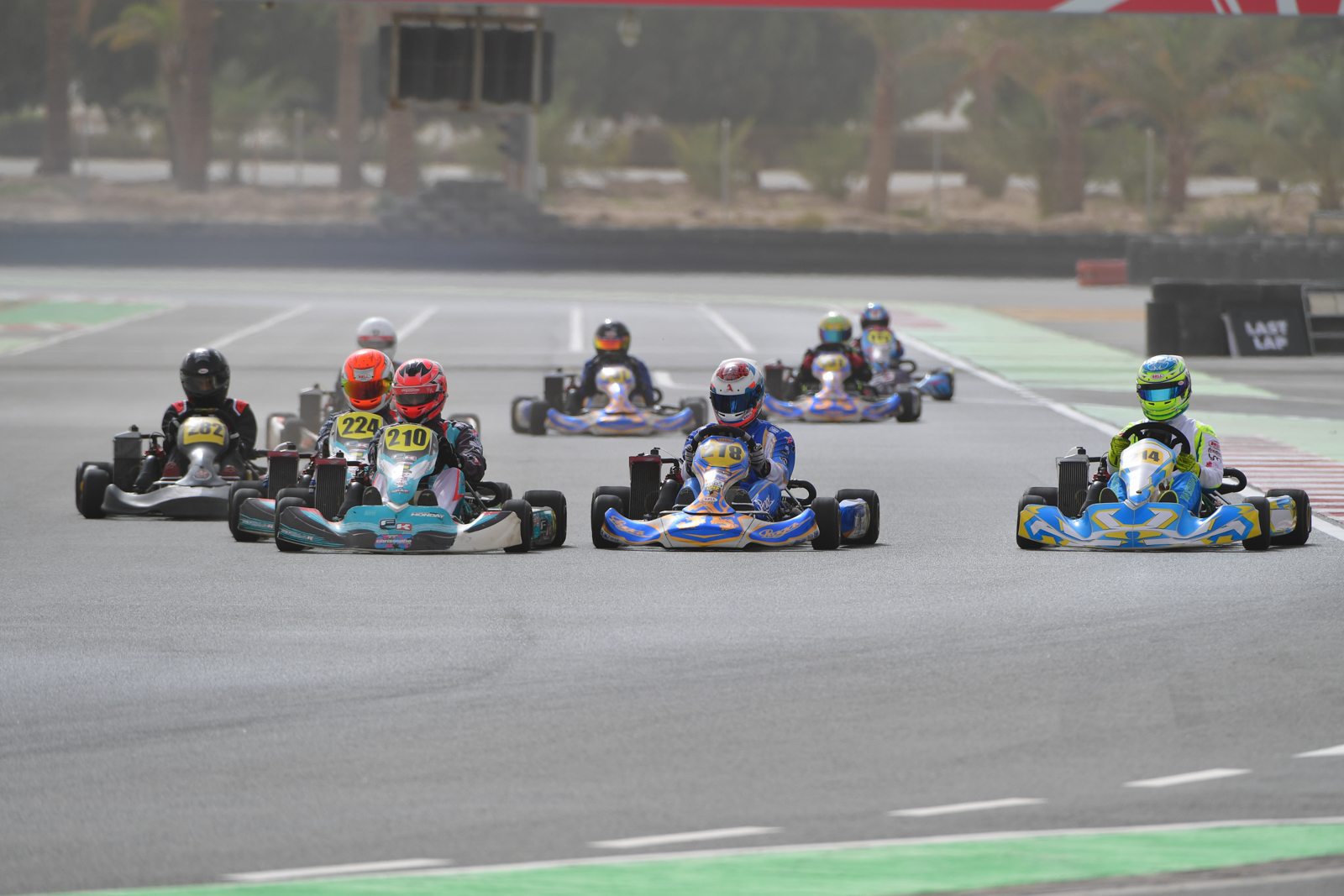 In the Senior Max class, Isa Abdulla won in 15:07.949, en route to sealing his xoopktitle with 130 points.
Meanwhile, the BRMMC's Mini and Micro Max titles were also determined. They ran their race together in the championship finale.
Santosh Kumar was the race winner in the Mini Max class in 9:32.339. Fahad Al Muqala was a distant second 15.506s off pace while Matteo Quintarelli was third with an 18.513s gap from first place.
With his runner-up finish, Al Muqala was able to seal the crown with 122 points. Xanda Topp finished second on 93 points while Jacob Topp was third on 49 markers.
Luca Kane Houghton won firsts place in the meeting after completing their nine-lap sprint in 10:24.489. Gracie Rose Grantham was right behind 0.254s back and Kalan Vine came third 0.378s adrift.
Santosh Kumar was the champion with 129 points. Vince was second on 110 points and Grantham came third on 103.


In the BSSWS, Khaled Al Zayad won the final 15-lap race of the season in 18:30.096.
Ali Baslar was a close second 0.101s from first while new champion Buhindi came third 0.400s back.
Buhindi ended the year with 165 points, followed by Baslar with 147. Mohammed Amin came third on 128 markers.
A full grid of 20 drivers took part in the final BSSWS round.