Listen to this article now
INJAZ Bahrain has recently conducted the 12th edition of Young Entrepreneurs Competition that witnessed student entrepreneurs from around the Kingdom competing to obtain the coveted Awards.
Royal University of Women team-Masooma Yusuf Ahmed Mohamed Jasim, Kenza Attallah, Sara Mahmood Mohamed Hasan Khamis Albalooshi, and Shooq Faisal Almajed- won the University Best Social Impact Award for their innovative KHOSH Solutions under the coordination of Dr. Nehal El Naggar.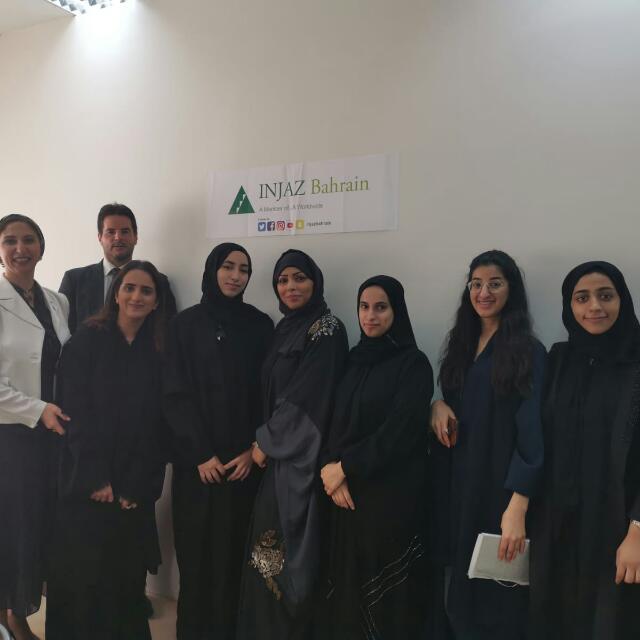 The team shares the details of KHOSH Solutions with Bahrain This Week.
Can you detail KHOSH Solutions for our readers?
KHOSH Solutions is a Bahraini based specialized in upcycling of e-waste in a creative and entertaining way. KHOSH means 'Perfect' and our goal is to provide perfect solutions for the increasing e-waste that is negatively affecting the health and the environment.
Since starting operation in November 2019, it had an exciting and very constructive journey with its product and activities in regards to increasing e-waste awareness. Partnering with our stakeholders, KHOSH Solutions is committed to creating an e-waste management eco-system which will contribute to the economy of Bahrain, its people and serve as a benchmark in the region.
KHOSH Solutions believes in making the environment a better place to live. KHOSH solutions is the first company in the region that works on upcycling e-waste to jewelry and artwork in a creative and innovative manner to engage the customers to create these artworks to increase their creative thinking and assembling techniques.
KHOSH Solutions offers a socially responsible solution for e-waste providing our stakeholders peace of mind by ensuring that our business is contributing to reducing the carbon footprint in Bahrain. We promote environmental awareness by encouraging individuals to contribute to reducing the e-waste through entertainment, creativity and engaging activities.
How did the idea of KHOSH Solutions originate?
Nowadays technology becomes part of our life. From year to year, the old technology change with more progressed new technology which cause a growing in e-waste. Therefore, technology becomes a lifecycle issue, which is present as risks and opportunities.
KHOSH solutions come to make the risks of the technology to opportunities, by upcycling the old technologies into an innovative artwork.
As university students we hear about the old way of submitting projects using CDs for different courses with several instructors; an average of 6 CDs is submitted individually each semester. Fortunately, our University the Royal University for Women -with a vision of becoming one of the leading universities in Bahrain- offered new ways of submission for projects and assignments such as online applications as Turnitin and Moodle, to make the instructors' and students' life easier and eco-friendlier. Hence a question popped into our mind 'Where will all the old CDs go?' We were searching for a concept that can transform yesterday's technology into a beautiful piece of art and manage the created waste. Our company believes in the added value of diversity; having members from different nationalities, colleges, skills, and interested which led the company to CDimensions our first product.
Then we had researched the negative side of e-waste, so we start collecting different materials which are old Printed Circuit Boards (PCB). PCB is an essential part of most of the electronic devices, PCBs contain precious materials such as golds and slivers. Therefore, KHOSH Solutions had the opportunity to work on the second product CBoard to create from PCBs a creative piece of art. KHOSH Solutions convert what people think
is trash into treasure.
How long did it to develop KHOSH Solutions?
KHOSH Solutions goal is to provide perfect solutions for reducing e-waste that is negatively affecting the health of everyone and the environment. Since starting its operations in November 2019, KHOSH Solutions had an exciting and very constructive journey with its product and activities aiming at increasing e-waste awareness. Partnering with our stakeholders, KHOSH Solutions is committed to creating an e-waste management eco-system which will contribute to the economy of the Kingdom of Bahrain, its people and serve as a benchmark in the region.
KHOSH Solutions strategy had several aspects, and for each aspect different steps were followed; The first aspect, to develop our product by improving the different designs and using different e-waste material after conducting marketing research and studying the e-waste materials, the first step was the product testing for quality and safety and the process is ongoing to create future innovated advance versions of the products.
The second aspect is to increase awareness, develop the promotional campaign and develop a customer base. The third aspect is related to the company expansion by collaborating with different companies inside and outside Bahrain and franchising our business, we start the first step on March which we collaborate with Ebin Company and ZAIN.
What's the relevance of KHOSH Solutions in Bahrain?
KHOSH Solutions is offering a concept and a lifestyle where creativity meets sustainability, where art is used to serve a good cause and to transform e-waste into a valuable piece of art. From that perspective value pricing strategy has been applied since it relies on the message and creativity the customer perceived in our product and especially after conducting a competitive analysis, a market gap has been discovered as no direct competitor has been identified. Nevertheless, ZAIN Bahrain and BAPCO were recognized for their IT recycling initiatives, but None of them can be considered as direct competitors since the e-waste upcycling is not their main activity, moreover, there is no company in the Gulf region (GCC) take advantage of upcycling e-waste into artwork. Other individual initiatives to upcycle CDs or circuit boards and spread awareness exist the market but still can't be classified as competitors; CDs and circuit boards is only one of many e-waste recycling ideas they offer and none as jewelry or accessories.
How's the response for KHOSH Solutions so far?
KHOSH Solutions was honored as a company with the Best Social Impact Award in the University Track of the INJAZ Bahrain 12th Young Entrepreneurs Company Competition 2020, and it was the celebration of the company's hard work and achievements the company members. We are still committed to continue and maintain the company's success. Putting goals for future scalabilities, aiming to produce the products in fully recycled materials to contribute to preserving and protecting the environment and spread awareness. In addition, expand the company within the GCC region, offering personal workshops, e.g. in schools, education facilities to enhance customer engagement, awareness and creativity. Online tutorials on e-waste upcycling to inspire more people from all over the world. Several Product Development ideas are being tested and future partnerships and collaborations are currently being evaluated.