It's time to visit Italy in the aisles of LuLu Hypermarket as the popular "Let's Eatalian "gastronomic fest opens yet again, bringing the wholesome goodness of Italy's delightful cuisine to all LuLu shoppers.
The festival which celebrates Italian food, food products and gourmet culinary traditions, was Inaugurated at the LuLu Hypermarket In Atrium Mall In Saar on Thursday, April 27th 2023 by Italian Ambassador to Bahrain, H.E. Paula Amadie. She was welcomed by Mr. Juzer Rupawala, LuLu Group Director and other senior LuLu officials.
The festival will see the spotlight turn on a wide variety of excellent cheeses, Italian chocolate, fruit jams, sweet and savoury puff pastries from well-known brands, and Italian apples at special prices. Italian kitchen staples, such as balsamic vinegar, olive oil, organic pasta and even new novelty treats such as instant one-cup pasta and condiments, as well as ready-to-go pesto sauce and tomato sauces will be promoted at special prices. There will also be specialty items, such as organic pasta, infused extra-virgin olive oil, high-quality sea-salt, and other cupboard essentials. Of special interest to shoppers will be a range of high-quality premium ingredients like olives, peeled tomatoes, and cakes prepared and sold under LuLu's in-house label.
Shoppers can also expect various Italian-Cuisines from LuLu Hypermarkets kitchen, made with the finest ingredients. The inauguration also featured a saxaphone concert of Italian music by Adriano Laureti and a cookery demo of by Italian speciality Chef Simona Girelli from The Domain Hotel.
Italian Ambassador to Bahrain, H.E. Ms. Amadei, said: "The variety of Italian ingredients and food products that the LuLu 'Let's Eatalian' festival is showcasing is a testimony to the popularity of the Italian cuisine in this region and in Bahrain. I wish the LuLu Group all success in this regular retail event. The LuLu Group has signalled its ability to spot trends and stay ahead of the curve by investing in a state-of-the-art sourcing office in Malpense, Milan and shoppers can see the effect of this in the many new products exclusively on LuLu shelves."
"This year, we are promoting over 50 popular brands and product-lines as well as 200 all-new ones, In the "Let's Eatalian" festival," said Mr. Juzer Rupawala, "Undoubtedly, Italian cuisine is one of the most popular in the world and we are seeing a surge in sale of Italian products. It is a cuisine heritage that has managed to appeal to all generations."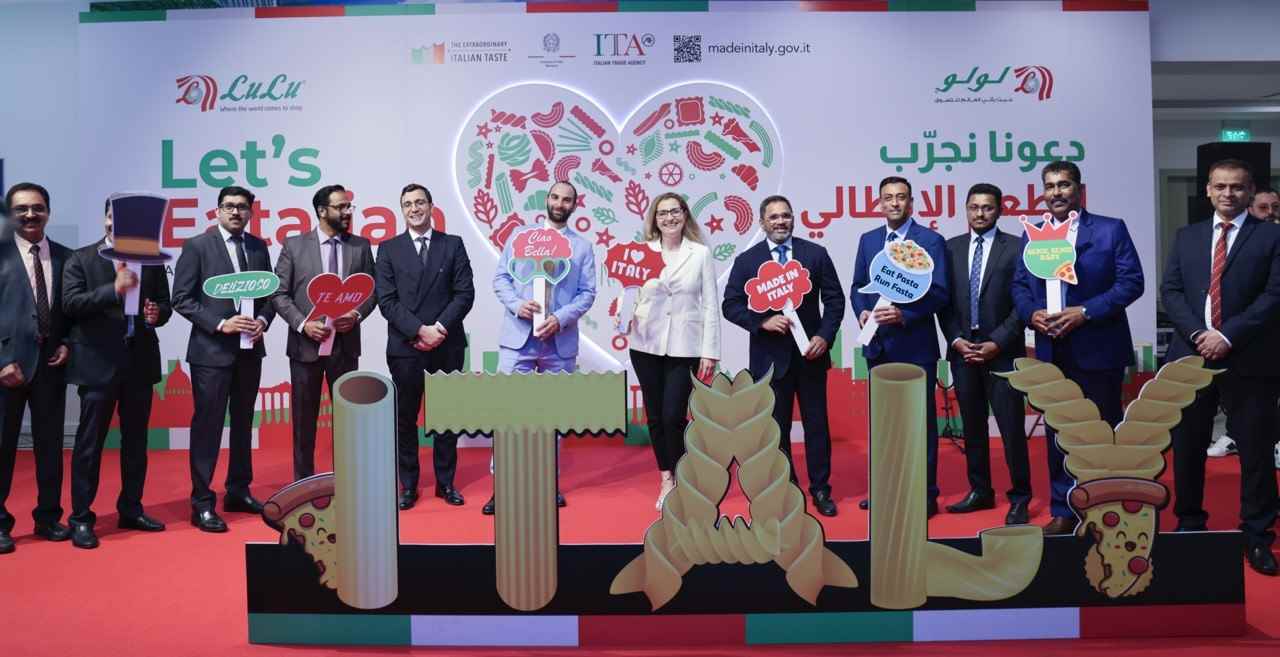 We have replicated the agreement between ICE Agency and LuLu Hypermarket, believing that this promotion will bring more recognition and admiration for Italian food specialties in the local area, surpassing all prior accomplishments. Italy's export success in Bahrain will surely thrive due to the solid presence of LuLu in the market said Italian Trade Commissioner, Mrs. Paola Lisi.
The festival will run till May 6, 2023 across all 9 LuLu Hypermarkets in Bahrain.