Malabar Gold & Diamonds, one among the BIG 5 jewellery retailers globally, opened 11 new showrooms across six countries in one single day – Friday, January 12, 2018 taking the total number of outlets to 208 spread across nine countries.
Bollywood actor Anil Kapoor inaugurated the outlet in Lulu Hazana, Sharjah, UAE in presence of Mr. MP Ahammed, Chairman – Malabar Group, Mr. Shamlal Ahamed MP, Managing Director – International Operations, Malabar Gold & Diamonds, Mr. KP Abdul Salam, Group Executive Director – Malabar Group, Mr. Mayinkutty C, Senior Director – Malabar Group; Directors and management team members of Malabar Gold & Diamonds, other dignitaries, well-wishers & guests. He also attended the event celebrating the successful journey of opening 200 showrooms worldwide. This is for the first time that an Indian jewellery retailer has been opening such a large number of showrooms spread across six nations in a single day.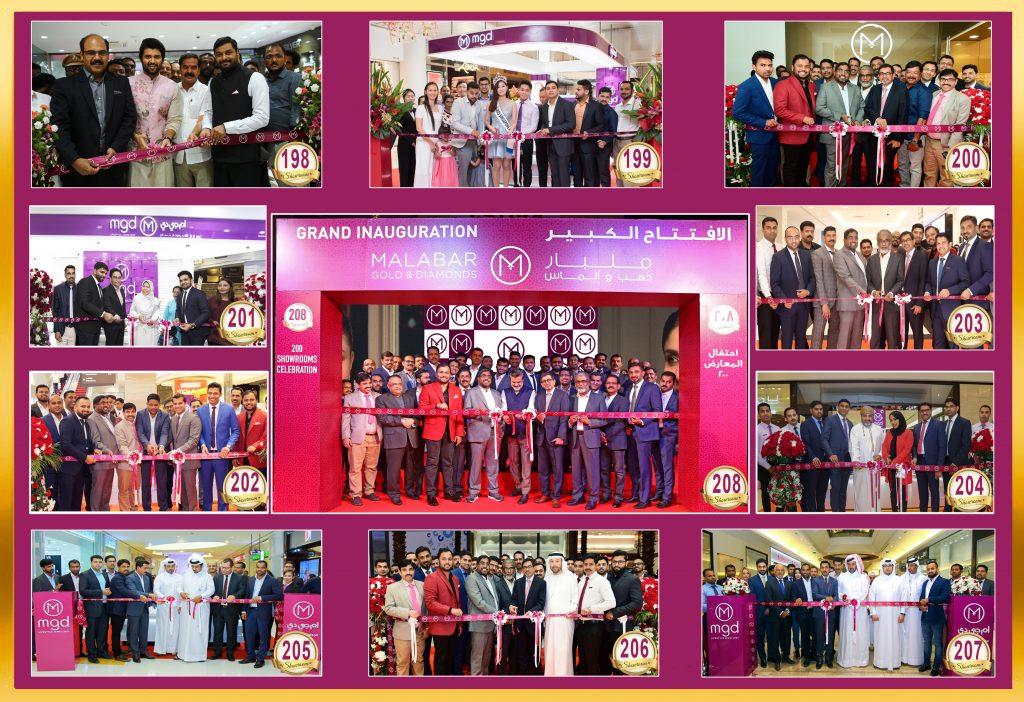 The new showrooms are located in Al Khail Mall, Sahara Centre, Al Buhaira Lulu, Ajman City Centre, Al Hazana Lulu in the UAE, Mall of Qatar, Lagoona Mall in Qatar, Muscat City Centre in Oman, AMK Hub in Singapore, Ampang Mall in Malaysia, and Warrangal in Telangana, India.
"We are getting wide acceptance in the global market place. Our core business values such as adherence to transparency, honesty, quality along with our value added services, product designs that suited to every class of customers' taste cutting across age group are the key factors that give us global acceptance. In 2018, we will be opening more showrooms as well as manufacturing units. This will fuel our vision to become the top jewellery retailer in the world." Said MP Ahammed, Chairman of Malabar Group.
The upcoming showrooms of the group are at Abbasiya (Kuwait), Mannarkad, Mall of Travancore (Kerala), Forum Mall – Bangalore (Karnataka), Himayat Nagar – Hyderabad, Kondapur – Hyderabad, Karim Nagar (Telangana), Noida (UP), South Extension (Delhi), Vashi – Mumbai, Thane – Mumbai, Kolhapur (Maharashtra), Rajkot, Surat (Gujarat) and Ludhiana (Punjab).