Mall of Dilmunia, developed by Dilmunia Mall Development Company, recently hosted a reception to honour a team of Bahraini free divers, as a gesture of gratitude and thanks for their recent performances which were on display at the Mall's aquarium. The free divers delivered a series of gracefully acrobatic performances to packed audiences on several occasions at Mall of Dilmunia's Bahrain Aquarium, including Eid Al Adha, as well as performances as part of an exciting line up of events that were held in celebration of the Kingdom's National Day last December 16 and 17.
The Kingdom's National Day performances featured a synchronised team of five free diving enthusiasts, who expertly explored the depths of the 17-metre-tall aquarium artfully exhibiting their honed skills by wrapping  up the spectacle holding up the Bahraini flag underwater amidst the aquarium's colourful and diverse selection of fish and marine life, which also included a newly added shipment of sharks and stingrays.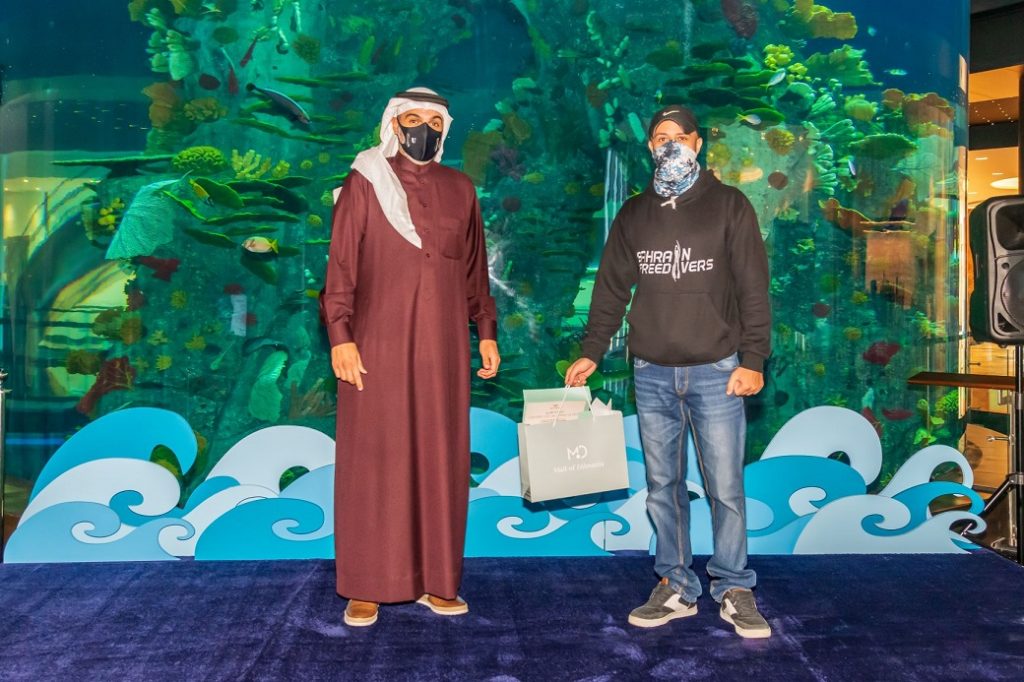 "We would like to express our deepest gratitude to the Bahrain Freedivers, for their continuous support and active participation in Bahrain Aquarium's initiatives, who delighted spectators by delivering a truly spectacular and breathtaking National Day performance, providing visitors with the opportunity to immerse themselves in an engaging aquatic experience unlike any other in the Kingdom of Bahrain," said the Chief Executive Officer of Mall of Dilmunia, Shaikh Mohammed bin Duaij Al Khalifa.
"We look forward to hosting similar activities in the aquarium throughout the year and offering visitors an exceptional entertainment experience in a fun atmosphere, further strengthening Mall of Dilmunia's position as one of the leading shopping and entertainment destinations in Bahrain," he added. Towering over seventeen metres, the cylindrical shaped Bahrain Aquarium filled with 700,000 litres of saltwater is the first of its kind in the Kingdom, offering mall goers incredible and close encounters with some of the most fascinating underwater marine life from around the world. Currently, the Bahrain Aquarium boats a population of over 2500 different species of aquatic creatures, providing the opportunity for people to stop by and marvel at oceanic life while enjoying a day of shopping from the comfort the Mall. In the future, Mall of Dilmunia plans to expand Bahrain Aquarium, transforming it beyond an entertainment feature to a place of learning for children.