At the tastefully decorated home gallery of Mr. Mohamed Al Raeesi in Sanad, everything spoke in detail about the talent that resides at the abode. A large painting in progress that he has been recently commissioned to work on stood at a corner, reflecting everything that our wonderful nation stands for. Over a cup of refreshing tea, we began our conversation with this self-made painter, who believes in creating magic through his masterful brush strokes.
"I started drawing and painting when I was in grade 3. My friends and teachers used to be really impressed with my art works, noticing that my paintings always stood different from others," he says, reflecting on his beginnings. "When I was in grade 8 & 9 I started participating in national and international competitions coming out first every time. And over the years I have been participating in events and exhibitions, receiving encouragement from so many different individuals including our honorable Prime Minister," Raeesi continues. Talking of the support he has been getting from his friends and family that have been his motivation to take up his gift from God as a profession.
Even after taking a short break of 5 years from his world of art while completing his Masters in London, Raeesi had found that he had grown strong in his techniques and skills over time, after coming back to his motherland. Now here in Bahrain, he has come stronger than ever, setting up a trend by converting his passion into a successful business with his new art gallery.
When we asked him about the uniqueness of his paintings, he replies with a smile. "I am extremely careful with the quality of my tools and picture. I keep myself open to different mediums and themes; even if it is the traditional ones, portraits or modern paintings. For me it is important to ensure the satisfaction of my clients. No matter how complex the work is going to be, I take it up as a challenge and add in all the elements that had been agreed upon. Also I try to add an extra element to the theme that they have commissioned to me, which would reflect their personality or may be the place where the painting is going to be."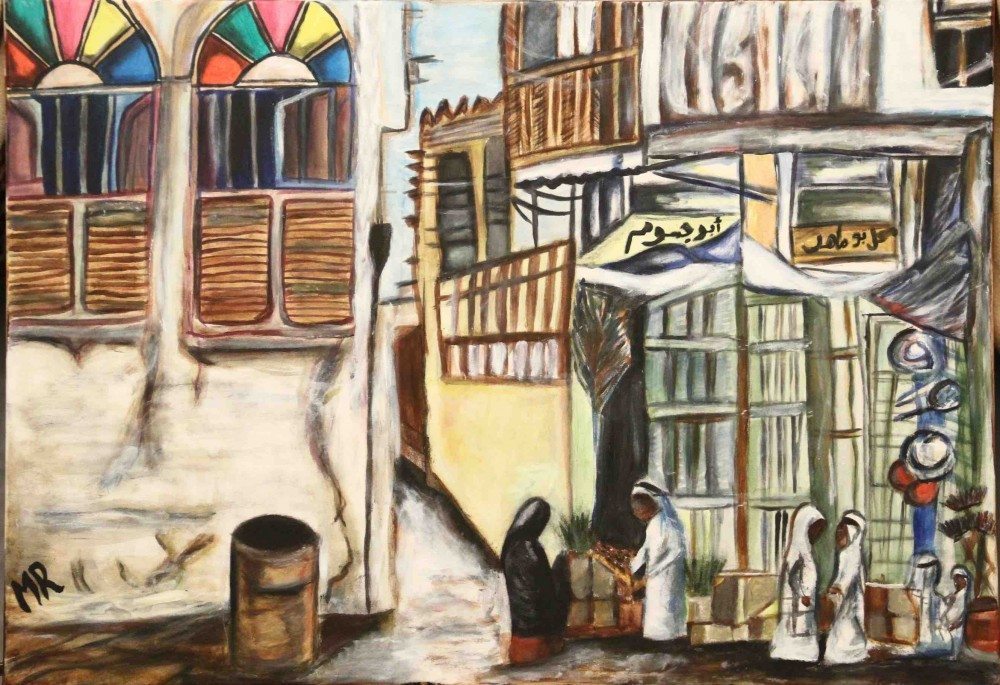 'Nothing less than exceptional' is the tagline that best suits the pictures painted by this young artist. Every time he comes out with a new piece of work, he goes on to wow his audience making sure that his current work surpasses his previous works of art. "It takes me 3-4 weeks to prepare the initial sketch. I take care of every bit of detail, including the colours being used, the size of canvas and the size of objects in the painting. It's after these preps that I work on completing the master image," he says.
Those who have seen his works in person or on his online gallery on Instagram @raeesi99 would not have missed the painting of the enchanting eyes of a veiled girl. Raeesi shares with us how he was inspired to do this unique work that created quite a stir in the art world of Bahrain and the Middle East as a whole. "I was inspired by the cover photo that came in National Geographic magazine of the Afghan Girl by the international photographer Steve McCurry. It took me 15 hours a day for 3 months to finish off this work in acrylic. I believe that our eyes are one of the most beautiful gifts from God and if you see my paintings, I work in detail on the eyes and they are prominent.
"This painting of mine had worked a lot of charm on my career, being replicated the most of all my works so far and many believed that I was the one behind the original picture on the National Geographic magazine," He added, laughing. A great follower of the works of Michalengelo and Picasso, he wishes to establish himself as an artist whose paintings are acknowledged as a brand even after he is long gone. "And yes… I believe this Afghan girl is my Mona Lisa."
Speaking about his business, Raeesi says, "I actually converted my passion into a fully fledged business in the last 2 years. It has been an amazing and overwhelming journey so far. I have currently converted my home into my studio and gallery. I also take art courses for students of different age groups. It not only gives me a chance as a professional to share my knowledge to build new talent, but also gives me an opportunity to learn new things every day." After having done over a hundred paintings, Raeesi is all excited about the independent art gallery he plans to open. "I have recently started my insta-gallery that will give the public a better view of my work and I am happy with the appreciation I have been receiving from inside Bahrain and around the GCC. My plan is to open an art center by the beginning of 2016. I want the place not only for displaying paintings, but also provide art supplies from places including Paris, Italy and Spain. I am also looking forward to collaborate with my contemporaries once the center is established," he says.
Finally, sharing his words of advice and support to the art community in Bahrain, he says, "I recommend everyone who has the passion towards art to never stop. They can start it out slow and use the power of social media to show their talent to the world outside. Never let yourselves feel down over criticisms. I salute and support the art talent in Bahrain and would like to share the fact that Art can sure earn you success and a good living like any other career. Of course it might take time but which profession in the world doesn't? "
For more details you may call +973 36671212  or email: raeesigallery@hotmail.com