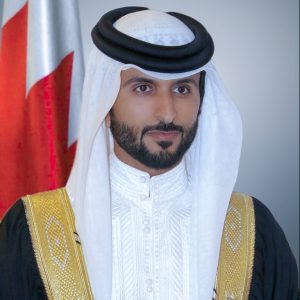 HH Shaikh Nasser bin Hamad Al Khalifa, Representative of HM the King for Humanitarian Works and Youth Affairs has affirmed that the Kingdom of Bahrain's rich experience in empowering youth has set an example to follow at regional and international levels thanks to the directives of HM King Hamad bin Isa Al Khalifa, the King of the Kingdom of Bahrain, whose sponsorship to youth and the initiatives aimed to empowering them has played a key role in developing their skills and capabilities. 
HH Shaikh Nasser's remarks came after the Ministry of Youth and Sports Affairs won the Best Government Project for Youth Empowerment Award in the Arab World for its project "The Making of Elite" during the  Arab Government Excellence Award which was organised under the umbrella of the Arab League, in partnership between the UAE Government and the Arab Organisation for Administrative Development. 
"This is clear evidence of the great development in the initiatives and programmes that are offered to youth in various aspects, as they have contributed to giving them a great opportunity to convert challenges into opportunities and get a fresh start towards wider horizons of growth," HH Shaikh Nasser said, adding: "The experience of the Kingdom of Bahrain in empowering young people has succeeded with distinction in exploring their strengths and developing them as well as allowing them, through qualitative programmes and initiatives, to hone their talents. As a result, we are glad to see a growing number of successful and inspiring stories of young people who deserve our support and worth highlighting."
Moreover, HH Shaikh Nasser underlined that the Kingdom will continue its efforts towards empowering, supporting its young people and exporting its experience in this field, stating that the Kingdom has become a role model for the whole world in youth empowerment.
"The Supreme Council for Youth and Sports will continue developing plans and programmes that contribute to empowering Bahraini youth and enabling them accomplish major achievements. The coming period will witness more initiatives and programmes that will enrich Bahrain's youth experience and will give young people additional opportunities to showcase their capabilities and their true role in society," he concluded.