When it comes to decorating your home, it can sometimes be challenging to seamlessly integrate function and style to create a space that is as comfortable and livable as it is tasteful and elegant – especially when choosing appliances and electronics. Luckily, from refrigerators to audio equipment, product design is continuously becoming more thoughtful, taking into account people's lifestyles and preferences as well as how they interact with their surroundings. A perfect reflection of this growing trend of products made for functional interior design is Samsung's recently launched lifestyle TV, The Frame.
Created in collaboration with world-renowned designer Yves Behar, The Frame is truly a game changer for the TV industry, transforming the conventional black box into a piece or art that adds aesthetic value to the home. Particularly in the Middle East, where the home is a representation of oneself, meant to welcome guests warmly while simultaneously expressing our unique tastes and styles, The Frame is a TV made to marry practicality and elegance perfectly.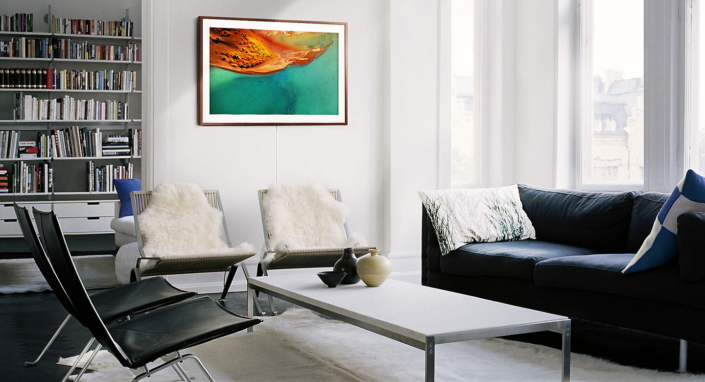 Samsung Newsroom sat down with Behar to discuss what inspired The Frame, how it fits into Arab home décor, and how he envisions the future of TV in the region and around the world.
Tell us a bit about the collaboration process between yourself and Samsung on The Frame.
 Yves Behar: My team and I have been collaborating with Samsung for almost a decade now, envisioning new ways to design displays that fit seamlessly into the home. For The Frame, we wanted to find a way to expand a television's purpose beyond just watching TV. This is where we came up with the concept of eliminating the black box and replacing it with eye-catching artworks.
2. You are known for experimenting with new concepts, materials, and technologies to create unique products suited to various lifestyles. What drives your design decisions?
Yves Behar: My goal is always to improve people's daily lives through design, and to tailor my designs to their specific tastes. This means considering their lifestyles and influences from the beginning. I'm inspired by human behaviors and desires, which vary all around the world; and I aim to bridge behaviors and objects through design.
3. What inspired the design of The Frame, and how does it fit into Arab culture?
Yves Behar: The core of The Frame is the experience it provides — one that allows users to enjoy a selection of artworks that are automatically displayed, and naturally dimmed and brightened throughout the day. This was the foundation we built The Frame on: we wanted to make It beautiful just like a gallery, with the artworks themselves as the primary visual focus. In the Middle East, the home is a sanctuary and people take a lot of pride in their interior décor. The Frame provides a sense of elegance, charm, and refinement that so many people in the region want to achieve in their homes.
4. How do you foresee the future of TV?
 Yves Behar: Despite the fact that technology in the home is becoming more discreet, the television will continue to play a role in our ever-evolving homes. It's important that TVs are designed from an experience-led perspective, not a technology-driven one, especially in a region where home design is a paramount form of self-expression and taste. Adaptive technologies will enable us to create products that fulfill this desire for personalization, and the Frame is a big step in the right direction – but it is only the beginning