Novo Cinemas, a subsidiary of ELAN, launched its flagship Bahrain location at Seef Mall Muharraq on Thursday, July 30th, 2015, promising a complete entertainment experience with cutting-edge cinema technology and premium facilities.
Located only ten minutes from the city centre on Muharraq Island (near Arad Fort), Novo Cinemas at Seef Mall Muharraq features 14 screens and a capacity of over 1300 seats. The state-of-the-art multiplex also boasts Bahrain's first IMAX theatre, the world's most immersive big-screen experience with patented image and sound technology, and theatre geometry. What's more, film fans across Bahrain and the neighbouring Kingdom of Saudi Arabia can indulge in the luxurious NOVO 7-STAR theatre experience, another first, featuring reclining leather seats, individual iPads for easy ordering, as well as a dedicated chef and butler service. In addition to an enviable line-up of movie releases, Novo Cinemas will be host to a packed calendar of fun activities, and serve as Bahrain's new entertainment venue for private and corporate screenings and events.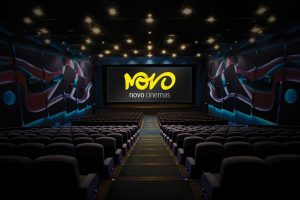 Commenting on the imminent opening, Debbie Stanford-Kristiansen, Novo Cinemas CEO, said: "We are very proud to bring a premium cinema experience to the Kingdom of Bahrain. Novo Cinemas enjoys a long legacy of innovation and pioneering technologies in the region, and we are thrilled to be launching our flagship at the exciting new shopping and entertainment destination, Seef Mall Muharraq. We look forward to welcoming a new and passionate community of movie-goers for A Great Time Out."
Mr. Robert Addison, Seef General Manager said, "We are delighted to partner with Novo Cinemas to launch the Kingdom's first commercial multiplex IMAX cinema, a landmark to Seef Mall Muharraq. The IMAX experience takes the movie-going experience to the next level. This partnership complements our objective of offering innovative and new experiences for our discerning customers of all backgrounds. We look forward to building on this collaboration with Novo Cinemas and are excited to bring moviegoers in Bahrain the biggest blockbuster films, in a never-been-experienced before cinema format in the Kingdom."
Opening week promises a thrilling slate of blockbuster movies, including the highly anticipated action adventure Ant-Man (IMAX 3D), the return of Arnold Schwarzenegger in Terminator Genisys (IMAX 3D), family entertainment with those hilarious Minions, the best of Bollywood in Bajrangi Bhaijaan, and Arabic comedy with Mohammed Saad in Hayati Mobahdalah.